12 Easy Summer Salad Recipes for Every Occasion
Summer salads offer a delightful and flavourful addition to any meal, elevating your dining experience with the goodness of fresh, seasonal vegetables. 
Whether you seek a refreshing option for a quick weekday lunch or a delectable side dish to complement your upcoming barbecue, we have curated a collection of sensational summer salad recipes to suit every occasion. 
Get ready to indulge in these effortless and mouth-watering summer salads!

Enjoy the delectable combination of juicy cantaloupe, plump tomatoes, and zingy pickled red onions in red wine vinegar. With salty feta cheese and a refreshing touch of mint leaves, this summer salad is perfect for pairing with grains and protein or as a summery snack.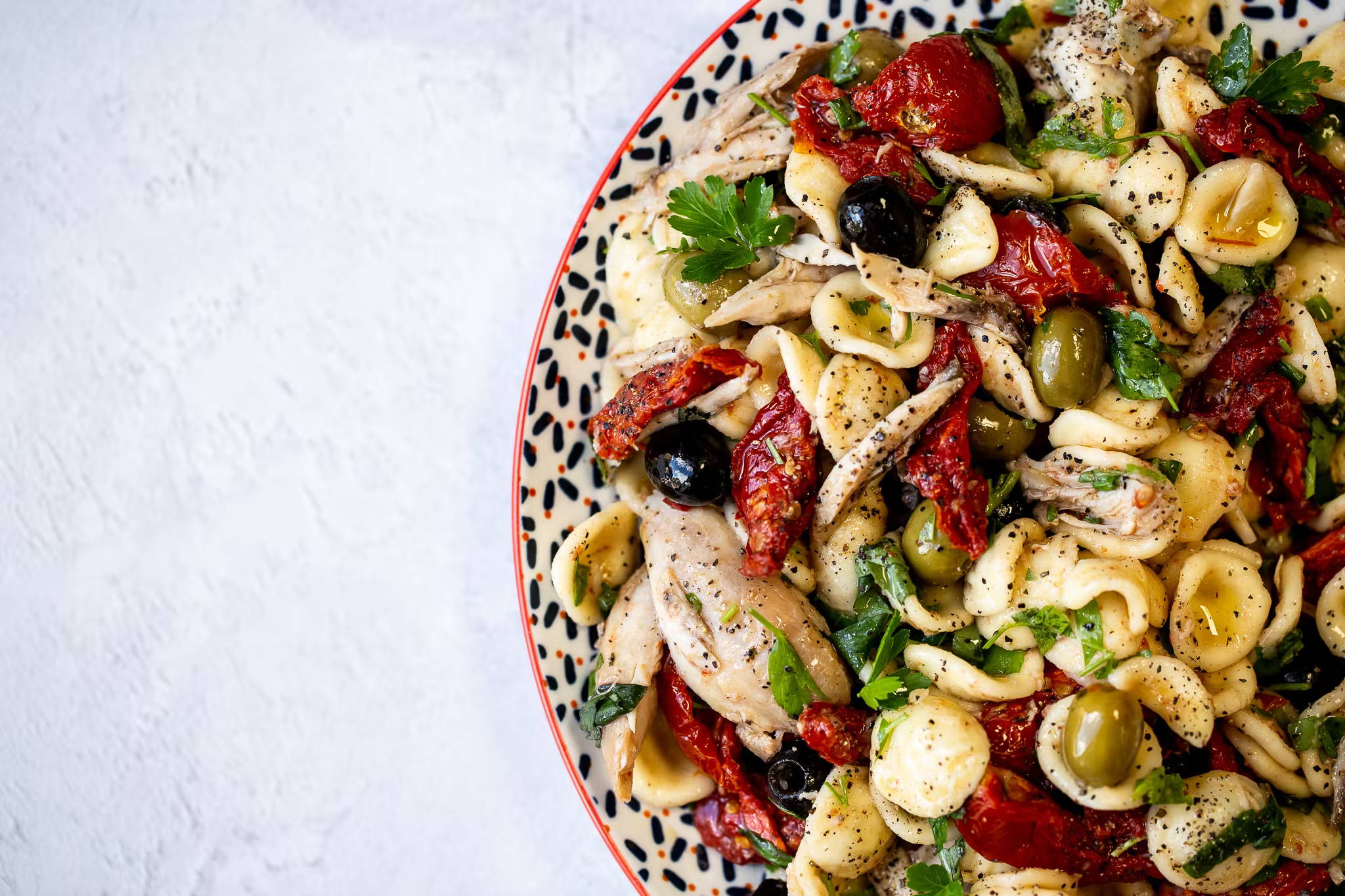 Pasta salads are the ultimate picnic or potluck staple. They're easy to prep in advance, super versatile, and you can use essentially any ingredients that you like, which is great for making use of leftovers.
This variation uses any leftover chicken from a Sunday roast, sun-dried tomatoes, and olives for a flavourful Mediterranean addition.
If you're not keen on soggy lettuce leaves, cucumbers make an excellent base that can be spruced up with herbs and dressings to deliver a powerful punch of flavour. This herby summer salad uses mint, parsley, coriander, and shallots for a tasty and healthy side salad. We love it paired with a charred fillet of fish. In this recipe, you will find that we have served this salad with delicious Tikka Monkfish.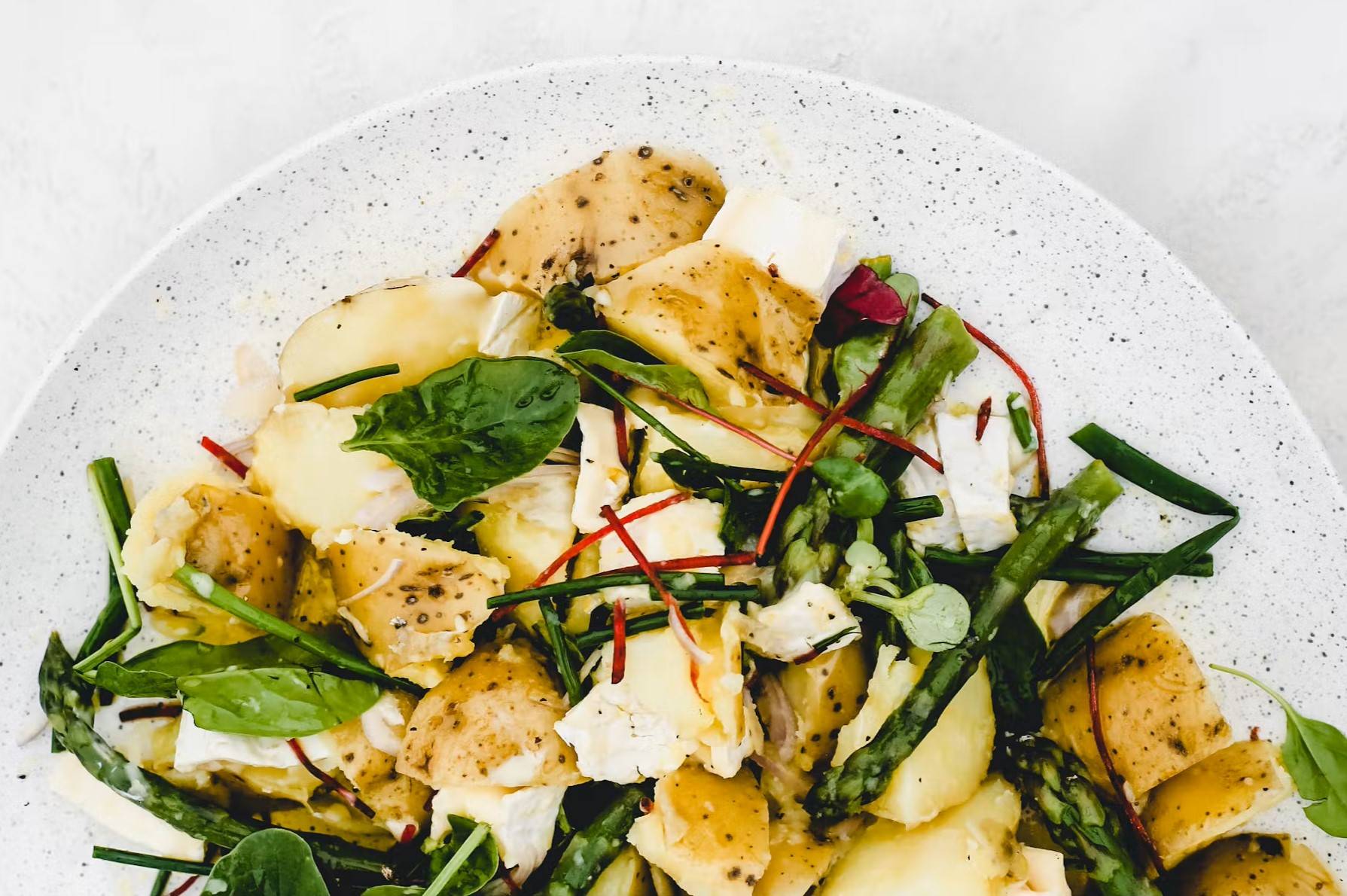 With countless variations of potato salad out there, we firmly believe that this particular recipe will capture a coveted spot at the top of your favourites list. Brace yourself for a delectable twist on the classic dish as tender new potatoes and vibrant asparagus join forces with shallots and cubes of creamy brie. What truly sets this version apart is its light and uncomplicated olive oil dressing, allowing the true flavours of the vegetables to take centre stage. Prepare yourself for a simple yet utterly delightful culinary experience.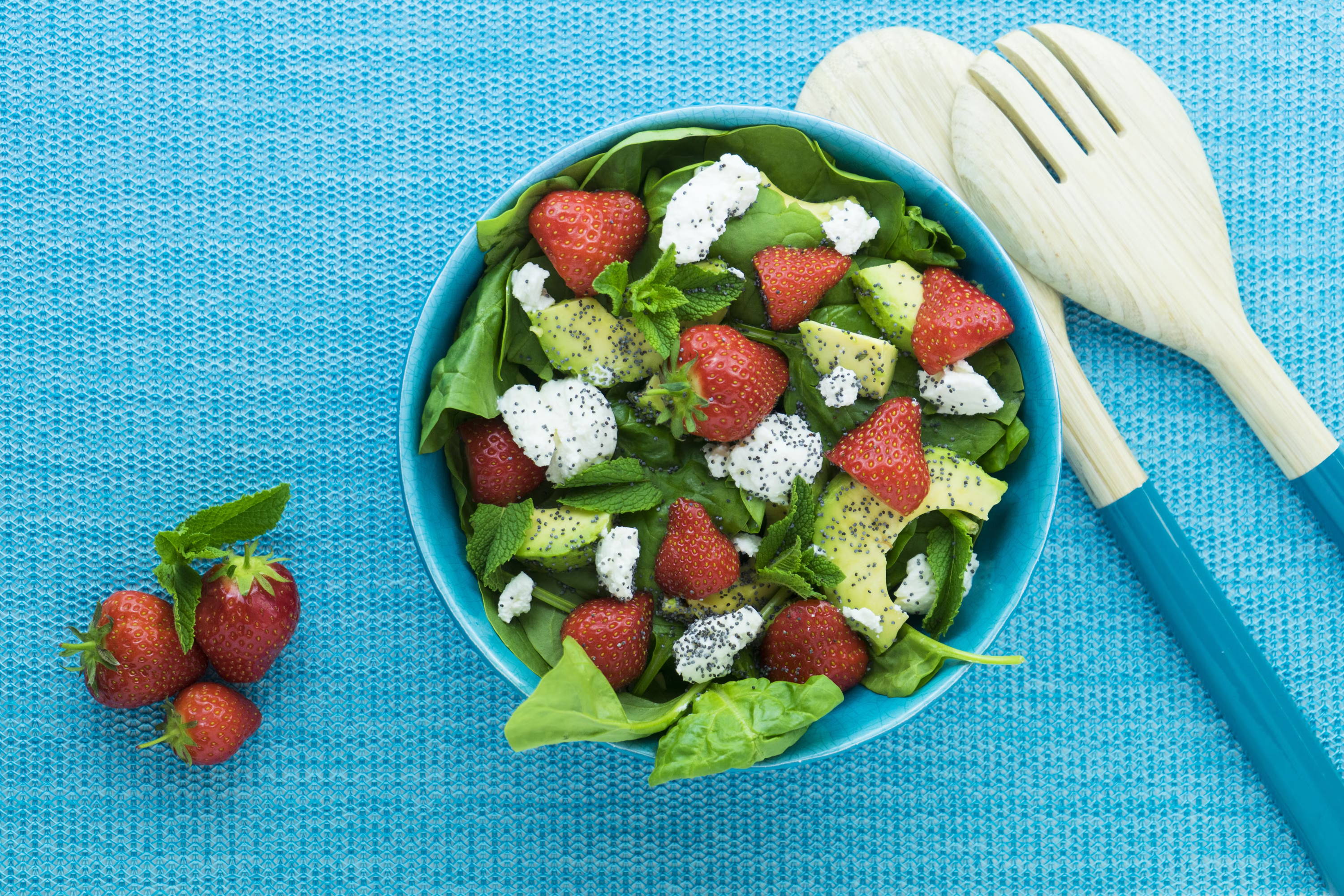 Looking for a summer salad that looks as good as it tastes? This strawberry and spinach salad is colourful, bursting with incredible flavours AND it's healthy. That's a clear winner in our books. Spinach leaves, avocado, and sweet strawberries are enlivened with apple cider vinegar and topped with ricotta cheese for a wonderfully creamy taste with every mouthful.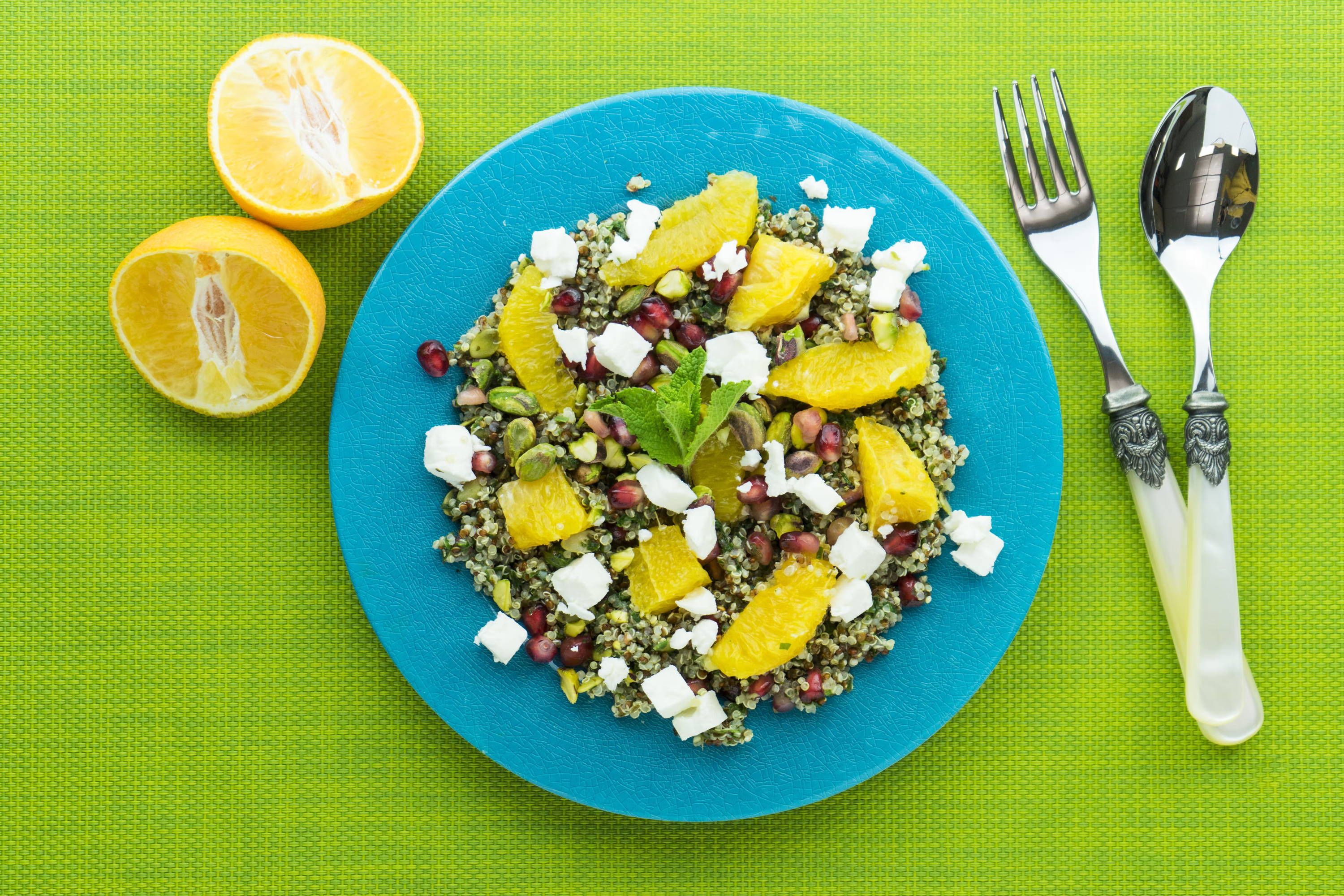 Quinoa has been making waves in recent years, taking the superfood crown thanks to its high fibre and antioxidant content. For a unique take on the grain, try it with mandarin and feta for a zesty and salty salad. The dressing comes together with Greek yoghurt, lemon, and apple cider vinegar before being topped with pistachio nuts for an added dose of healthy fats.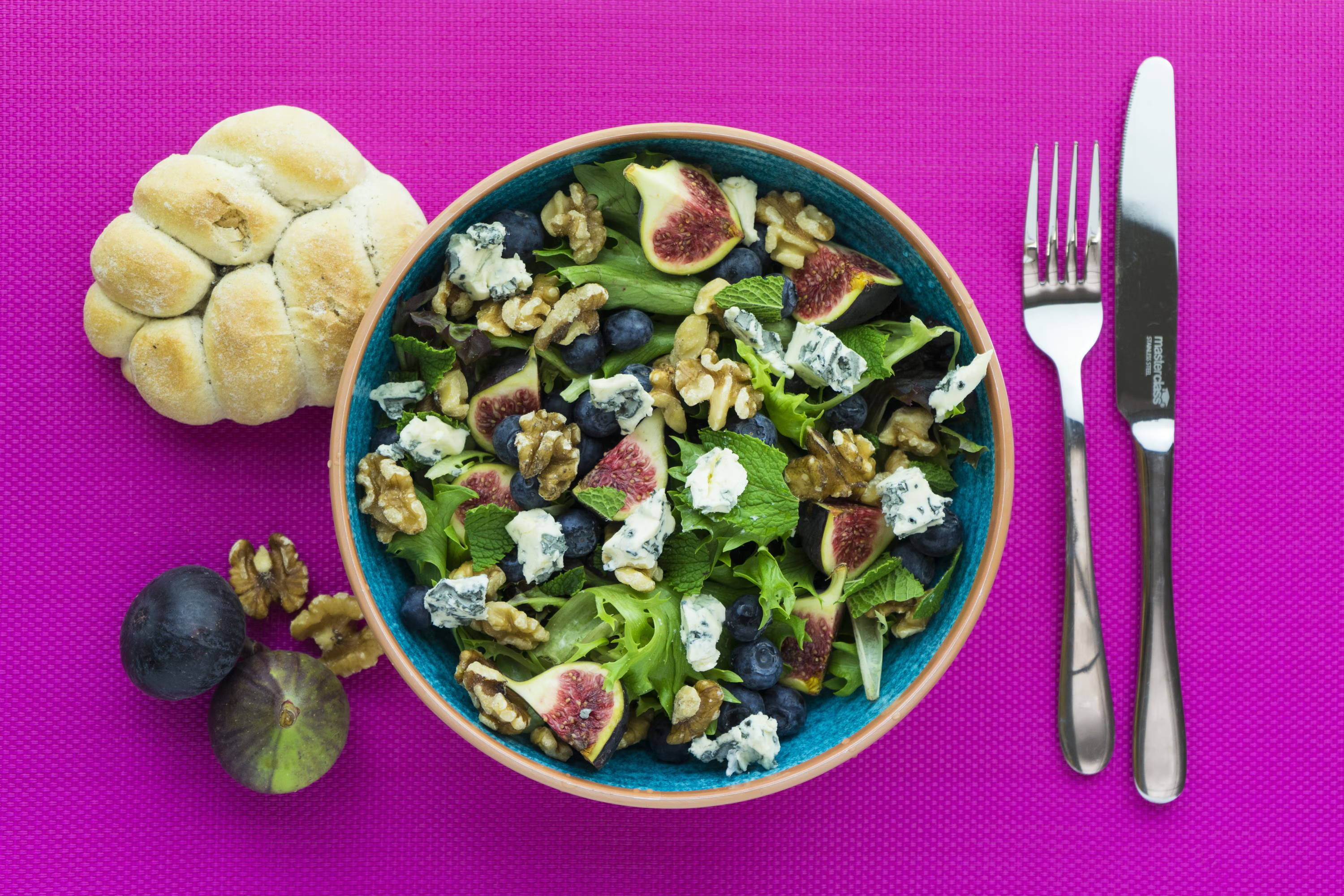 Walnuts, figs, and blue cheese may sound like the start of an irresistible cheese board or charcuterie platter, but they lend themselves to a wonderfully savoury salad too. The walnuts are toasted before being tossed with the other ingredients to enhance their nutty flavour, and the dressing is made with mustard, honey, and orange juice for a sweet and zesty finish.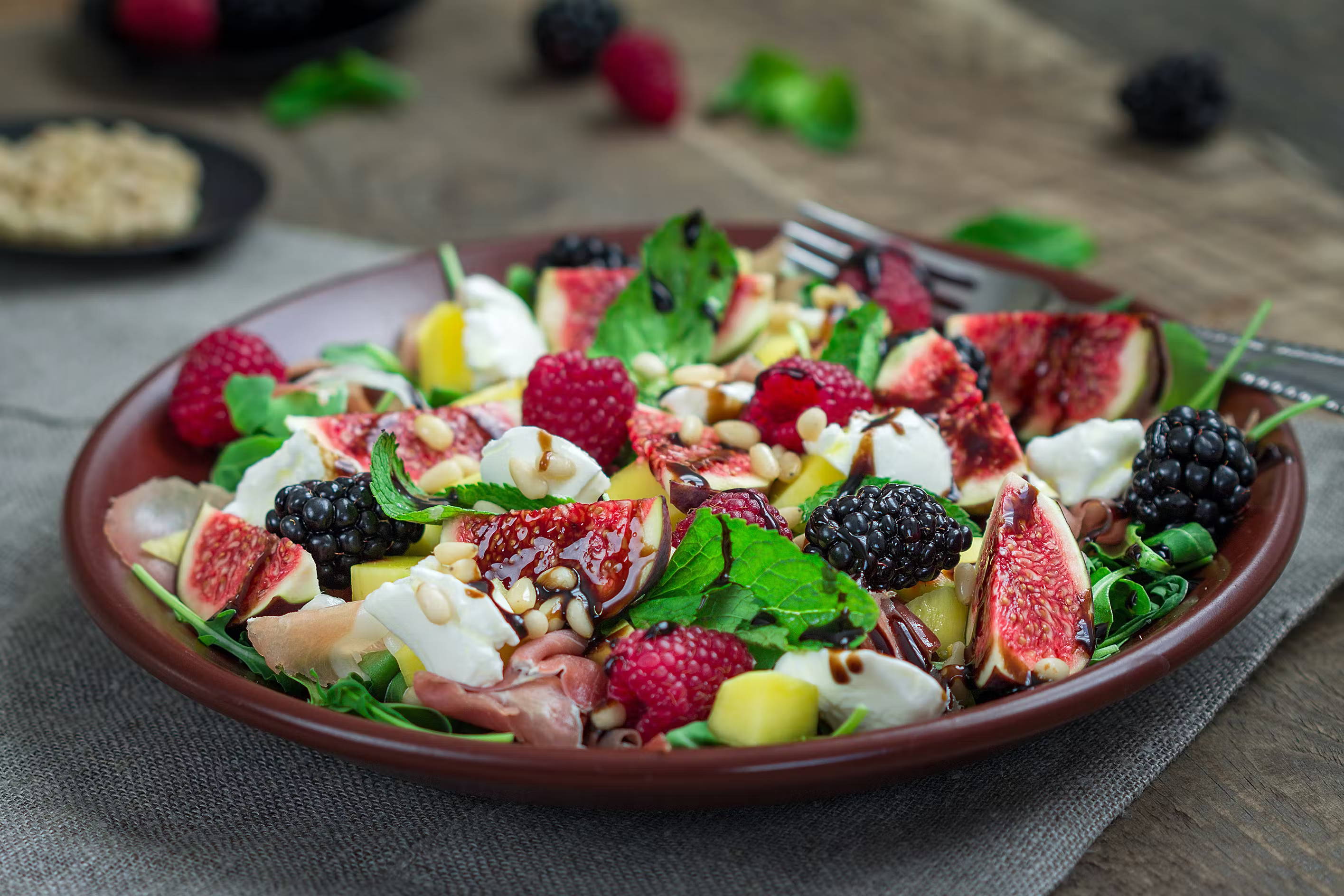 British raspberries come into season in the summer months, so it's a great opportunity to use them in a summer salad. This recipe also has figs, blackberries, and pineapples for an extra fruity feel. Feta cheese, Parma ham, and mint balance out the rest of this dish for a big hit of freshness with every bite.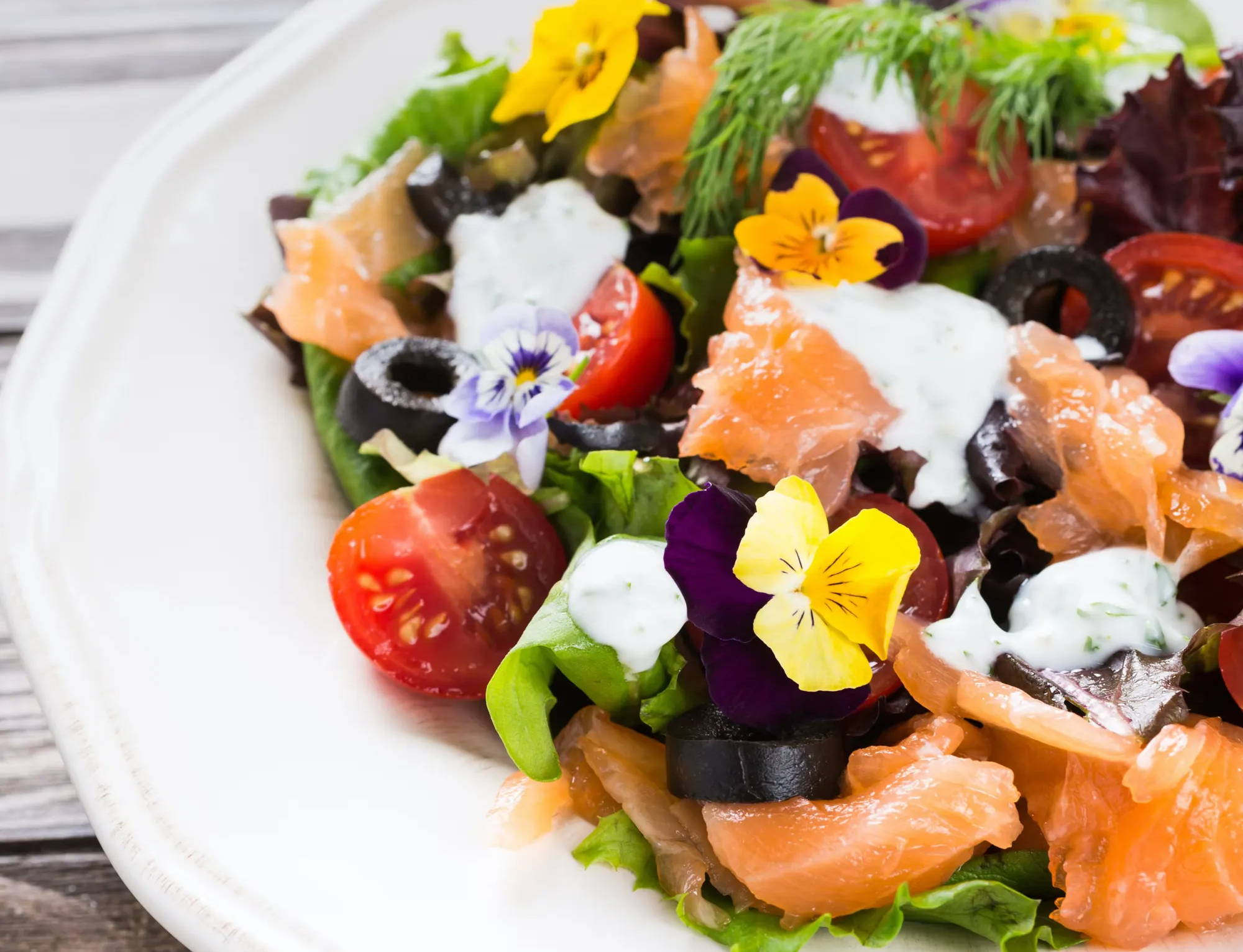 This salmon and tomato salad is dressed up with edible flowers for an impressive summer salad that looks and tastes incredible. Chopped baby tomatoes and green salad leaves form the base before being piled high with smoked salmon, chopped black olives, and a tarragon dressing. The edible flowers are completely optional, but we love the summery touch it adds to the table.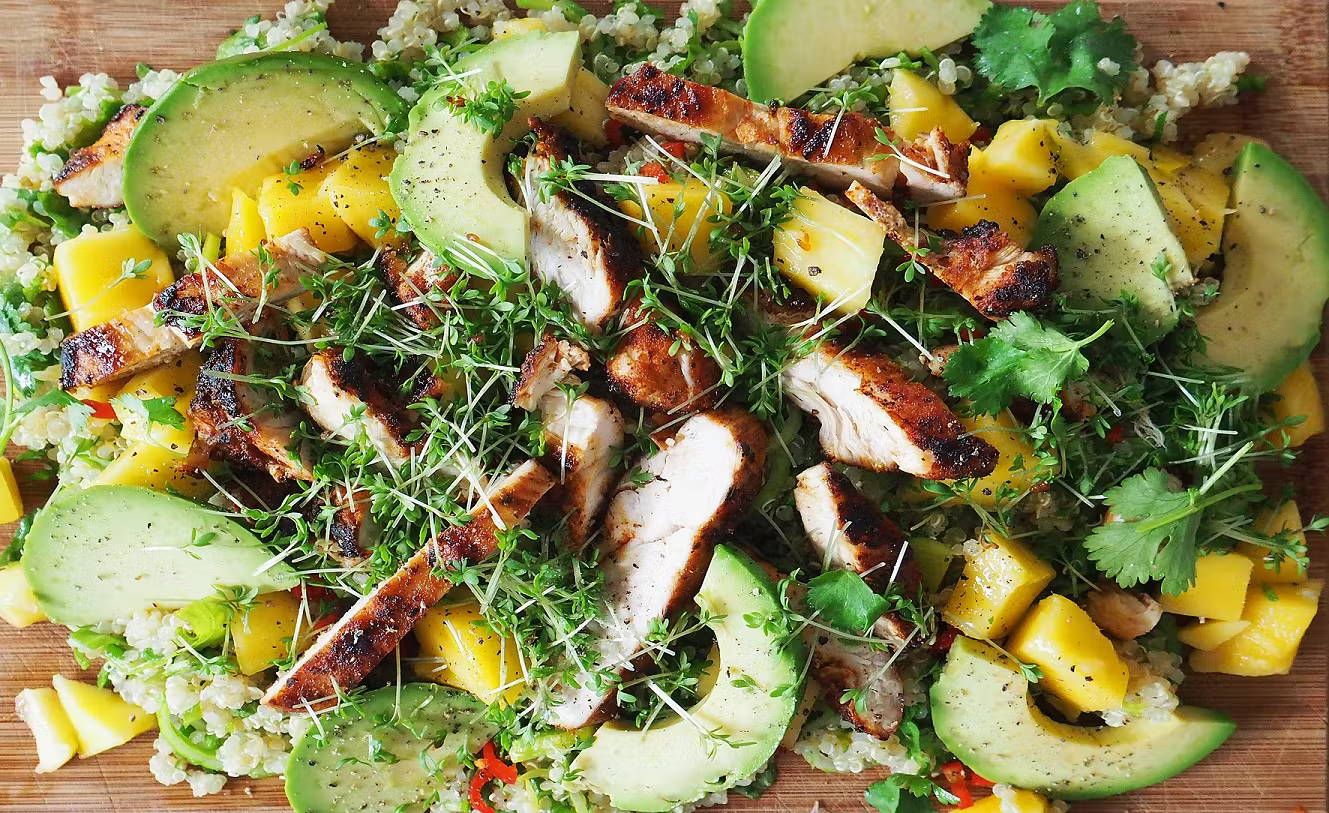 Mango and avocado are paired together with coriander to create this stripped-back salad that's bursting with flavour and texture. The dressing adds a zesty kick, so we love to pair it with a bed of couscous and some grilled chicken for a wholesome hot-weather meal. This is one of our favourite salad recipes for BBQ.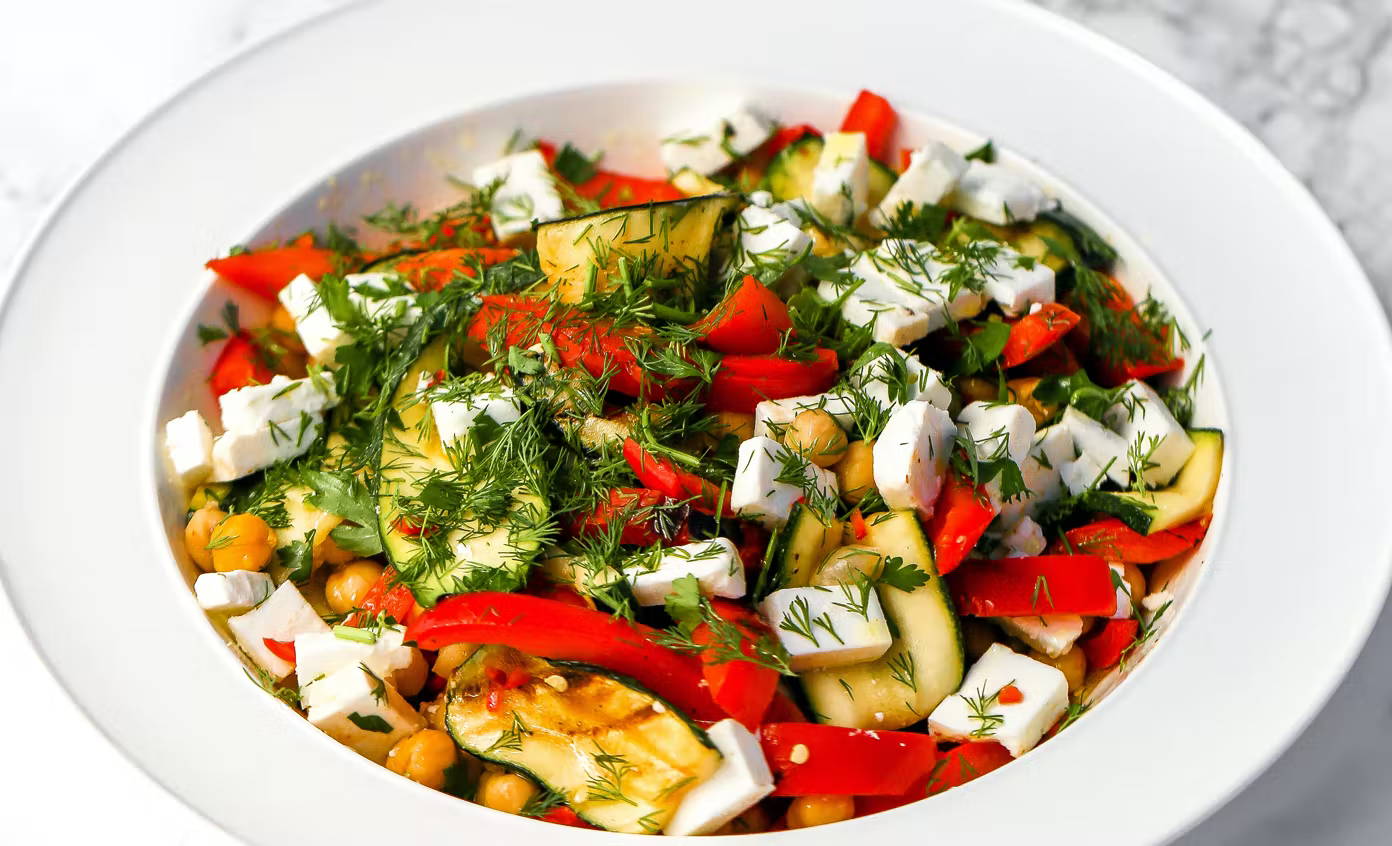 This chickpea salad can be enjoyed as a side or as a main course all on its own. It's got all the components of a winning summer salad: sweet peppers, grilled courgettes, chickpeas, and cubed feta, tossed in a zesty lemon and garlic dressing. Every ingredient harmoniously unites under the enchantment of a zesty dressing infused with the lively notes of lemon and garlic, making this summer salad an irresistible delight for your taste buds. 
The humble potato salad is a staple at any picnic or family gathering. This delicious recipe upgrades the classic summer side dish with fresh capers, garlic, mint and lemon for an Italian twist. Finishing the new potatoes on the BBQ is a handy little trick for adding extra bite to your salad, you won't look back. Top tip: a well-honed knife makes practising your dicing skills a lot easier – check out our guide to keeping your blade perfectly sharp here.
The best tools for making and serving salads
Best for mixing ingredients together: 
Simplify the process of preparing your favourite summer salads with the help of this ingenious spinner. Designed to streamline your salad prep, this nifty gadget effortlessly dries and mixes your greens with utmost convenience. With a straightforward operation, simply load your greens, give the handle a gentle turn, and watch as the spinner works its magic. To ensure impeccable flavour distribution, the spinner features a convenient small opening on top, allowing you to effortlessly pour in your dressings before spinning, ensuring an even and luscious coating on every leaf. 
Best for ingredient prepping: 
Chef'n SleekSlice™ Collapsible Mandoline
Dive into the convenience and efficiency of slicing with this ingenious space-saving vegetable cutter, making it a must-have tool for every kitchen. Prepare to unlock a world of culinary possibilities as you effortlessly transform sweet potatoes into delectable wedges, tomatoes into perfect slices, and courgettes into elegant ribbons. With SleekSlice by your side, you can conquer the art of slicing various fruits and vegetables swiftly and seamlessly. When you're done, marvel at its compact design, allowing you to effortlessly stow it away in mere seconds, keeping your countertops tidy and free from clutter. 
Best for dishing up your salad:
Artesà Medium 17cm Bamboo Serving Bowl
Prepare to redefine the dining experience and leave your guests in awe, as this exquisite bamboo dish from Artesà unveils a new realm of culinary presentation. While the main course often steals the spotlight, this versatile and stunning bowl ensures that even your snacks become a captivating centrepiece at the dining table. With its striking beauty, this bamboo serving bowl goes beyond mere functionality, to showcase stunning summer salads to your guests.
Best for helping your guests get stuck in:
Artesà Acacia Wood Salad Servers - Gold Metal, 31cm
The perfect serving tools for the perfect bowl. Help yourself with these exquisite wooden salad servers, crafted from acacia wood and bring a touch of natural elegance to every meal. These remarkable servers not only add a visual allure to your table but also serve as reliable companions, making it effortless to delve into your summer salad creation. Let these beautiful wooden salad servers become an essential part of your dining ritual, enhancing the aesthetics and ensuring a delightful experience as you savour the flavours of your culinary endeavours.
Experience a salad revolution where the notion of dry, bland, and boring is completely shattered. Our selection of summer salad recipes is carefully crafted to invigorate your taste buds and inject excitement into every mealtime. Let our selection of summer salads reignite your passion for healthy and delicious eating, transforming every meal into a celebration of fresh and exciting culinary experiences.
Discover all the serveware and serving tools you need to set the table at Cook, Serve, Enjoy.