Spring is a refreshing and welcome time of year, especially after a bleak winter. Not only do the daffodils begin to blossom - but vibrant, seasonal vegetables start to sprout thanks to the longer days and milder temperatures.
Our bodies have a chance to detox and replenish after the colder months, as we eat more meals containing the nutrients and minerals that we need at this time of the year.
In fact, eating seasonally helps us to reconnect with nature's cycles and enjoy the diverse selection of nutritious vegetables that are best suited to the British climate.
Eating locally is more sustainable, as it doesn't have to travel as far to get to your plate. It also reduces the demand for out-of-season produce that has been grown under greenhouse or imported as those methods give off higher carbon emissions. Plus, local fruit and veggies are fresher and taste more flavoursome too!
Wondering what's in season right now? We've got the perfect guide to help you make the most of Spring with the best of British vegetables.
English Asparagus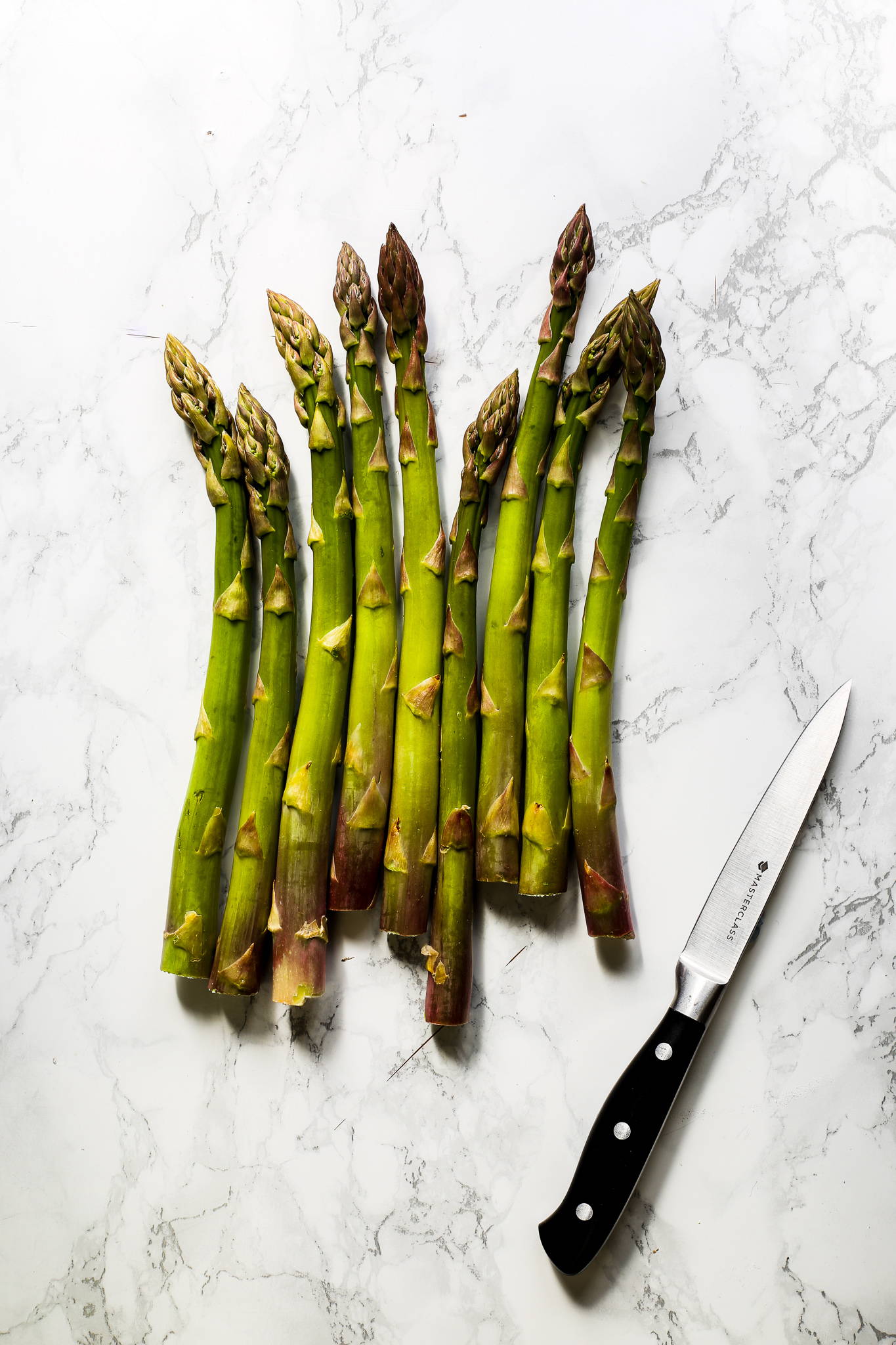 Sweet and nutty, asparagus has a distinctive taste and delicate texture, which makes it one of the most distinguished vegetables.
Our unique climate and growing conditions make for flavourful and tender spears that are carefully picked when they reach just the right height.
On the downside, asparagus season is really short, only running from St George's day on 23rd April through to Summer Solstice on 21st June, depending on weather conditions.
This means we only get to enjoy it for just a handful of weeks. For that reason, make sure you buy fresh produce with firm stems and tightly furled heads, rejecting those with wrinkling bases.
Once home, trim the ends of the asparagus carefully, as sometimes they are a bit tough. Equip yourself with the perfect knife from the MasterClass Halo 5 Piece Knife Set with Oak Wood Storage Block for the job - offering stability and an ultra-sharp cutting edge.
To best store, place the spears in a glass jar, cut ends down, fill it with a little bit of water and store in the fridge.
Asparagus is really easy to prepare. It can be boiled or steamed, roasted or grilled, as long as you are careful not to overcook it. The end result should feel firm to the bite and slightly crunchy.
It may be served as an appetiser with melted butter, hollandaise sauce or a squeeze of lemon, tossed into healthy salads, added to a rich quiche or risotto, wrapped in bacon or as a side dish for your roast meat.
Just make sure you get to enjoy as much asparagus as you can whilst they are in season!
Recipe idea: Classic Asparagus & Parma Ham 
Spring onion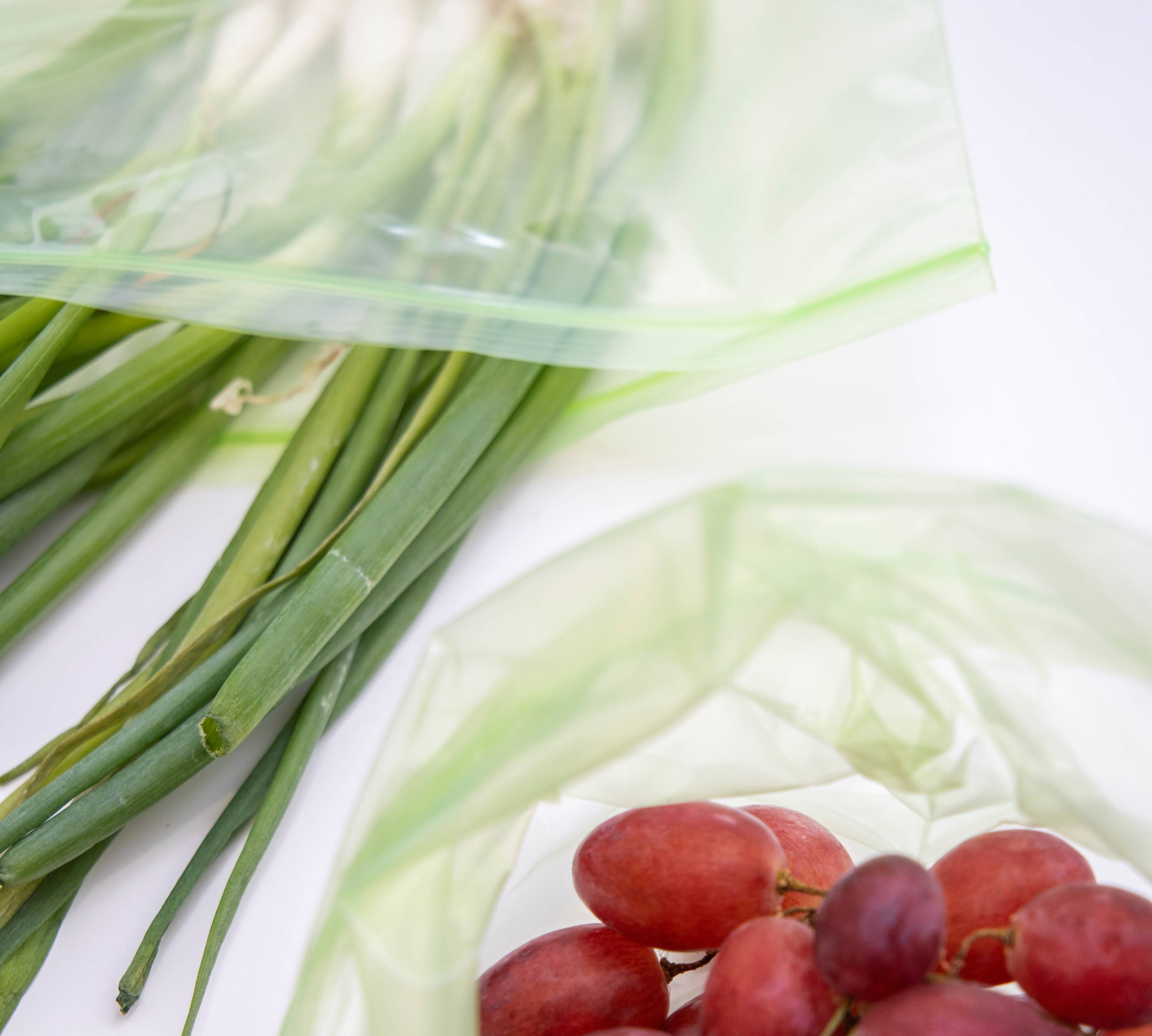 Also called salad onions, green onions or scallions, these vegetables are generally milder in taste than most onions.
The sweetest and tender spring onions are at their best at this time of the year.
Fresh produce should feature straight, lush, green leaves and unblemished white bulbs. Before storing, simply peel off and discard any wilting leaves or slimy bulbs.
Your spring onions will stay firm and crunchy when you keep them in a jar with a bit of water. Alternatively, place in a MasterClass Zipped Fresh Bag, which has an innovative nano-microporous venting prolonging the life of your veggies by controlling internal moisture and allowing for gases to escape.
Spring onions can be eaten either raw or cooked. To prepare, wash thoroughly, and trim off the roots well as any ragged ends at the top of the leaves. Then slice the bulb into rounds and cut the green tops. Alternatively, cut lengthways into small pieces to sprinkle as a garnish.
Use them to spice up your salads, stir them into a creamy mash to make a simple Champ, or add a bit of crunch to an Asian-inspired stir fry dish.
Jersey Royals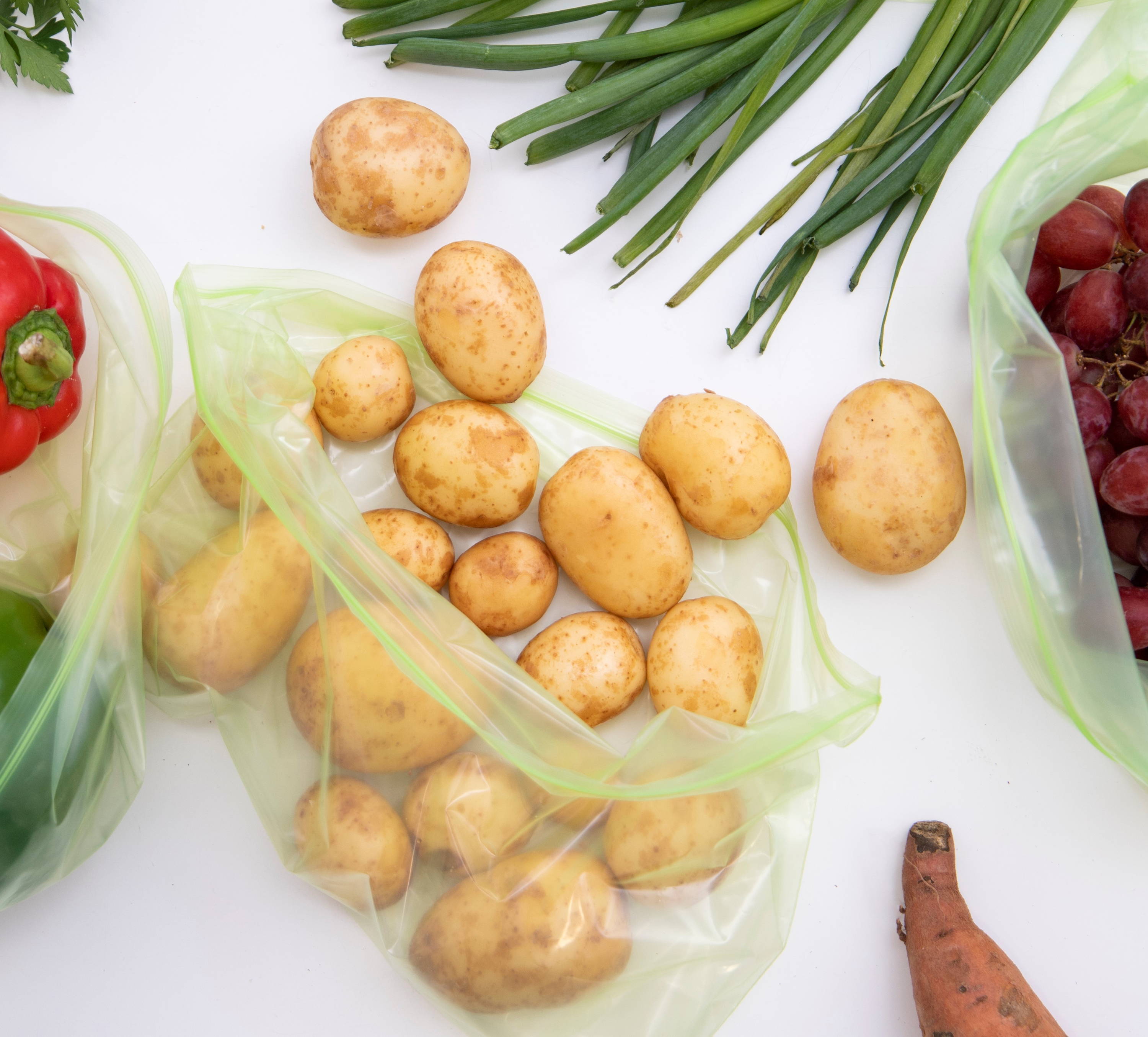 These young potatoes have paper-thin skins, a waxy texture and are sweeter in taste because their sugar has not yet converted into starch, unlike their main crop counterparts.
Jersey Royal is the best-known variety of potato and is harvested from April to July. They have PDO status and are only grown on the island of Jersey, where the combination of mild weather, steep slopes and seaweed fertiliser provide unique growing conditions.
Fresh potatoes are firm, smooth and have unblemished skins, therefore avoid those that look too damp or have marked such as soft spots or bruisings.
Keep them in a bag in a cool, dark and well-ventilated place. Make sure to use them within a few days, as they do not keep as well as main crop potatoes.
They do not need peeling, just wash and scrub them gently to remove any remaining dirt.
Jersey Royals are delicious simply boiled and dressed with a knob of butter, sprinkled with aromatic herbs and a dash of sea salt. They are also great for roasting as the thin skins become slightly crisp while the inside turns deliciously sweet and creamy.
Recipe idea: New Potato, Asparagus and Brie Salad
Spring greens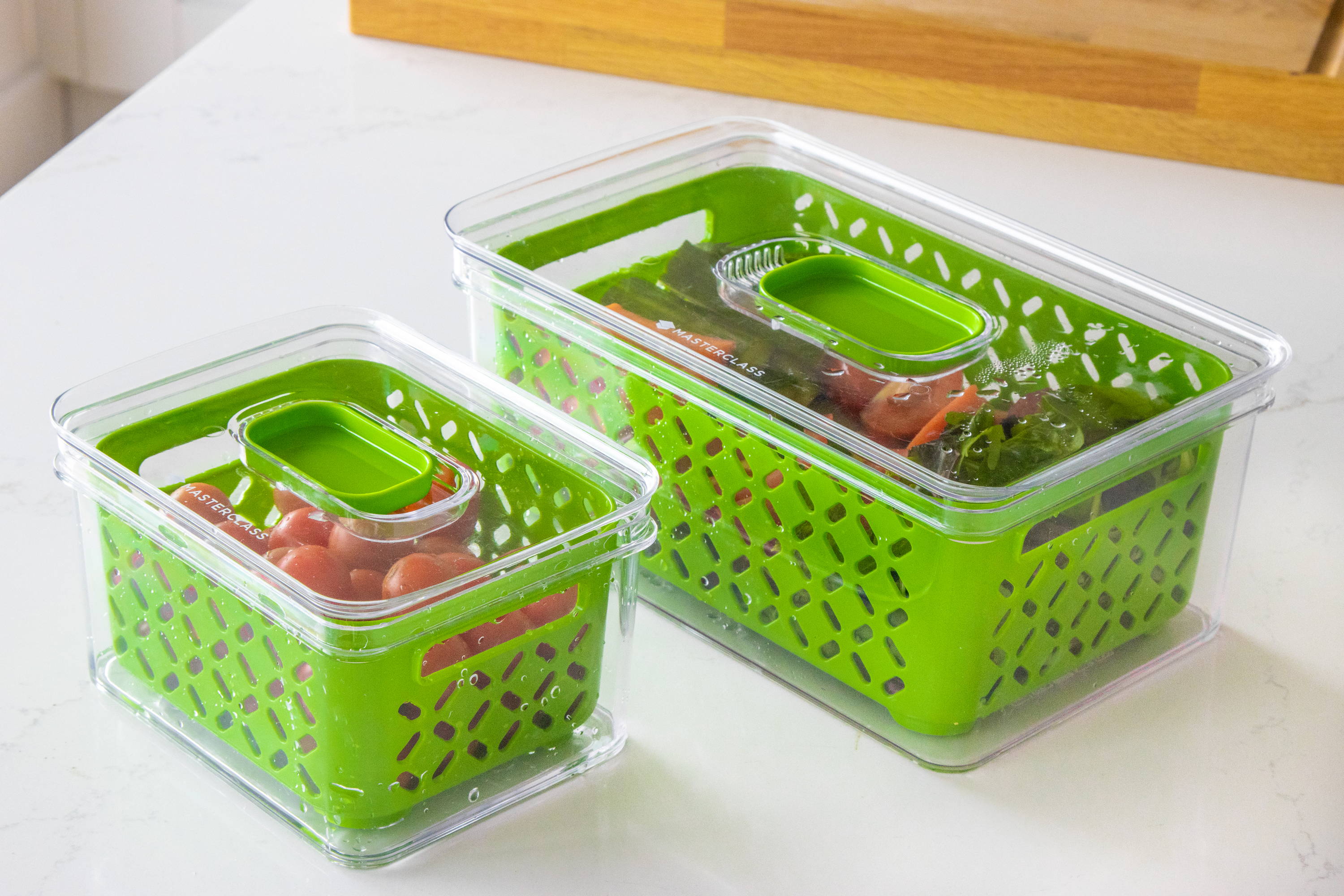 This vegetable is an early variety of cabbage with tender, loose-packed leaves that do not have the hard core which is typical of other cabbages.
Spring greens are harvested from late February through to the beginning of June and are carefully picked just before the vegetable forms a solid heart.
It's therefore crucial that you look for fresh-looking firm leaves, avoiding any wilting or flabby leaves.
Once home, make sure you store them in the fridge. Our MasterClass Fresh Keeper is ideal for keeping your spring greens fresher for longer. An adjustable air vent system allows airflow to circulate, controls internal moisture and eliminates odours while the green, anti-microbial inner basket kills 99% of bacteria.
To cook with spring greens, you'll only need to strip the leaves away from the base, remove the larger stems and lay the leaves on top of one another to shred them finely.
Spring greens only need cooking quickly, otherwise, they'll start releasing more pungent flavours. They can be gently fried in a little butter and lightly wilted in a pan or steamed until tender.
Serve as a side dish topped with a knob of butter and a bit of garlic, add to risottos and stir-fries or use them in warm soups, spring casseroles and spicy curries.