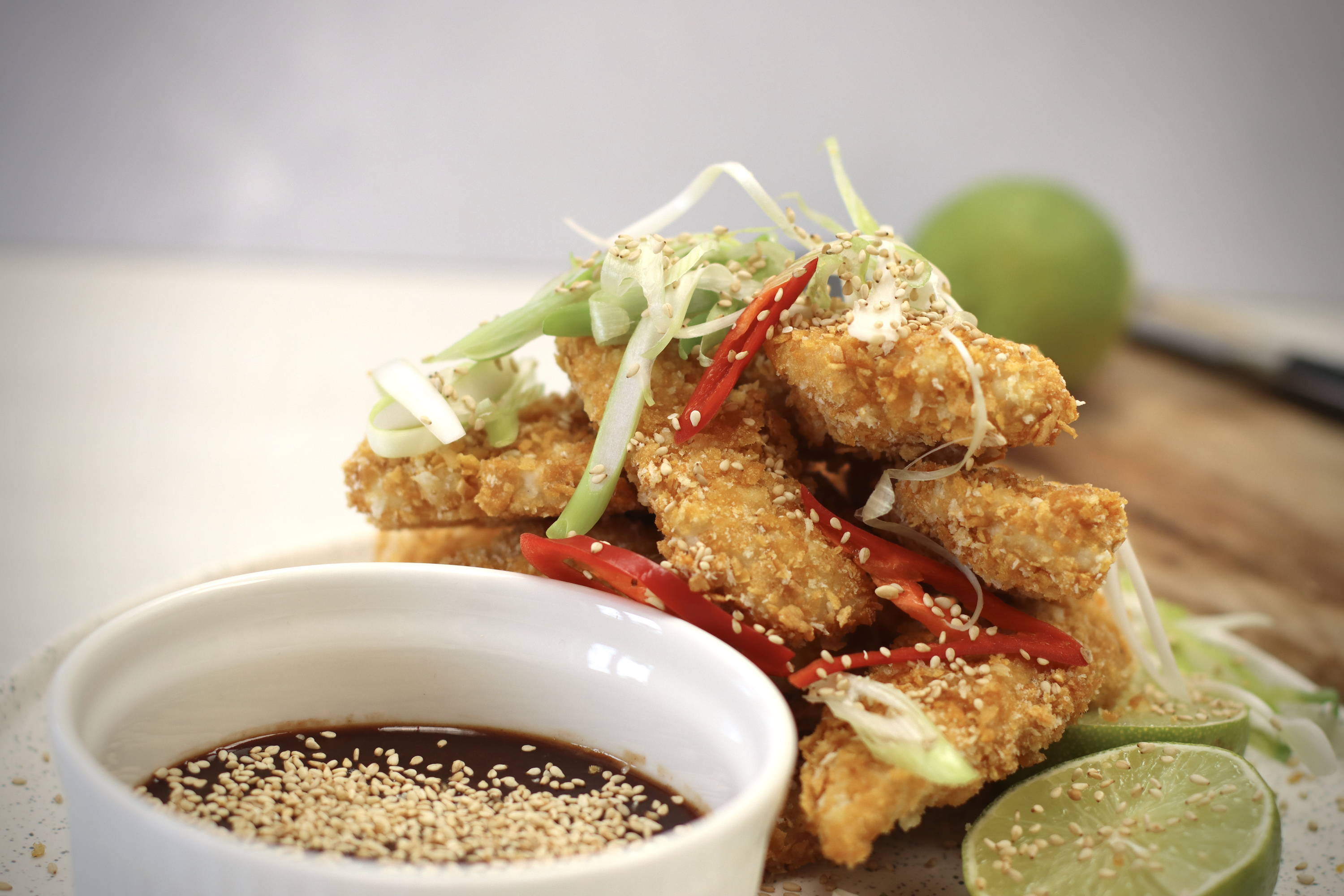 A delicious recipe for all to enjoy! Perfect as a starter, a treat meal or a cheeky snack!
Ingredients:
3 chicken breasts
80g of flour
Salt and pepper
3 medium free-range eggs, beaten
35g of bread crumbs
50g of cornflakes
For the sauce:
2 tbsp brown sauce
2 tbsp ketchup
2 tbsp soy sauce
1 lime
Optional garnish:
Spring onions, sliced
Red chilli, sliced
1 tbsp of sesame seeds
Method:
Cut the chicken into strips approximately 2cm wide and place them onto a plate.
Get all your other ingredients out and ready, place the flour on a plate and mix with salt and pepper. Now beat the eggs into a bowl.
Mix the breadcrumbs and cornflakes in a plastic bag and crush with a rolling pin, then pour out onto a plate.
Drizzle a little oil onto a non-stick baking tray, ready for cooking.
Dip the chicken into the flour with one hand, then transfer it into the beaten egg mixture.
Lift the chicken out of the eggs and into the cornflakes, then into the breadcrumb mixture.
Then lift the chicken out onto a non-stick baking tray, preferably oiled.
Repeat the process until you have coated all the chicken.
Cook in the oven at 160°c for 15-20 minutes or until fully cooked.
While the chicken is cooking, you can make the dipping sauce, place the brown sauce, ketchup and soy into a small saucepan on medium heat.
Add the juice of the lime and bring it up to the boil, then remove it from the heat.
Pour the sauce into a dipping bowl and serve with the chicken.
Sprinkle the chicken with sliced spring onion and fresh chilli, then scatter on sesame seeds.