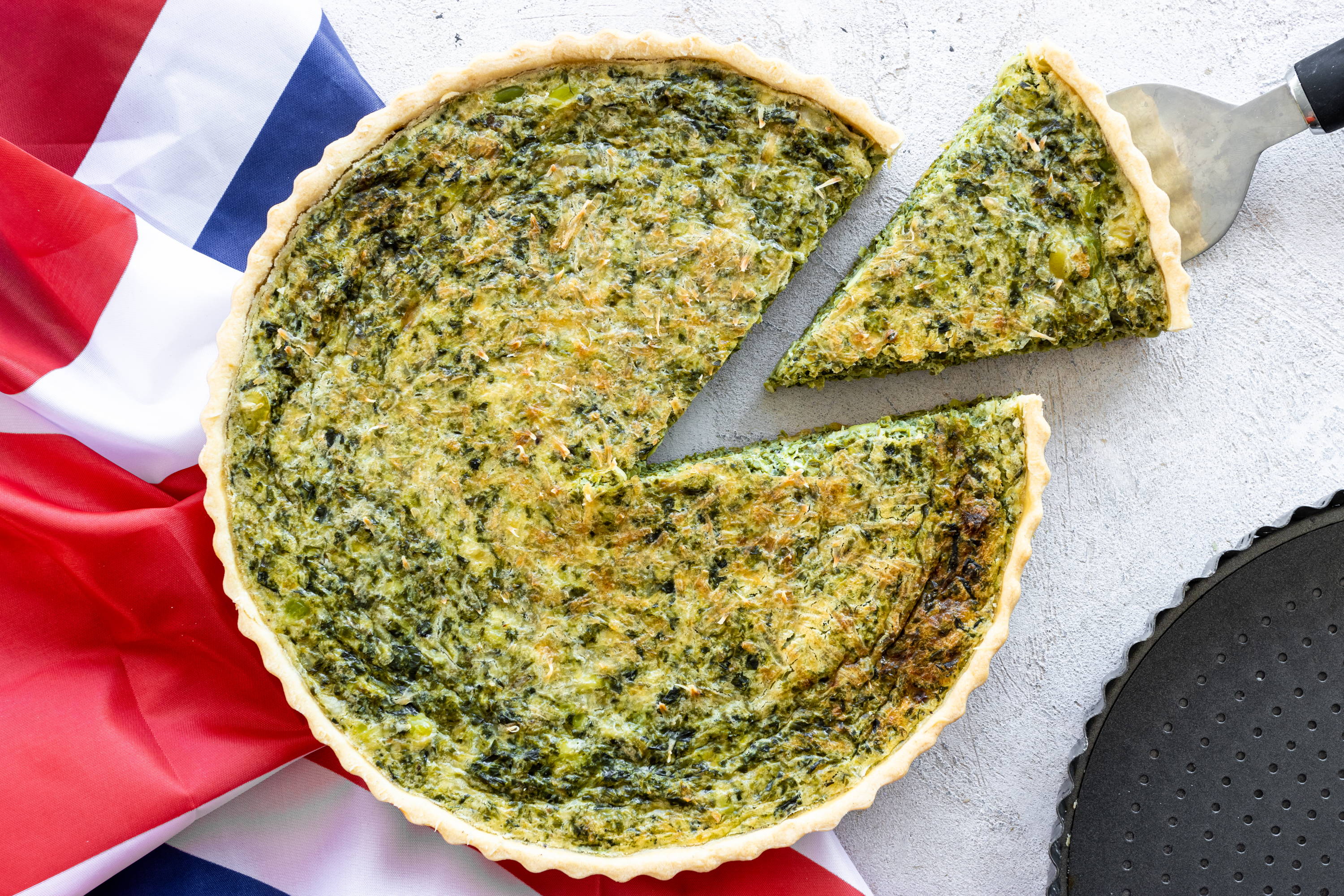 Pastry:
125g plain
fl
our
Pinch of salt
60g cold butter, diced
2 tablespoons milk
(You can also use a 250g block of ready-made shortcrust pastry)
Filling:
•
200ml Full fat milk
•
200ml Double cream
•
3 Medium free range eggs
•
1 tablespoon chopped fresh tarragon or half a teaspoon of dried tarragon
•
Salt and pepper
•
125g Grated mature cheddar cheese or you could try using Lincolnshire
poacher, Lancashire or Wensleydale cheese.
•
200g Cooked spinach, lightly chopped
•
50g Cooked broad beans
1. To make the pastry, place the
fl
our and salt into a bowl and add the butter.
Rub the mixture together using your
fi
nger tips until you get a crumble like texture.
2. Pour in the milk a little at a time and bring the ingredients together into a dough.
Cover and leave to rest in the fridge for 30 minutes.
3. Lightly
fl
our the work surface and roll out the pastry to a circle slightly larger than
the top of the tin and approximately 5mm thick.
4. Line the tin with the pastry, taking care not to have any holes or the mixture could
leak.
Cover and rest for a further 30 minutes in the fridge as this will help make sure the
pastry does not shrink during baking.
5. Pre heat the oven to 170c fan
6. If using a Crusty bake tin from Masterclass you don't need to blind bake as the
perforated holes will help crisp up the pastry nicely.
7. Beat together the milk, cream, eggs, herbs and seasoning.
Make sure you squeeze all the excess moisture out of the spinach before adding to
the quiche, this is really important as if you don't you may end up with a soggy
bottom.
8. Scatter 1/2 the grated cheese in the pastry case, top with the chopped spinach
and beans and herbs, then pour over the liquid mixture.
9. Let the quiche stand for 5 minutes to allow it to soak into all the gaps, then top up
again if required.
10. Sprinkle over the remaining cheese. Place into the oven and bake for 20-25 minutes until set and lightly golden.
The quiche filling core temperate needs to be 75c so use a digital probe to check the temp and avoid over baking and causing the quiche to soufflé.

Always rest your pastry in-between stages of making, rolling and trimming.