Easter weekend might be well known for a top-tier lamb Sunday roast, but it's also a time to indulge your sweet tooth with Easter eggs.
An estimated £415 million worth, in fact, as research found that over 80 million Easter eggs are sold in the UK every year.
While we love to crack into a chocolate egg or two at Easter time, you may find yourself with quite a lot left over. So, you might be wondering how you can use them up to stop them from going to waste – especially when 9.5 million tonnes of food get thrown away each year and it's never been more important to reduce the amount we put in the bin.
At home, we can all do our bit to cut down on food waste and there's no better time than at Easter when our cupboards are stocked up on chocolate and delicious treats.
If the Easter bunny left too much chocolate behind this year, we've pulled together some of our favourite recipes for using up extra sweet treats that all the family can get involved with. Expert chef Peter Sidwell also shares his top tips for how to take your bakes to the next level.
How to melt Easter egg chocolate

First, you'll need to melt down those hollow eggs so you can easily incorporate them into your recipes.
You can do this in two ways: in the microwave and on the stove. Peter talks us through them.
"To melt your Easter eggs in the microwave, chop up the chocolate into small, even pieces so that they melt faster," he recommends. "Pop them into a microwave-friendly bowl and heat them on low at 20-second intervals, making sure to give them a stir with a dry spoon until it looks smooth and glossy."
"Or, you can melt leftover Easter egg chocolate in a bain-marie," says Peter. "Break up your chocolate into small pieces and place them into a glass, heatproof bowl. Fill a saucepan with a few centimetres of water and bring it to a gentle simmer at a medium heat, then place your glass bowl on top – the bottom of the bowl shouldn't touch the surface of the water. Lower the heat and regularly stir the mixture to help it melt and prevent it from splitting."
"The stove-top method takes a little more patience but usually guarantees a better result. Using the microwave to melt chocolate can be done in a pinch, however, the chocolate may be more likely to seize up," he explains. "This is because chocolate can be quite temperamental; if you expose it to too high of a heat too quickly, the sugars will separate from the fat and create a lumpy, grainy mess. If this happens, add more solid chocolate to the mix to reduce the temperature."
Peter also warns against getting the chocolate in contact with any water, as even a drop can cause the mixture to seize.
If you're careful to keep the chocolate at a low temperature and free from moisture, you'll be on your way to a silky, luscious pool of chocolate that's ready to be used in one of our tasty Easter recipes.
Recipes to use up leftover Easter treats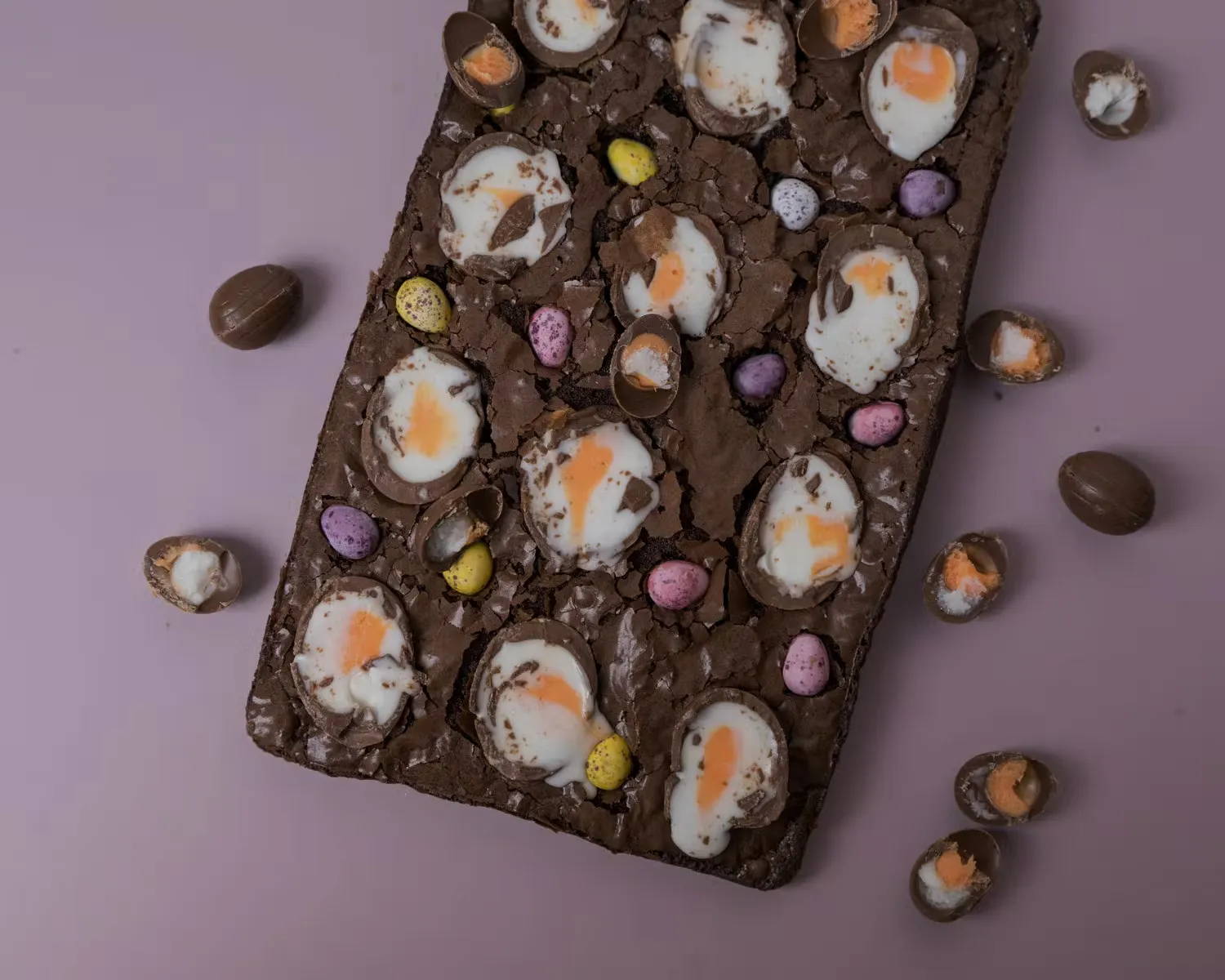 "These Creme egg brownies are the perfect way to use up any Creme eggs you didn't get through," says Peter. "Indulgent and sweet, the halved eggs sit on a fudgy brownie base that's simply irresistible."
Ingredients
185g unsalted butter

185g dark chocolate

85g plain flour

40g cocoa powder

3 large eggs

275g golden caster sugar

6 Cadbury's Creme eggs, cut in half
Method
Preheat the oven to 180°C and grease the MasterClass Non-Stick 35cm x 25cm Baking Tray.

Melt the butter in a saucepan over a low heat and add in the dark chocolate.

Whisk the three eggs in a mixing bowl and add the caster sugar. Continue to whisk until the mixture becomes thick and creamy.

When the butter and chocolate have melted, add the egg and sugar mixture and gently fold to combine.

Sieve in the cocoa powder and flour and gently mix them with a wooden spoon.

Pour the batter into the baking tray and place the halved Creme eggs on top, pressing them into the mixture.

Bake in the oven for 8-10 minutes.

Leave to cool for at least 30 minutes before removing from the tin and cutting into squares.
"This is a fun recipe that children of all ages can get involved with. It's no-bake which means adults don't have to worry about the hot oven, but mind little fingers when breaking up the biscuits!"
We especially like that the ingredients can be adapted to whatever treats you have at home.
Ingredients
100g digestive biscuits

70g cranberries

100g butter cubed

100g mini marshmallows

3 tbsp golden syrup

100g milk chocolate

100g dark chocolate

2 tbsp cocoa powder

100g leftover mini eggs
Method
Line a traybake tin with cling film, including the sides.

Break your leftover Easter chocolate into pieces and place them into a heatproof bowl with the butter.

Melt the chocolate and butter together in the microwave or on the hob until glossy.

Remove from the heat and add the cocoa powder and syrup and mix.

Smash the biscuits with a rolling pin in a sandwich bag.

Stir in the broken biscuits, cranberries, marshmallows and mini eggs.

Pour the mixture into the tin and shake to level out the surface before pressing it down with a spoon.

Scatter over some more mini eggs and leave in the fridge to set for 1 hour.

Once it's firmed up, remove from the tin and cut into squares with a sharp knife.

3. Brioche hot cross buns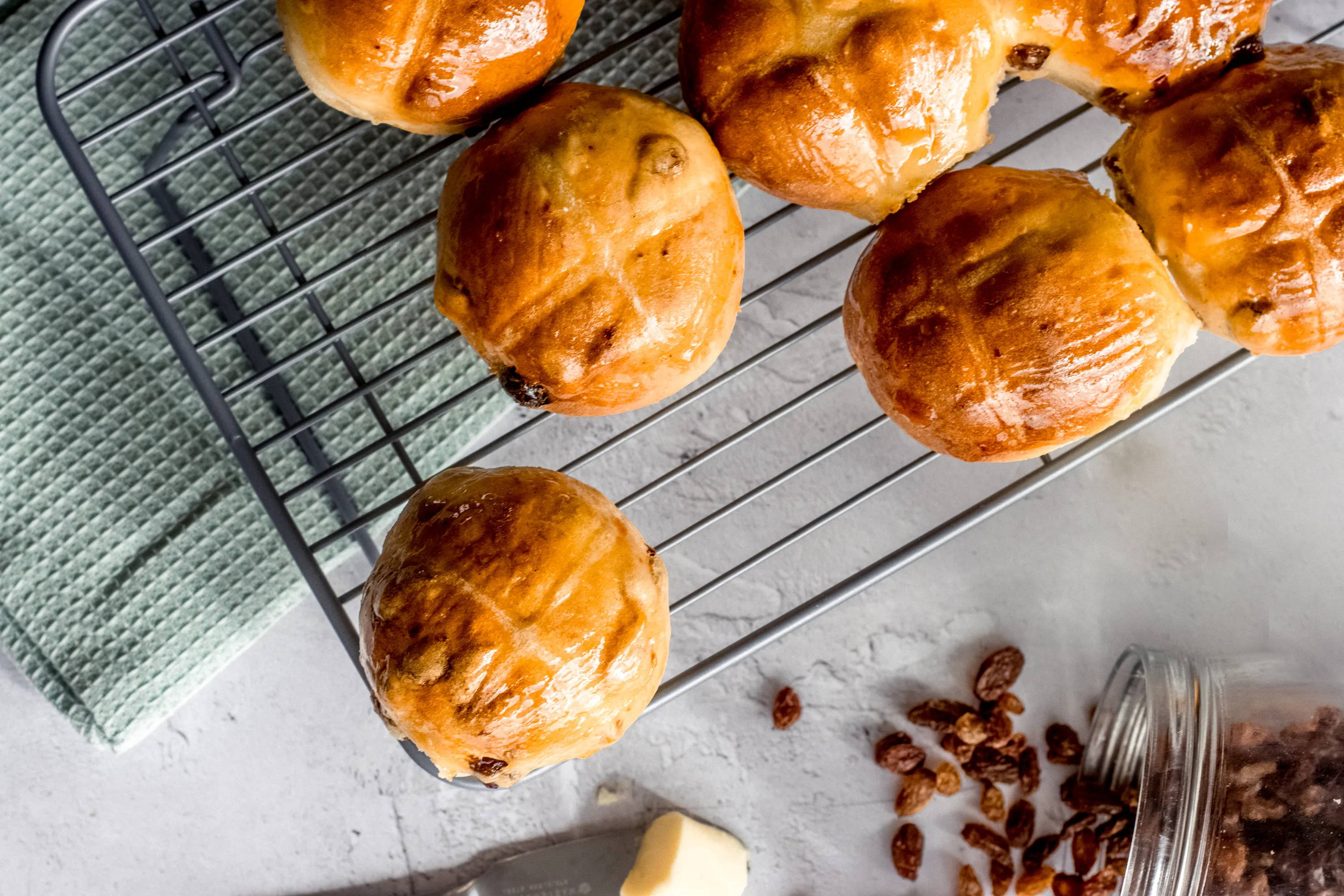 "These hot cross buns are a decadent take on your regular hot cross bun. Enriched with butter and dried fruit, they make for an exquisite Easter treat."
Ingredients
125ml milk

11g instant yeast

60g sugar

2 large eggs

475g strong flour

10g salt

230g of cold butter, cut into chunks

150g dried fruit

1 lemon, zested

5 tbsp plain flour and enough water to make it into a piping paste

2 tbsp apricot jam, warmed
Method
Place all the brioche ingredients in a large mixing bowl.

Using your hand, mix together until it forms a dough and it comes away from the bowl without sticking.

Transfer the dough to a clean work surface and knead until you have a soft, stretchy dough.

Return to the mixing bowl, cover and leave to prove at room temperature for 2 hours or until doubled in size.

Once the dough has proved, turn out onto a clean work surface and stretch out.

Add the dried fruit and lemon zest and knead the dough for 1-2 minutes to mix the fruit through thoroughly.

Cut the dough into portions and weigh out each ball to between 90g-100g each.

Roll into balls, place on MasterClass Non-Stick Hard Anodised 42cm Baking Pan and leave to prove for 30-40 minutes or until doubled in size.

Meanwhile, mix the plain flour and water together until you have a piping consistency ready to pipe your crosses.

Preheat the oven to 180°C, then pipe your crosses onto the top of the buns.

Bake in the oven for 20-30 minutes until golden.

Once the buns are ready, leave them to cool for 10 minutes and then brush the tops with the warm apricot jam to give a nice sweet glaze.

4. Brioche hot cross buns bread and butter pudding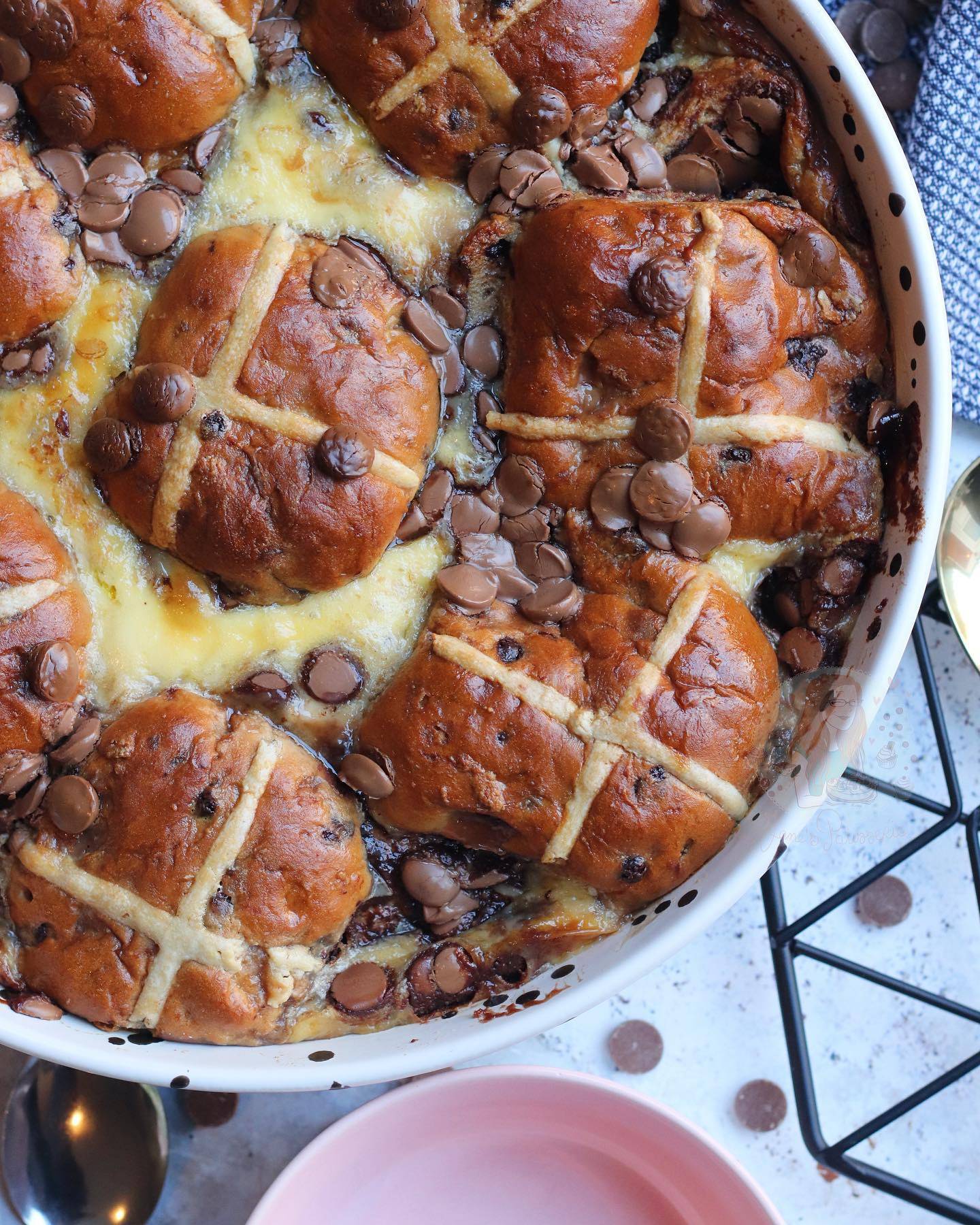 Use our previous brioche hot cross buns recipe to make a levelled-up bread and butter pudding. Or, you can make this with regular hot cross buns if you have them spare.
"You can add in some extra raisins or nestle some leftover Easter chocolates, like mini eggs, into the brioche before pouring over the egg and cream mix for a sweet surprise," suggests Peter. "For a quick hack, you can also swap out the double cream and milk for pre-made custard too."
Ingredients
100ml double cream

250ml milk

3 eggs

75g caster sugar

1 tsp vanilla

6 hot cross buns

25g butter
Method
Gently heat the milk, vanilla and cream.

Whisk together the eggs and sugar and then slowly incorporate the cream mixture.

Half the buns and spread them with butter before arranging in a large shallow ovenproof dish, cut side down.

Pour over the egg and cream mixture and let it soak into the buns for an hour.

Cook at 170°C for around 50 minutes to an hour until set. If you want a beautiful, golden, crispy top, sprinkle over some caster sugar halfway through baking.
5. Hot cross bun French toast

"If you're looking for an Easter breakfast treat, try this hot cross bun French toast. Buns that are starting to go a little stale are ideal as they can soak up more milk, so this is perfect for using up any hot cross buns that are starting to go past their best."
You can also experiment by adding a splash of vanilla extract, orange zest, nutmeg, or clove to compliment the buns! Sprinkle them sparingly into your egg and milk mixture as it can be easy to add too much and overpower the finished dish.
Ingredients
2 eggs

100ml milk

2 tbsp sugar

½ tbsp cinnamon
Method
Combine the eggs, milk, sugar and cinnamon in a bowl and whisk to combine with a fork.

Heat a knob of butter in a frying pan on a medium heat.

Slice your hot cross buns in half and dip both sides in the mixture until fully coated.

Fry in the pan on each side for two minutes, carefully turning them with tongs, until golden brown.

Finish with toppings of your choice. Why not try them with bananas, fruit, syrup, or even leftover chocolate eggs?
6. Cocktail in an Easter egg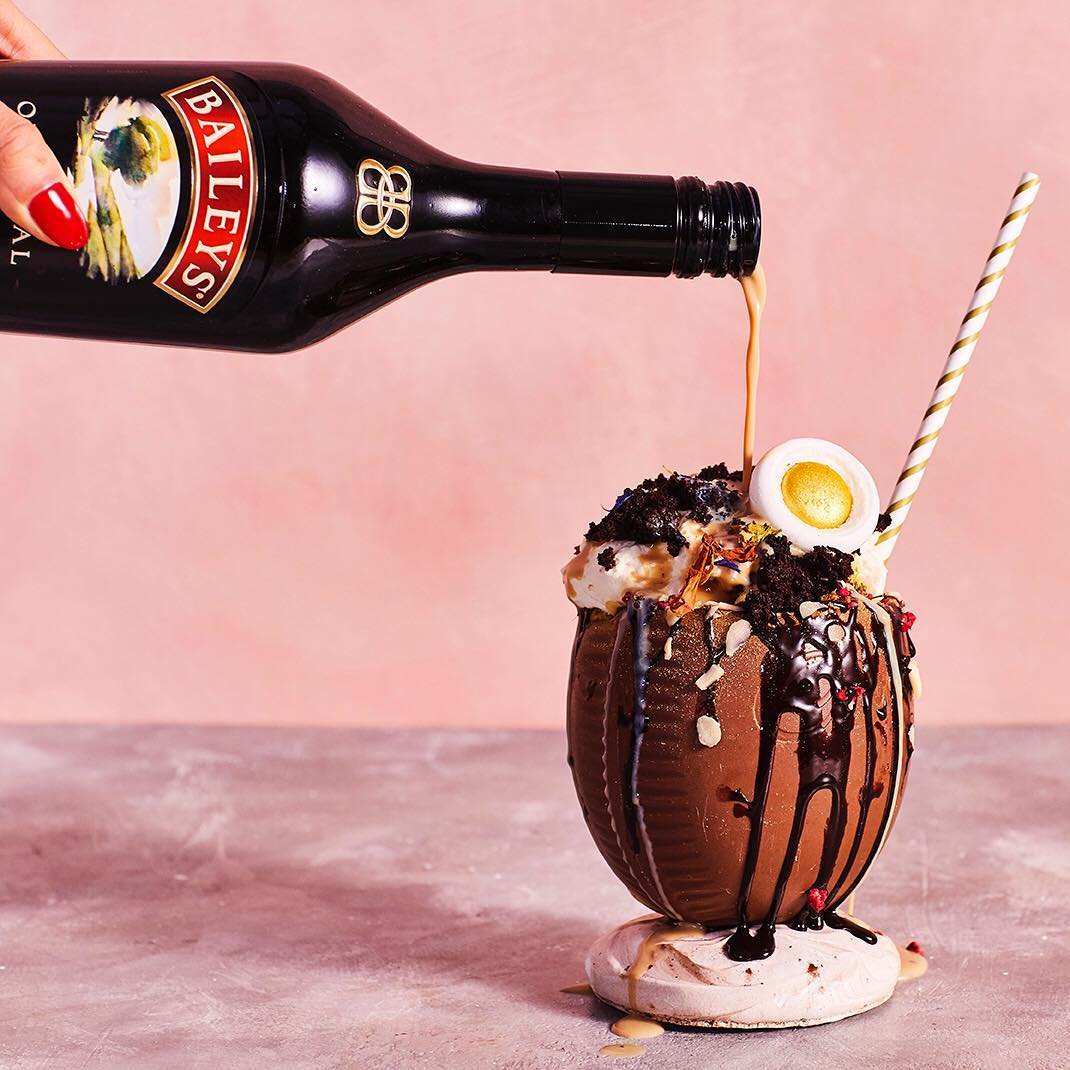 This one's for the parents – whizz together your cocktail ingredients and swap your traditional glass for a hollow Easter egg. For the ultimate chocolate experience, you could even try adding a chocolate-based liquor instead of the Baileys.
"You can even turn this into a family-friendly version by swapping the vodka for a teaspoon of good-quality vanilla essence and the Baileys for chocolate milkshake powder," suggests Peter.
And the best part? Once you've enjoyed your drink, you can eat the cup!
Ingredients
100ml Baileys Irish cream

2 hollow large easter eggs

4 scoops vanilla ice cream

1 tbsp chocolate spread

1 shot of vanilla vodka

A handful of ice



Method
Add everything except the Easter eggs to a large blender along with a handful of ice cubes.

Blend until smooth.

Cut the top off the Easter eggs.

Pour the blended mixture into the eggs.

Optionally, you can top with whipped cream, chocolate sauce, berries, sprinkles, crushed mini eggs, and chopped nuts.

Add a straw and enjoy.
Make your Easter treats go further with CookServeEnjoy

Whether you've been left with a mountain of Easter eggs, hot cross buns, or sweets, there's a fun and creative way to save them from going to waste with our recipes.

Discover more Easter baking ideas or pick up the best baking tins and accessories to help you get the job done.