Easter is a time for spending with your nearest and dearest, fun activities and, of course, for indulging in sweet treats! There is nothing quite like homemade cake and the satisfaction of making something delicious from scratch, so Easter baking is a great activity for that weekend.
Why not get the kids involved in the kitchen too and whip up Easter treats for the whole family? They'll really enjoy it and your guests will definitely appreciate it.
If you are looking for some inspiration on Easter baking ideas this year, here are some recipes that are perfect for all the family. From the traditional Simnel cake and classic hot cross buns to colourful Easter biscuits and indulgent Crème egg brownies, there's something for everyone to enjoy.
Whether you're a seasoned baker or just starting out, these baking recipes for Easter are all easy to make. Get your creative juices flowing, preheat the oven and let's get started making some mouth-watering treats this Easter season!
This adorable bunny cake is easier to make than you would think. You just have to bake a simple light sponge, cover it with buttercream and craft your decorations with ready-to-roll icing, mini eggs and flower fondants.
The bunny cake will make a charming alternative when you've had your fill of chocolate and makes a stunning showstopper for tea.
What you'll need
Ingredients
For the cake sponge:
600g butter

600g caster sugar

10 eggs

3tsp vanilla essence

600g self-raising flour

2 tsp baking powder
For the buttercream icing:
500g unsalted butter

1kg icing sugar

2 tsp vanilla essence

food colouring of your choice

decoration

1.5kg white ready-to-roll icing

500g pink ready-to-roll icing

mini eggs and flower fondants
Method
Preheat the oven to 160°C and line a MasterClass Non-Stick 15cm Loose Base Deep Cake Pan.
Mix the sugar and butter together until light and fluffy. Then add in 5 eggs one at a time, mix into the butter and sugar and then sieve in half of the flour and baking powder. Fold into the mixture and repeat with the remaining eggs and flour.
Once it has mixed all together into a smooth cake mixture, pour it into the cake pan. Bake for one hour until the centre has cooked (test with the KitchenCraft Stainless Steel Cake Tester to ensure it comes out clean). Then leave the cake until it is completely cool.
To make the buttercream, whisk the butter and icing sugar together and add in the vanilla essence to form a light and fluffy mixture.
Once the cake is cool, cover the whole cake in buttercream. (Split into two if you wish to make a double layer).
Roll out the ready-to-roll icing to a circle of at least 40 cm in diameter. Then place it onto the cake and smooth it out downwards before trimming the excess from the sides.
To make the ears and nose cut out the ready-to-roll icing using both white and pink. Stick onto the cake using buttercream.
Decorate the bunny with anything you wish to dress it with.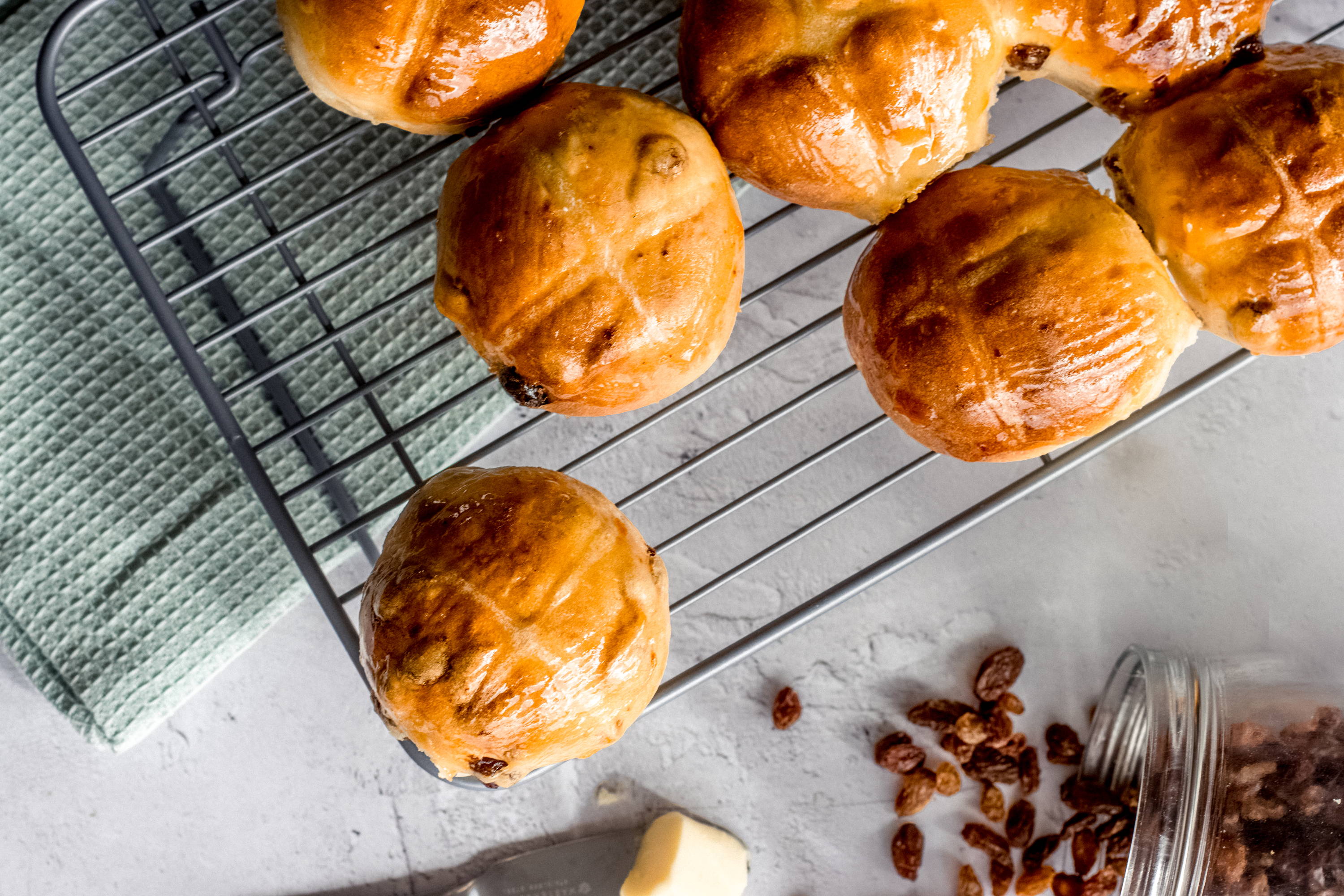 These soft, sweet and fruity buns are a classic Easter treat. Enriched with butter, packed with dried fruit and decorated with a distinctive cross, the brioche hot cross buns make a delicious, aromatic, and satisfying treat for Easter.
What you'll need
Ingredients
125ml milk

11g instant yeast

60g sugar

2 large eggs

475g strong flour

10g salt

230g of cold butter, cut into chunks

150g dried fruit

1 lemon, zested

5 tbsp plain flour and enough water to make it into a piping paste

2 tbsp apricot jam, warmed
Method
Place all the brioche ingredients in a large mixing bowl.
Using your hand, mix tighter until it forms a dough on your hands and it's clean from the bowl.
Transfer the dough to a clean work surface and knead until you have a soft stretchy dough.
Return to the mixing bowl, cover and leave to prove for 2 hours or until doubled in size.
Once the dough has proved, turn out onto a clean work surface and street out.
Add the dried fruit and lemon zest, knead the dough for 1-2 minutes to mix the fruit through thoroughly.
Cut the dough into portions and weigh out each ball to between 90g-100g each.
Roll into balls, place on MasterClass Non-Stick Hard Anodised 42cm Baking Pan and leave to prove for 30-40 minutes or doubled in size.
Meanwhile, mix the plain flour and water together until you have a piping consistency ready to pipe your crosses.
Preheat the oven to 180°C then pipe your crosses onto the top of the buns.
Bake in the oven for 20-30 minutes until golden.
Once the buns are ready, leave to cool for 10 minutes and then brush the tops with the warm apricot jam to give a nice sweet glaze.
A traditional Easter dessert, Simnel cake is a spiced fruit cake topped with a golden-brown layer of toasted marzipan, decorated with a set of eleven balls, made of the same paste, symbolising the apostles.
This tried-and-tested recipe combines dried fruit, citrus peel, glacé cherries and mixed spice to create a rich and moist cake that will make a beautiful masterpiece to serve at tea time.
What you'll need
Ingredients
For the marzipan decoration:
225g icing sugar

175g caster sugar

350g ground almonds

2 large eggs

½ tsp almond extract

1 tsp freshly squeezed lemon juice

2 tbsp apricot jam
For the fruit cake:
1 orange, freshly squeezed juice and finely grated zest

1 unwaxed lemon, freshly squeezed juice and finely grated zest

500g mixed dried fruit

100g glacé cherries, halved

225g self-raising flour

2 tsp ground mixed spice

3 large eggs

175g butter

175g light muscovado sugar
Method
For the marzipan:
Stir together the caster sugar and almonds and sift in the icing sugar.
In a separate bowl, beat the eggs with almond extract and lemon juice using the MasterClass Soft Grip Stainless Steel Balloon Whisk, 30 cm. Once well beaten, mix in the dry mixture until stiff but workable.
Knead the marzipan until smooth and return to the bowl and cover. Allow the marzipan to stand for two hours before use.
For the cake:
 Preheat the oven to 170°C/150°C (fan)/Gas 3.
Simmer the orange and lemon juice over low heat for two minutes adding the dried fruit and cherries and stirring continuously until the liquid has disappeared.
Remove from the heat and leave on a plate to cool.
Line the MasterClass Non-Stick 20cm Loose Base Spring Form Cake Pan.
Mix the flour and mixed spice in a large bowl. Whisk the eggs together in another bowl.
Beat the butter and sugar until fluffy, slowly add the beaten eggs.
Add all the flour mixture and slowly beat. Gradually stir in the dried fruit, as well as the orange and lemon zest.
Spoon just half of the mixture into the cake tin. Place the rest of the cake batter aside for the moment.
Divide the marzipan into three equal balls. Take one of the balls and roll out on parchment paper into a circle around 5mm thick and about 2 cm larger than the cake tin. Place the cake tin on top of the rolled marzipan and use it as a template to cut out a circle around 1 cm larger than the tin.
Rest the marzipan on top of the cake mixture in the tin.
Spoon the remaining cake mixture into the tin.
Bake the cake for about 1 hour 20 minutes or until a cake tester comes out clean when inserted into the cake.
When cooked, remove the cake from the oven and leave it to cool in the tin for 15 minutes before removing from the tin and leaving on a wire rack to cool fully.
Place the cooled cake on a baking tray ready for decorating.
Heat the apricot jam in a small non-stick saucepan for one minute stirring constantly.
Take one of the marzipan balls and roll out on parchment paper into a circle around 5mm thick and just a little larger than the cake tin. Place the cake tin on top of the rolled marzipan and use it as a template to cut out a circle the same size as the tin.
Brush the surface of the cake with the warm jam and cover with the marzipan circle.
Form the remaining marzipan into 11 fairly small balls. Dab one side of each ball with a little of the jam and place around the edge of the cake.
Place the cake under a preheated hot grill, around 15-20 cm from the element – for 2-3 minutes.
Leave to cool.
Cut into slices and serve.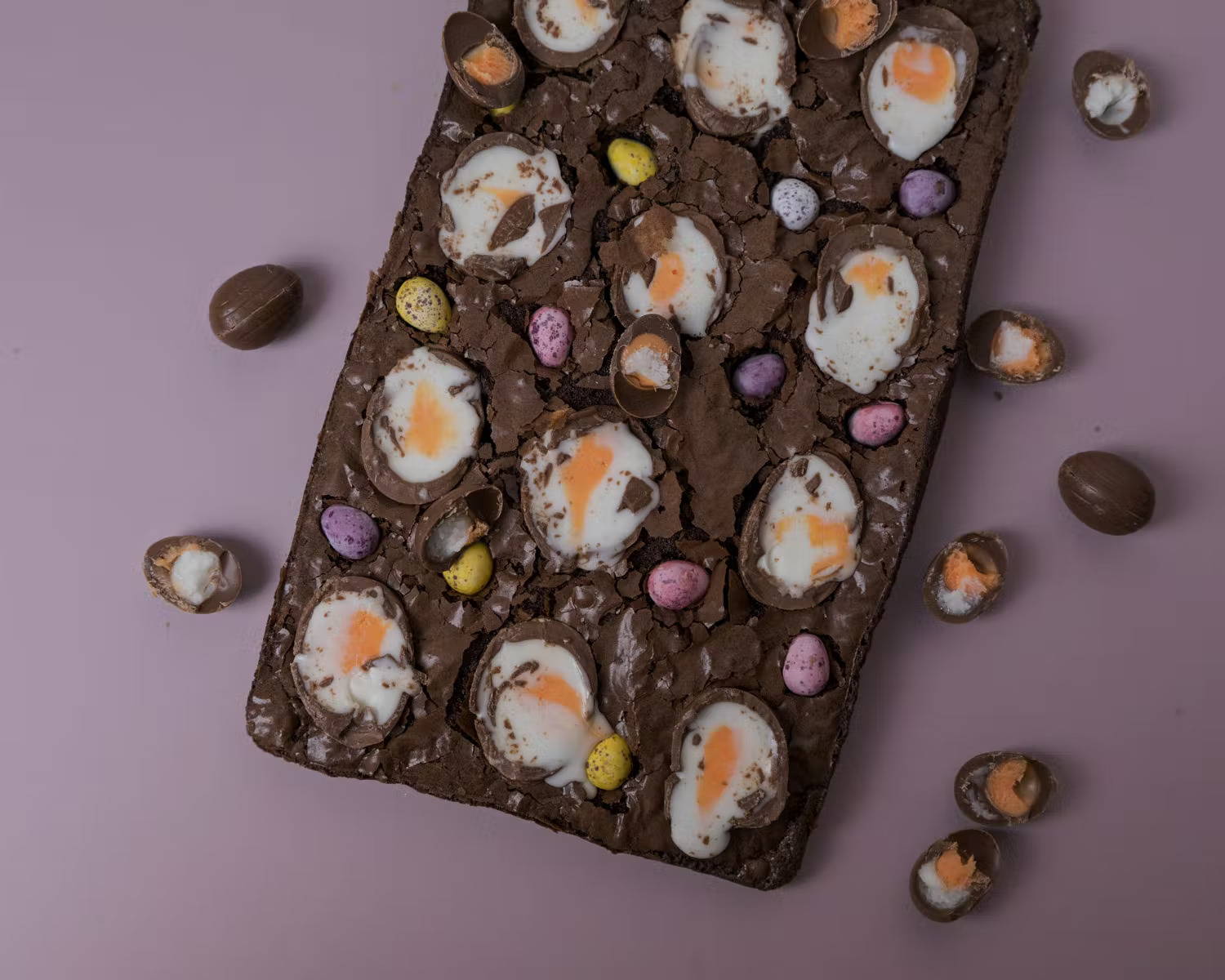 Use up those leftover Easter choccies in this rich and indulgent bake that will surely satisfy any sweet tooth. The brownie is made with a rich and fudgy chocolate brownie base, filled with halved Crème eggs, and topped up with crunchy chocolate mini-eggs.
The combination of creamy, sweet filling, and chocolatey goodness creates a glorious dessert that is both satisfying and irresistible — the ultimate Easter treat!
What you'll need
Ingredients
185g unsalted butter

185g dark chocolate

85g plain flour

40g cocoa powder

3 large eggs

275g golden caster sugar

6 Cadbury's Crème eggs, cut in half
Method
Preheat the oven to 180°C and grease the MasterClass Non-Stick 35cm x 25cm Baking Tray. In a saucepan, melt the butter on a low heat and add in the dark chocolate gradually.
Mix 3 eggs into a mixing bowl along with the caster sugar and whisk until it becomes thick and creamy. Once the chocolate has melted, pour the mixture onto the creamy egg mixture and fold together. Sieve the cocoa and flour into the mixture and mix in gently again using a wooden spoon.
Pour the mixture into the baking tray and press in halved Crème eggs. Place into the oven for 8-10 minutes.
Leave to cool before removing from the tin and cut into squares.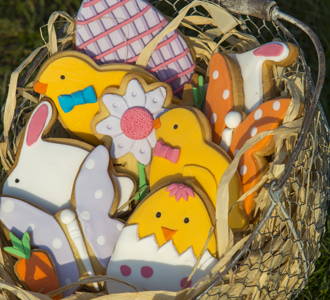 Add a personal touch to your Easter table with these lovely colourful egg biscuits, which are cracking fun to make and delicious to eat. Get the kids involved with icing and decorating the biscuits and let their imaginations run wild. They'll love it!
Use cookie cutters to make cute shapes and decorate them with frosting and sprinkles. Choose from our wide cookie-cutter selection and craft your own designs!
What you'll need
Ingredients
Biscuits:
100g/8oz softened butter

75g/6oz caster sugar

1 large free-range egg yolk

200g/14oz plain flour, plus extra for flouring

1 level tsp mixed spice

1 level tsp ground cinnamon

2-4 tbsp milk
Icing:
1-2 tbsp lemon juice

250g/9oz icing sugar

about 2 tbsp cold water

different coloured food colouring
Method
Preheat the oven to 180C/350F/Gas 4.
Lightly grease two baking trays lined with baking parchment.
Measure the butter and sugar into a bowl and beat together until light and fluffy, then beat in the egg yolk.
Sieve in the flour and spices and add enough milk to give a fairly soft dough.
Bring together, using your hands.
Knead the biscuit dough mixture lightly on a lightly floured work surface.
Using the KitchenCraft Beech Wood Revolving 44cm Rolling Pin, roll the dough out to a thickness of 5mm.
Cut out your Easter biscuits using a variety of shaped cutters.
Place the biscuit shapes on the MasterClass Crusty Bake Non-Stick Baking / Cookie Tray and bake in the preheated oven for 10-15 minutes or until golden.
Remove from the oven and lift onto a wire rack to cool.
To make the icing, pass one teaspoon of lemon juice through a small, fine sieve, to remove any pips or bits.
Mix the icing sugar with the lemon juice, and then add one or two tablespoons of water, little by little, until you have a relatively stiff but smooth icing.
Divide the icing into separate bowls and mix in food colourings of your choice, until you achieve the desired shade.
Spoon a little icing into a piping bag and pipe your decorations onto the biscuits.
Now you are ready for Easter!
All of our scrumptious Easter baking ideas are sure to go down a treat with the whole family. Visit Cook Serve Enjoy to browse for the perfect kitchen tools to make baking a lot easier.
Shop our high-performance baking tins, baking trays and cake pans for the best results now!