Deliciously crunchy on the outside with a fluffy interior, roast potatoes are an essential component of any roast dinner. But getting your roasties to crisp up can sometimes be tricky. Chef Peter Sidwell talks us through his tips and tricks for making show-stopping roast potatoes.
How to make roast potatoes
We've put together a simple guide to get you started. Just make sure you've got the basic tools for the job handy, like a roasting tin, saucepan, and colander. This will make the whole process a lot easier!
1kg Maris Piper potatoes

100g duck or goose fat/or 100ml olive oil

2 tsp flour

Salt to serve
Heat the oven to 200C and put in your

roasting tin

to warm up.

Peel your potatoes and cut them into even-sized pieces (we recommend cutting each medium potato four times and smaller ones two-three times).

Drop the potatoes into a large

saucepan

and fill it with water

一

just enough to cover them.

Add salt to the water and wait for it to boil. As soon as it's boiling, lower the heat to a simmer and put your timer on for 2 minutes.

While the potatoes are cooking, put 10g of duck fat (or 100ml of olive oil) into the roasting tin and put it back in the oven for a few mins until really hot.

Drain the potatoes using a

colander

and leave them to rest for around 10 minutes.

After the potatoes have cooled a little, shake the collider a few times to rough up the edges — this is key to getting them deliciously crispy!

Sprinkle with 2 tsp of flour and shake again until your potatoes are fully and evenly covered.

Take your tin out of the oven and pour your potatoes into the hot fat or oil, shaking them carefully to make sure they're coated.

Roast for 15 minutes in the oven, then turn them over and put them back in for another 15.

Check your potatoes and turn them over again, cooking for a further 10 minutes or until they've browned and have gone crispy.

Sprinkle with salt and serve straight away!
How to make sure your roast potatoes are extra crispy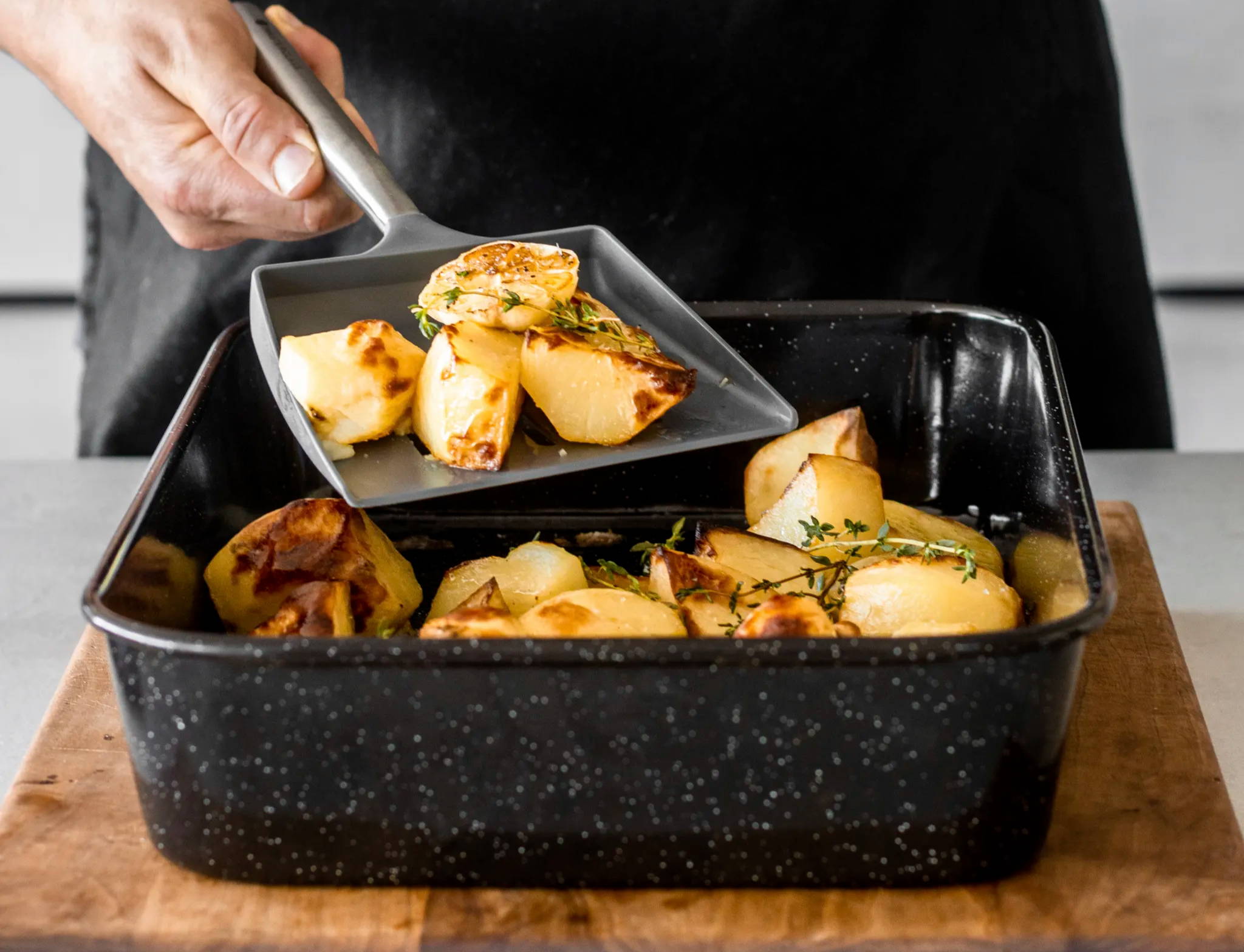 Leaving your roast potatoes to cool after parboiling them may seem like a waste of time. After all, does it really make that much difference?
"Yes, it does!" Peter says, "Once boiled, I drain and leave them for 10 minutes to allow the steam to evaporate. This is the key to a good roast potato."
Leaving them to cool for a while before popping them in the oven will ensure there's not too much moisture in your potatoes. The result will be deliciously crispy roasties!
And if you're dreaming of a crispy potato with a perfectly fluffy interior, Peter suggests using Maris Piper potatoes. "They're a good versatile potato that will crisp up whilst remaining soft inside. They always deliver on roasting, mashing, and making chips!"
What's the best oil for roasting potatoes?
"I use rapeseed oil as it can reach a high temperature for the potatoes to cook in, then I add 50g of salted butter for the last 10 minutes for a tasty treat," says Peter. The butter helps to give an extra crunch and a touch of indulgence!
Oils with a high smoke point, like olive and rapeseed oil, are best for roast potatoes as they will turn golden brown without burning.
What are the best herbs for roast potatoes?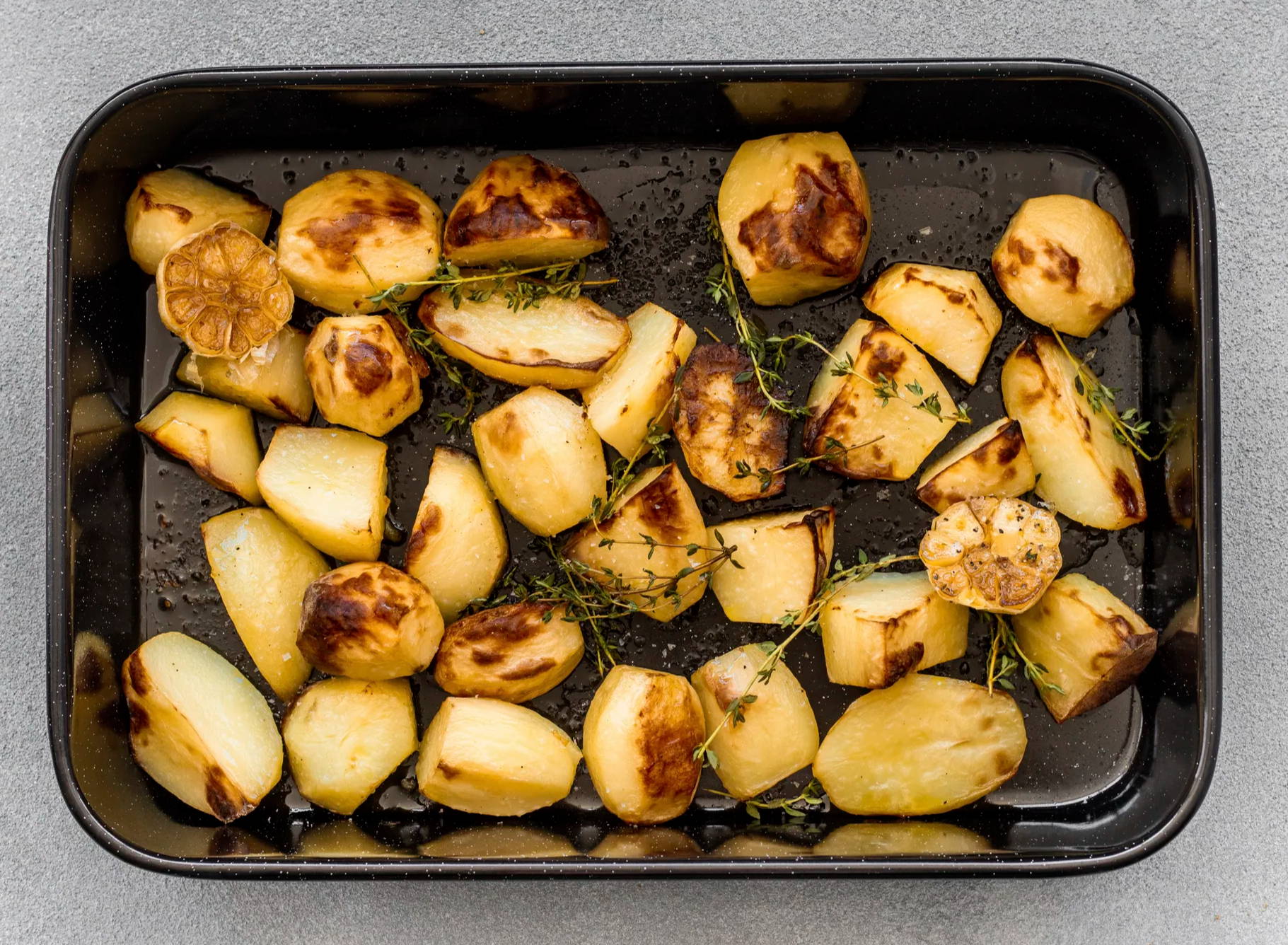 The classic way to season roast potatoes is with parsley, rosemary, or thyme. We recommend using fresh herbs 一 they will elevate your potatoes as they are more potent in flavour than dried ones.
Top tip: add your herbs in with your potatoes while they are boiling to take your roasties to the next level. Then just pop your chosen fresh herbs into your pan with your potatoes while they're roasting for extra flavour. Combine with fresh garlic and olive oil to make them taste even more incredible!
What's the best temperature for roast potatoes?
200°C is a good temperature that is high enough to result in crispy, browned potatoes that are fluffy on the inside, but not so high that the oil burns.
Frequently asked questions
How long should I boil roast potatoes for?
You want them soft enough that they are fluffy inside but not too delicate that they fall apart. Boiling for 10 minutes should get you the perfect consistency, but make sure you pierce the potatoes with the tip of a knife to see how they're getting on. If it goes in fairly easily, you're ready for the next step!
How long should I roast potatoes for?
We recommend roasting your potatoes for around 45 minutes to one hour, but this truly depends on how brown and crunchy your potatoes are looking. Keep checking on them to make sure they're not burning!
What should I do with leftover roast potatoes?
If you've somehow managed to resist eating all your deliciously roasted potatoes at Sunday lunch, don't waste the leftovers! Combine with other roast dinner remains for the perfect second-day buffet, rustle up some bubble and squeak, or throw into some vegetable soup.
Peter suggests, "squashing the cooked roasties and frying them in a preheated pan with some diced chorizo sausage, chilli, and garlic. Delicious."

For more tips on becoming greener in the kitchen, read our guide on how to reduce food waste.
How should I reheat roast potatoes?
They take a little time to reheat properly, but it's worth the wait if you don't want soggy potatoes!
Peter advises, "preheat your oven to 200°C and place the potatoes onto a non-stick oven tray. Spray with a little oil and heat for around 15 minutes or until crisp again."
How can I freeze roast potatoes?
Freezing roast potatoes can make dinner time easier and faster 一 great for those who have little time to spare in the evening.
"Parboiling potatoes before freezing them is not only a great way to get ahead of time, but it also makes the potatoes extra crunchy when cooked. Just roast from frozen while your meat is resting," says Peter.
What can I have with roast potatoes?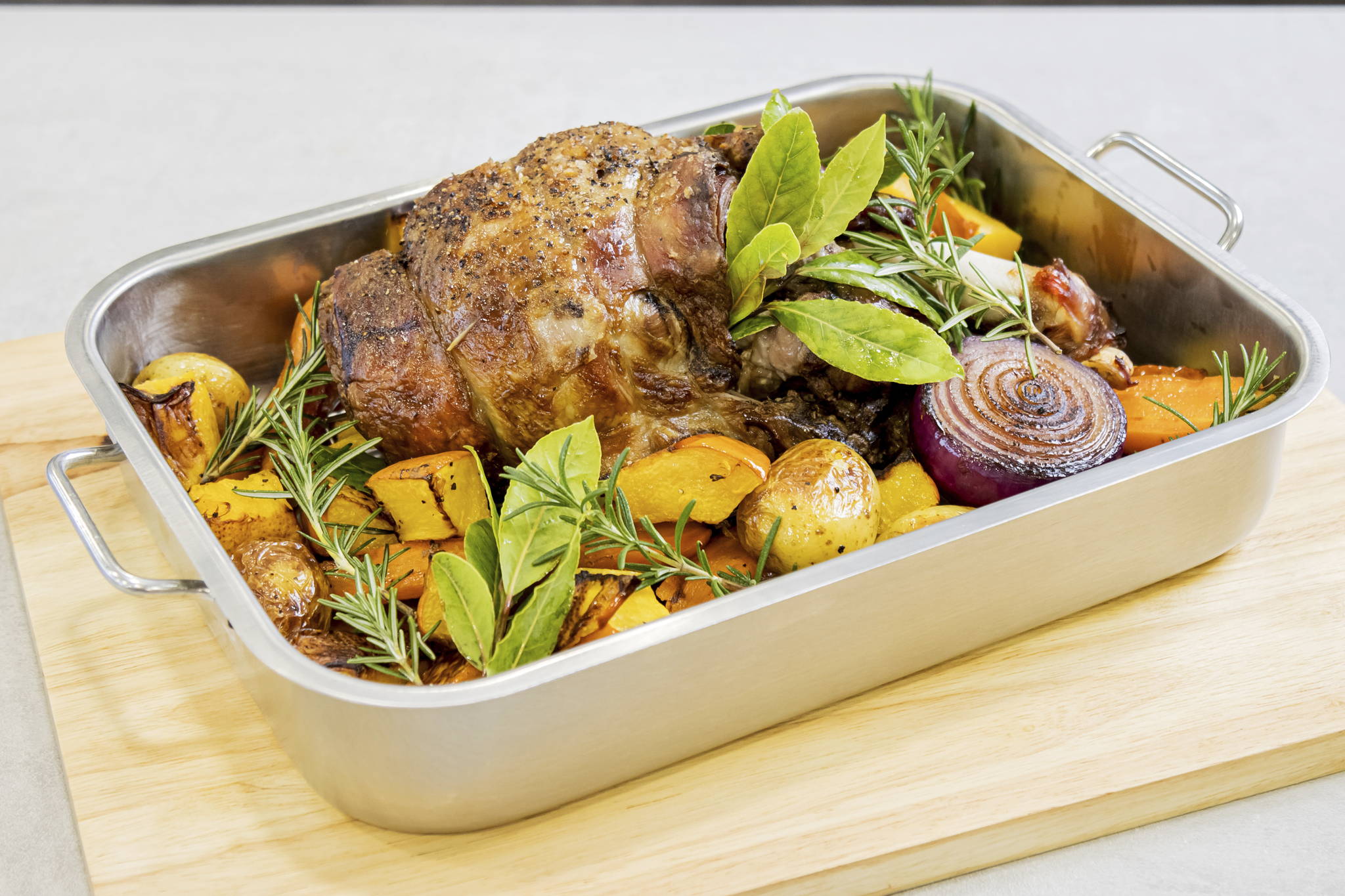 Roast potatoes are extremely versatile and can be served with almost any meat and veg. From sausage and gravy to your typical chicken dinner, roasties pair perfectly with many dishes!

Why not try our duck wellington recipe with roast potatoes for a refreshing change to your classic Sunday roast? Or, pair with Italian roast pork and honey-roasted carrots for a dish that is sure to satisfy your taste buds!
Perfect for eco-savvy home chefs: this saucepan is made of 70% recycled aluminium cans. Not only that 一 it's dishwasher safe, saving you precious time in the kitchen!
"This pan is super non-stick and conducts heat quickly making it great for boiling potatoes and veggies fast," states Peter.
What are the best tools for making roast potatoes?
Best for boiling potatoes:

MasterClass Can-to-Pan Ceramic Non-Stick Saucepan with Lid
Perfect for eco-savvy home chefs: this saucepan is made of 70% recycled aluminium cans. Not only that 一 it's dishwasher safe, saving you precious time in the kitchen!
"This pan is super non-stick and conducts heat quickly making it great for boiling potatoes and veggies fast," states Peter.
Best for roasting:

KitchenCraft Non-Stick Roasting Pan
A quality roasting tin is a must-have tool in any kitchen, ideal for whipping up roasties, a juicy joint of meat, or even a lasagna! The non-stick coating makes cleaning a breeze 一 they'll be no more scrubbing at the sink so you can relax after dinner instead.
Peter says: "a good sized non-stick roasting tray is important as you need space to roll the potatoes around in the oil to allow them to roast."
Best for draining:

MasterClass Deluxe Two-Handled Colander
This colander with high-quality stainless steel construction is designed to last for years, even with regular use. The evenly sized holes make draining fast and hassle-free, preventing soggy food. Ideal for getting your potatoes perfectly dry before cooking to get them nice and crispy!
"It's essential to have a big colander to help get all the steam out of the potatoes, making them crisp up. The holes in the colander are also great for ruffling up the potatoes' edges," says Peter.
Best for serving food:

MasterClass Food Tongs
When serving up your roast potatoes, it's important to keep your hands safely away from oil and your hot roasting tin. With these long-handled 28cm tongs, you'll be able to do just that!
The black nylon head is 100% safe for non-stick surfaces, so there's no risk of scratching your tins and pans. Small slots on the head help to drain liquid from food as you pick it up, preventing oil from dripping onto your plate when you serve your roasties.
Peter says, "these tongs are great for lifting crispy potatoes from your roasting pan without squashing them."
You're now ready to make roast potatoes that are crisped to perfection
Cooking delicious roast potatoes doesn't have to be difficult. Once you've peeled your potatoes and your pan is extra hot, crispy roasties with a fluffy interior can be yours within an hour.
Whether it's a roasting tin large enough for all your roasties, or a colander to rough up your potato edges, having the correct tools for each stage of the cooking process makes tackling roast potatoes a breeze.
Shop our full range of Saucepans, Colanders, Tongs, and Roasting Tins today.