However you're cooking, containers are the foundation of meal prep. But with so many features, brands, and materials available, picking the perfect one can be tricky. Enter our best meal prep containers guide to help you out 一 Chef Peter Sidwell talks us through his tips and tricks.
Simply put: meal prep is organising your meals ahead of schedule. It's a handy way to enjoy delicious, healthy food without the wait.
Meal prep can be approached in different ways, including:
Ingredient prep

一 Chopping veggies, marinating meat, or mixing spices can save precious time when you come to make your meal.

Batch cooking

一 Cooking food in large batches, dividing it into portions and storing it for later is a form of meal prepping that saves time and effort. For some meal prep inspiration using this method,

check out our Guide to Batch Cooking.

Types of meal prep containers
Of course, the right type of container for you will depend on your lifestyle and how you plan to use it. With a variety of different materials to choose from, we've made choosing your perfect container easier by exploring the pros and cons of some of the most commonly used materials.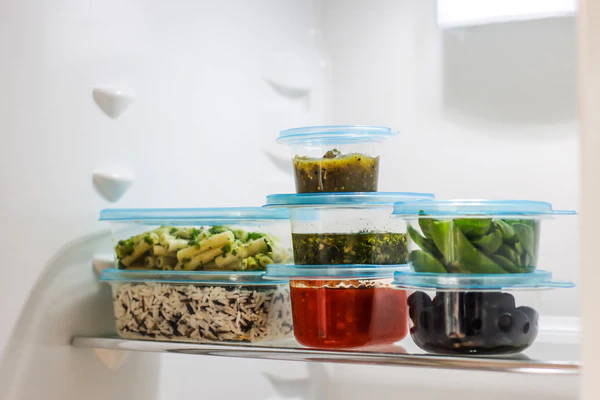 "Plastic is usually clear, making it easy to see what type of food is in your container," says Peter Sidwell. "It also transfers heat quickly, making warming up meals fast."
Plastic is also an affordable choice for everyday meal prep, and its lightweight and durable qualities make it ideal for throwing in your bag on your way to work.
The downside of plastic containers is that they can stain easily and hold onto strong flavours (think spicy curry). This means that separating your containers for different meals is important because 一 let's face it 一 nobody wants a side of bolognese with their porridge.
Plastic containers can also easily crack or scratch. If scratches are deep, the containers are no longer safe to use and must be thrown out.
Investing in high-quality plastic containers will ensure they are long-lasting. The KitchenCraft BPA-Free Plastic Containers set is made from durable plastic, meaning they can be used again and again without damage. They are dishwasher safe too, so getting rid of stains is super easy!
If sustainability is a must, glass may be the material for you. As well as being widely recyclable, Peter Sidwell says "glass doesn't stain or hold onto strong flavours, making it long-lasting. It's also see-through, so you can see what's in it easily."
Some people prefer glass containers to plastic as they are usually oven safe; a great option if you don't have a microwave. Just remember to check if your lid is oven-safe 一 most are made from plastic and can't go in the oven. Use as an open dish, or cover with some tinfoil to help lock in moisture before popping in the oven.
The downside to glass is that it can be heavy and more prone to breaking if dropped. This means that they may not be the most practical option if you're looking for something light for lunching on the go.

If you want a glass container that can be taken out and about, the KitchenCraft Glass Rectangular Storage Container is a great choice. As well as being made of strong, sturdy glass, the silicone seal is 100% leak-proof. This makes carrying your lunch to work a breeze - and you won't spill a drop!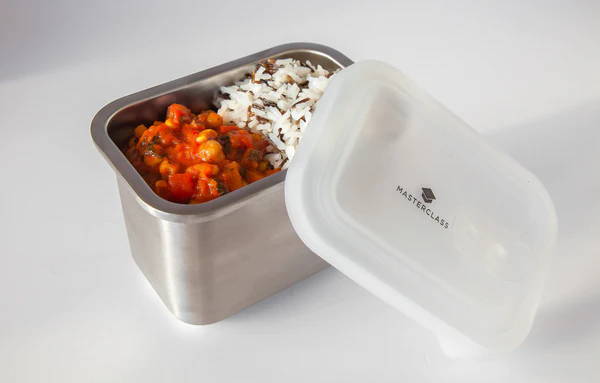 Metal 一 especially steel 一 is a lightweight, durable material, making it great for on-the-go meals, or even for your kid's lunchbox. It's much tougher and longer lasting than plastic, and cleans up more easily too!

Peter Sidwell says "I always find that curry and bolognese are prone to staining, so storing them in an easy-to-clean stainless steel container is a good idea. Metal is also a good conductor of heat, keeping food hotter for longer."
The downside: most metal containers can't usually be put in the microwave. However, the innovative MasterClass Stainless Steel Container is completely safe to use in the microwave. It's a perfect choice for those who want the benefits of a metal container and like to enjoy their meals piping hot.
Things to consider when choosing a meal prep container
Material

一 The first thing to consider when choosing the perfect container is the material. The material depends on your personal preference and how you plan to use it; if you need something portable, plastic can be a great option, while glass is a long-lasting choice that'll also look great at mealtimes.

Compartments

一 Although basic containers may do the trick, compartments can be useful for separating your food and staying organised.

Portability

一 If you're planning on taking your meal prep to work or school, portable containers are key. Think leak-free lids and small designs to fit in your bag with ease.

Size

一 It may seem obvious, but the size of your container matters. Buying a variety of sizes will ensure you have one for every dish.

The seal

一 When choosing a container, look for an airtight seal to keep your food fresher for longer. High-quality, leak-proof seals will make your life a lot easier – and give you peace of mind!

Temperature range

一 While glass containers can withstand oven temperatures, plastic containers may warp and melt if they get too hot. Think about how you plan to store and heat your meal prep, and then check if your containers are safe for your method.

Ease of cleaning

一 Nobody wants to spend hours scrubbing tomato sauce stains off containers 一 picking designs that are dishwasher safe and stain resistant can help make cleaning effortless.

Space saving

一 Containers that stack together easily are great for making room in the fridge or freezer.
Tips for choosing a meal prep container
1. Choose containers that fit your lifestyle choices and needs
Possibly the most useful tip: think about how you are most likely to meal prep. Do you prefer to make large batches of food and portion them into servings for a quick evening meal? Or do you like to prepare your lunch with different snacks to take to work? Maybe you just want to cut down on food waste by freezing your leftovers.
Everyone has different portion sizes, meaning choosing the right size container for your individual preference is crucial.
Peter says, "There's nothing worse than trying to cram food into a tiny container. Likewise, you don't want to be using one that's far too big for the amount of food you're storing. That's why getting the right size container is really important."
By knowing which approach you will take to meal prepping, you can work out what container designs, features, and sizes are best suited to your needs.
2. Opt for dishwasher-safe containers
Nobody wants to get in from work and spend time doing the dishes. Peter says, "opt for dishwasher-safe containers to make cleaning easy." They can go straight in with your dishes!
3. Look for airtight locking lids
As well as keeping your food fresh, airtight locking lids allow food to be stored sideways without the mess. This can save on space in the fridge or freezer, maximising precious room in the kitchen.
4. Choose stackable containers
"Stackable containers will make room in your kitchen as they are easily tidied away in the cupboard, fridge, and freezer," advises Peter.
By choosing designs that are stackable when in use and nestable when not, you'll be able to get more out of your storage.
How many containers do I need for meal prep?
For meal preppers who prepare lunches for the working week ahead, five containers may be needed for each day. Others, who could be cooking for more family members, may need more containers.
There is no set rule for how many you'll need: this will depend on your schedule, preferences, and lifestyle. However, for most people, seven is the ideal number. Remember 一 you can always start with a small amount and buy more if needed!
Is it OK to meal prep in plastic containers?
You may have heard that food shouldn't be stored in plastic containers. The fact of the matter is, as long as plastic containers don't contain Bisphenol A (BPA), they are perfectly safe to store, heat, and eat food from.
BPA may seep into food from containers that are made from it, especially when food is reheated. Therefore it is best to stay clear.
What size container should I buy for meal prep?
Everyone is different and the amount each person needs at mealtimes will vary. This means taking a one-size-fits-all approach isn't helpful when choosing a container.
A tip for meal-prepping beginners: "everyone will have different wants and needs from their storage container, so it's worth buying a few containers of different sizes so you have options. That way you can work out which ones you use the most and how much space you need," advises Peter.
How can I remove stains from my containers?
We know that stains are sometimes unavoidable, so if that happens, Peter advises, "soak in a large bowl with a dishwasher tablet overnight. Scrubbing with a combination of vinegar and bicarbonate of soda should also do the trick."
The best meal prep containers
MasterClass All-in-One 1.3-Litre Stainless Steel Container with Lid
If versatility and durability are on your checklist, this stainless steel container will be your new best friend in the kitchen. With the ability to store, bake, roast, reheat, microwave, chill and freeze, it can do pretty much anything. Use it to hold meal prep, freeze leftovers, or heat your lunch at work. And do it, again and again since it's 100% reusable. What more could you ask for?
Peter Sidwell is a fan of these food containers: "I love using my stainless steel Masterclass containers. I often batch cook for the family and for my in-laws, who sometimes need a little help with cooking. They are fridge, freezer, oven, and microwave friendly, making them the perfect addition to any kitchen.''
MasterClass Eco-Snap 1.5L Recycled Plastic Food Storage Container
For eco-savvy home chefs, this recycled plastic container is made from the equivalent of eight plastic bottles. And that's not all 一 the airtight, snap-on lid guarantees security and long-lasting freshness, while the silicone seal ensures they are leak-proof. Perfect for carrying your lunch!
"This container is great for leftovers and lunch boxes. The air vent at the top allows steam to release in the microwave, meaning food can be reheated right in the container," says Peter.
KitchenCraft Pure Seal Glass Rectangular 600ml Storage Container
"I like using this glass container as you can put it straight into the oven, making it perfect for storing and cooking dishes like lasagne and shepherd's pie. It's also great for apple crumble," says Peter. Just make sure you take off the plastic lid before popping in the oven.
The lid locks firmly onto the glass base and has a 100% leak-free silicone seal meaning food stays fresh for a long time. They're also incredibly versatile: use as a robust oven dish, microwaveable bowl, and much more!
Built 3pc On-The-Go Silicone Storage Set
Whether you want to store snacks like popcorn or freeze leftover ingredients to reheat later, these Built silicone zipper bags make excellent meal prep containers. They're perfectly portable: secure zip mechanisms prevent spills and the three small sizes are handy for slipping into your bag.
Peter explains, "This set of containers is great for storing your food in the fridge overnight, and then packing in your bag for when you're on the go. When either myself or my family are out for the day at work or school, we always take these containers in our bags."
Built Professional Glass 900ml Lunch Box with Cutlery
Functional yet stylish: this glass lunch box with cutlery means enjoying lunches on the go has never been easier. The airtight locking lid takes away the risk of making a mess and stainless steel cutlery that stores securely in the lid means you can snack anywhere, anytime. It's dishwasher safe too, making washing up a breeze!
Peter says, "I love this container as it's great for reheating leftovers with the added bonus of cutlery fitted into the lid."
Natural Elements Eco Stackable Storage Set of 3
"These Natural Elements eco storage containers are great for a big batch cooking session as they fit on top of each other in the fridge, freezer, or cupboard," explains Peter.
They're also made from bioplastic derived from sugarcane, and are 100% reusable and recyclable, meaning when the time comes to dispose of them, they will be kept out of landfill.
A handy feature is that these containers can be marked with a pencil, so you can quickly keep track of your meal prep. Then, just use a rubber to remove 一 simple!
Find a meal prep container to suit you today
If you're serious about meal prepping, a set of high-quality containers can make all the difference. If you're looking for a container that divides your meals into perfect portions, or just for something simple to keep your food fresh, there's a container in our collection to suit you.
Shop our full range of storage containers today.