Halloween is that time of year in which we can all become kids again. We decorate our homes for the occasion, dress up in fancy costumes and indulge in way, way too many sweets. Children love it — and adults too!
Certainly, planning a Halloween party can be so much fun. But this year, with the cost of living crisis creeping around the corner, things can get a bit spookier.
Contrary to popular belief, we think that keeping guests entertained doesn't have to cost you an arm and a leg, so we have put together a guide on how to host a Halloween party on a budget.
Here are our tricks, treats and ideas to make your own spooktacular night one to remember…: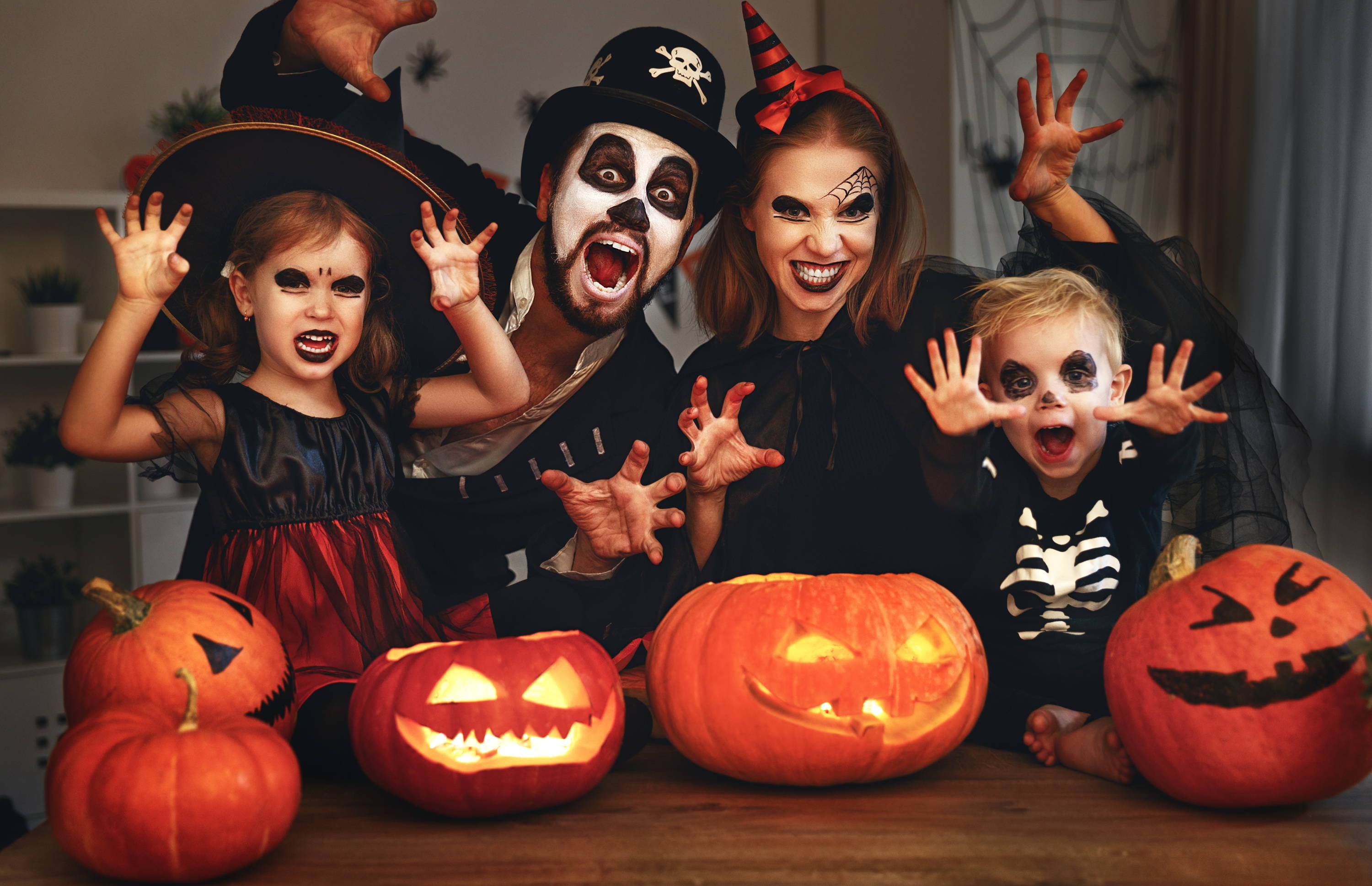 Set the Halloween mood
Dim the lights, use coloured light bulbs and play spooky music to help set the atmosphere. Little details such as draping fake cobwebs over your lampshades and painting with fake blood over surfaces will create a visual impact and won't cost much.
Carve your own pumpkins
Carve your best designs as a fun family activity for decoration purposes or hold a contest, telling everyone to bring their own pumpkin lanterns to vote for their favourites. Stencils are readily available on the internet and pumpkins are really cheap, as they are in season, after all!
Host a fancy dress competition
No Halloween party would be complete without guests in costume. Everybody puts a big effort into looking the part so you could offer prizes for the best dressed. Just make sure everyone gets involved and casts a vote. The winner gets a box of chocolates!
Play fun games
Apple bobbing is one of those nostalgic classics that doesn't cost much at all. Participants have to bite one of the apples in a bucket filled with water without using their hands. There are also fun variants involving sticky buns dangling from a line stretched across the room while blindfolded.
Watch scary movies
Want to keep kids entertained while the grown-ups enjoy themselves? Play some family-friendly horror films such as Goosebumps, Hotel Transylvania, Coco or The Addams Family. They'll love them all! For the grown-ups, why not take it back to those old-school classics? We're thinking The Exorcist, Psycho and Carrie.
Halloween Party Food on a Budget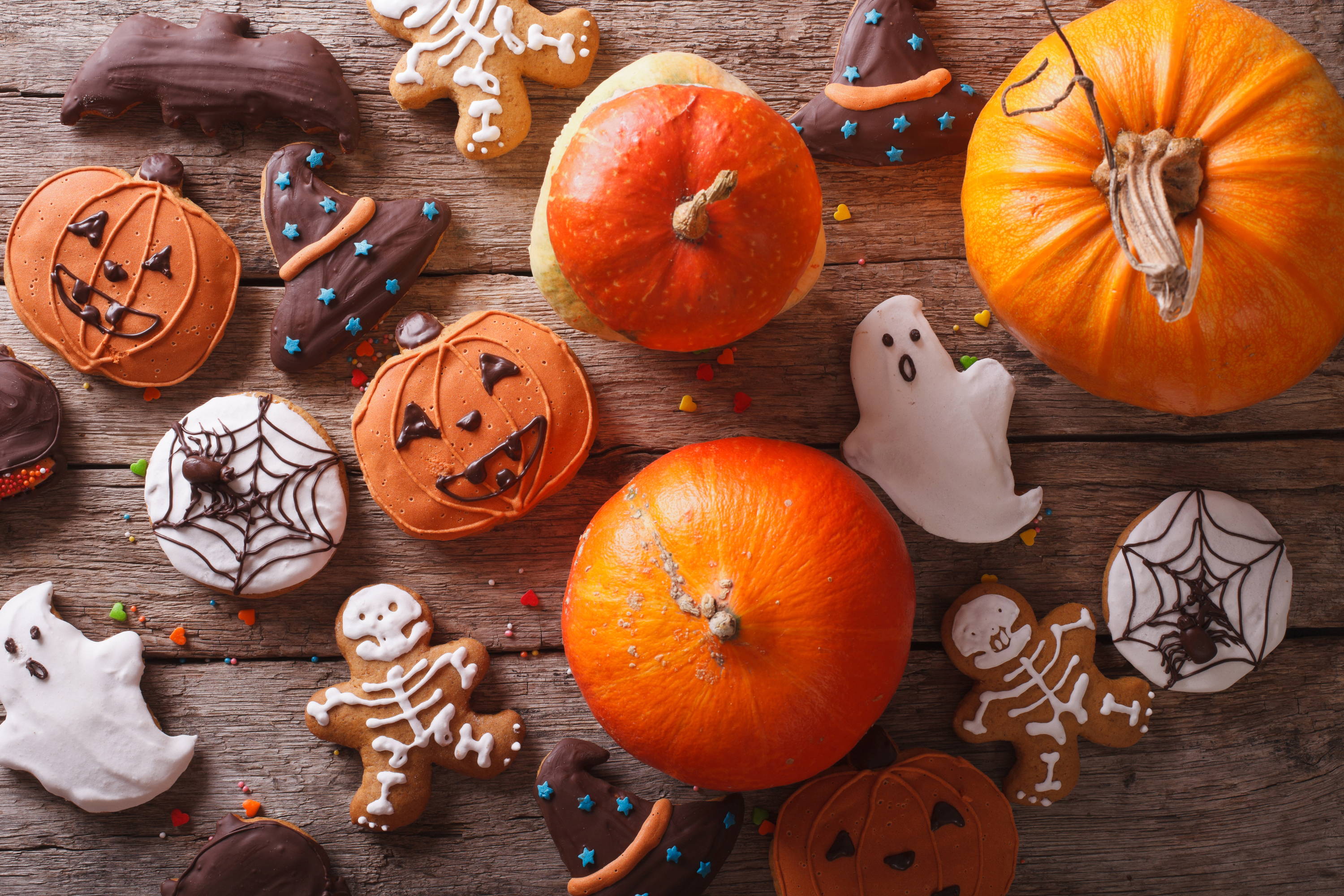 While playing family-friendly games and enjoying Halloween activities is part of the fun, dinnertime gives the opportunity to sit everyone together and share some gorgeous food in good company.
Here are some easy Halloween snacks and other Halloween party treats for everyone to enjoy.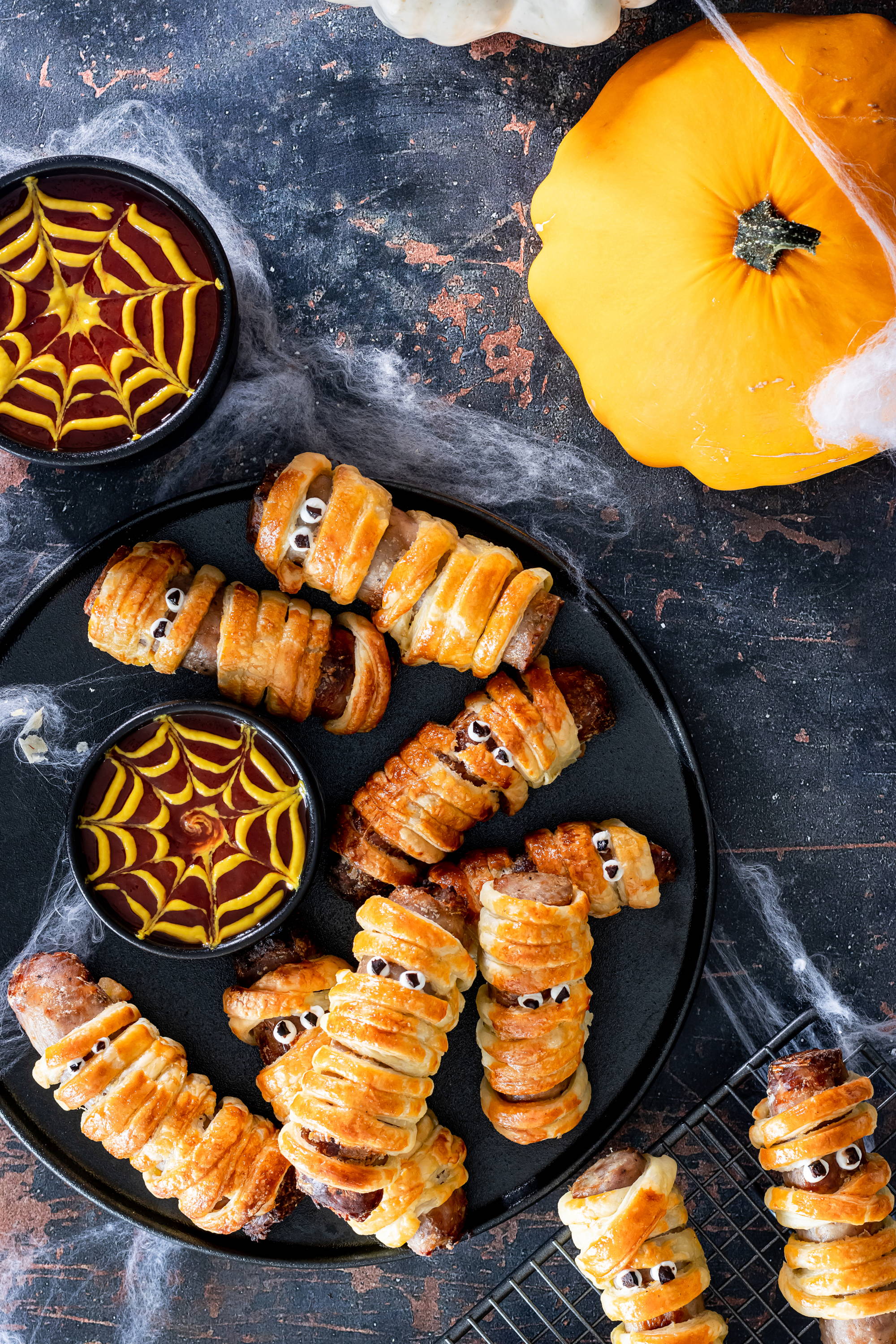 A fun Halloween spin on the traditional pigs in blankets, these hot dog mummies are a simple recipe that is guaranteed to bring a smile to everyone's face. Just wrap the pastry strips around the sausages and bake in the oven until golden and crispy.

Serve them alongside a 'blood' ketchup sauce for dipping in one of the dramatic Mikasa Jardin Midnight 12-Piece Stoneware Dinner Set to make them shine against the dark background.Folks will keep coming back for more!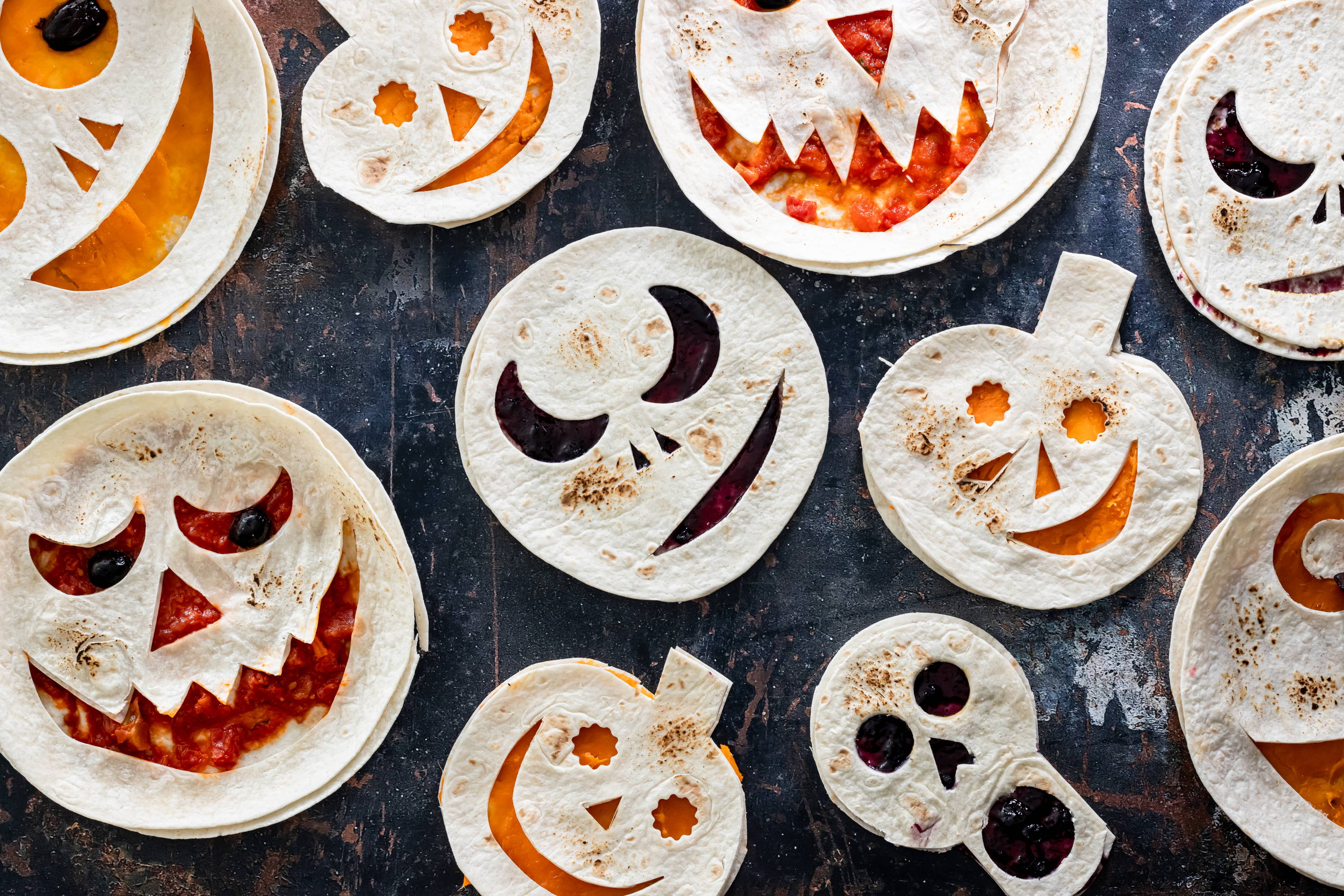 These veggie Jack-o-lantern quesadillas are easy-peasy to make. Get the kids to help 'carve' spooky faces into their own tortillas for a fun activity and involve them in the kitchen.
Cut your own designs with the help of the MasterClass Tipless 9cm (3½") Paring Knife to make 'carving' a safe activity for everyone and have fun with the results! Kids love eating things they get to help with.
Eyeball Stew Moroccan Tagine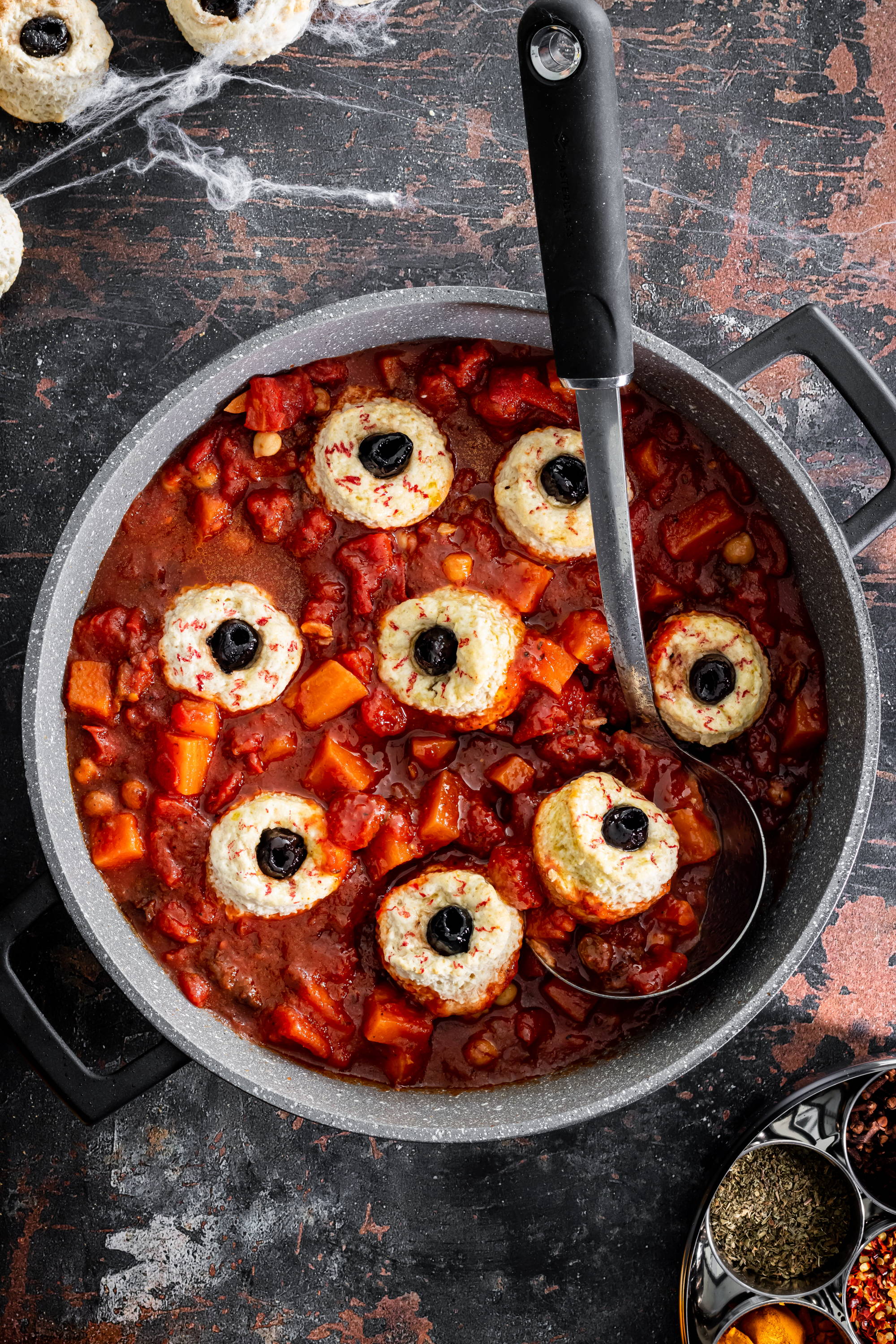 Comfort food at its best, this healthy veggie stew is really warming and filling. The 'eyeball' dumplings make the perfect addition to your Halloween casserole. All of your guests will be dying for more!

Cooked in the MasterClass Cast Aluminium 5L Casserole Dish, this lightweight pot is really easy to handle, the material allows for even heating and can be used both in the oven and in the hob, including induction. And with MasterClass' 25-year guarantee, you can rely on these dishes to see you through many a Halloween get-together, and pretty much everything else for that matter.
Cherry and Apple Eye Pies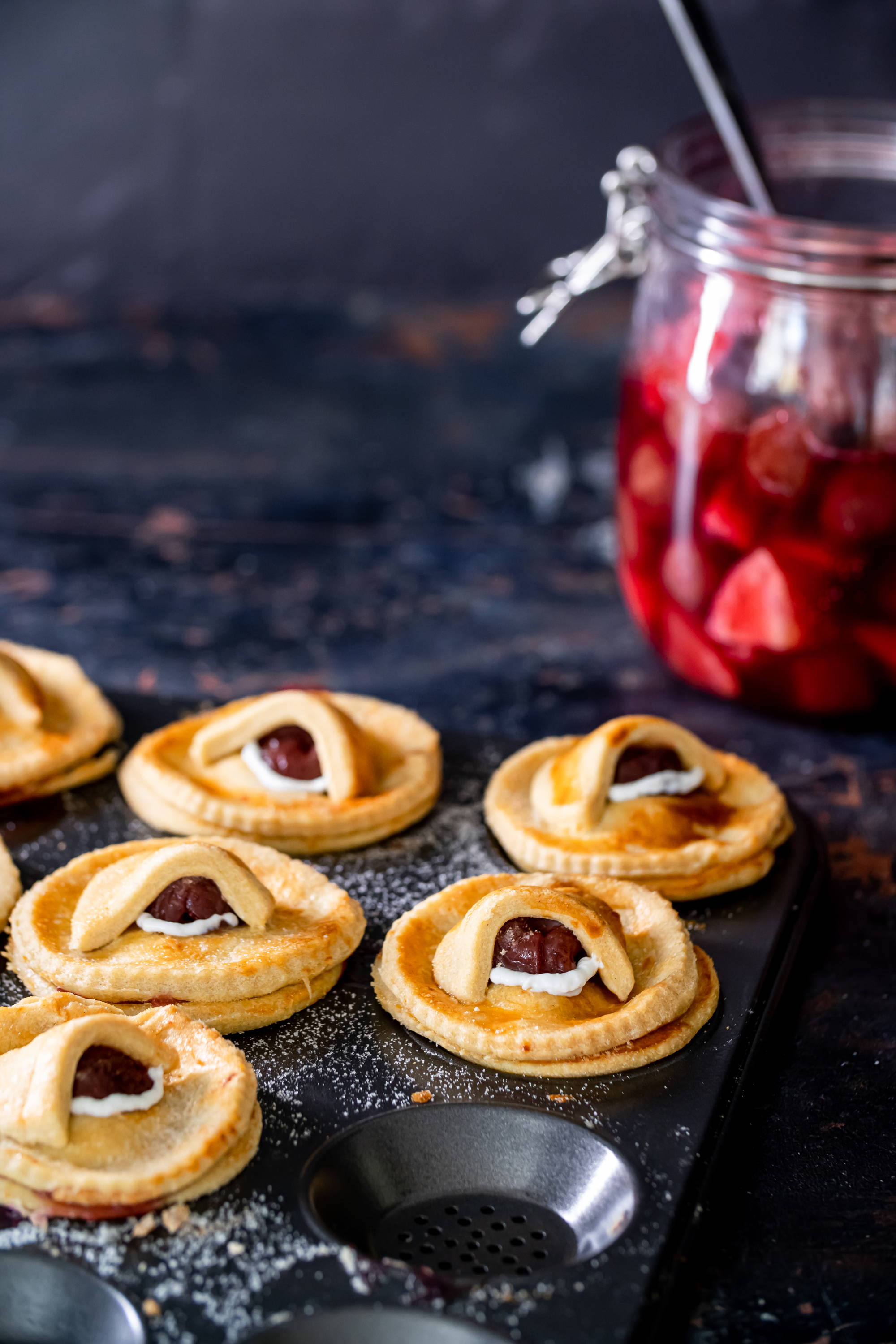 Use your imagination and transform a simple fruit pie into a Halloween treat. These quirky pies are filled with sharp apple slices, sweet cherries and soft, creamy cheese — perfect to enjoy at tea time!
Our chef baked them in the MasterClass Crusty Bake Non-Stick 12 Hole Shallow Baking Pan because the tiny holes in the base allow hot air to circulate for golden and crispy pastries, which are easily released thanks to its double non-stick coating.
Halloween Party Drinks to Make at Home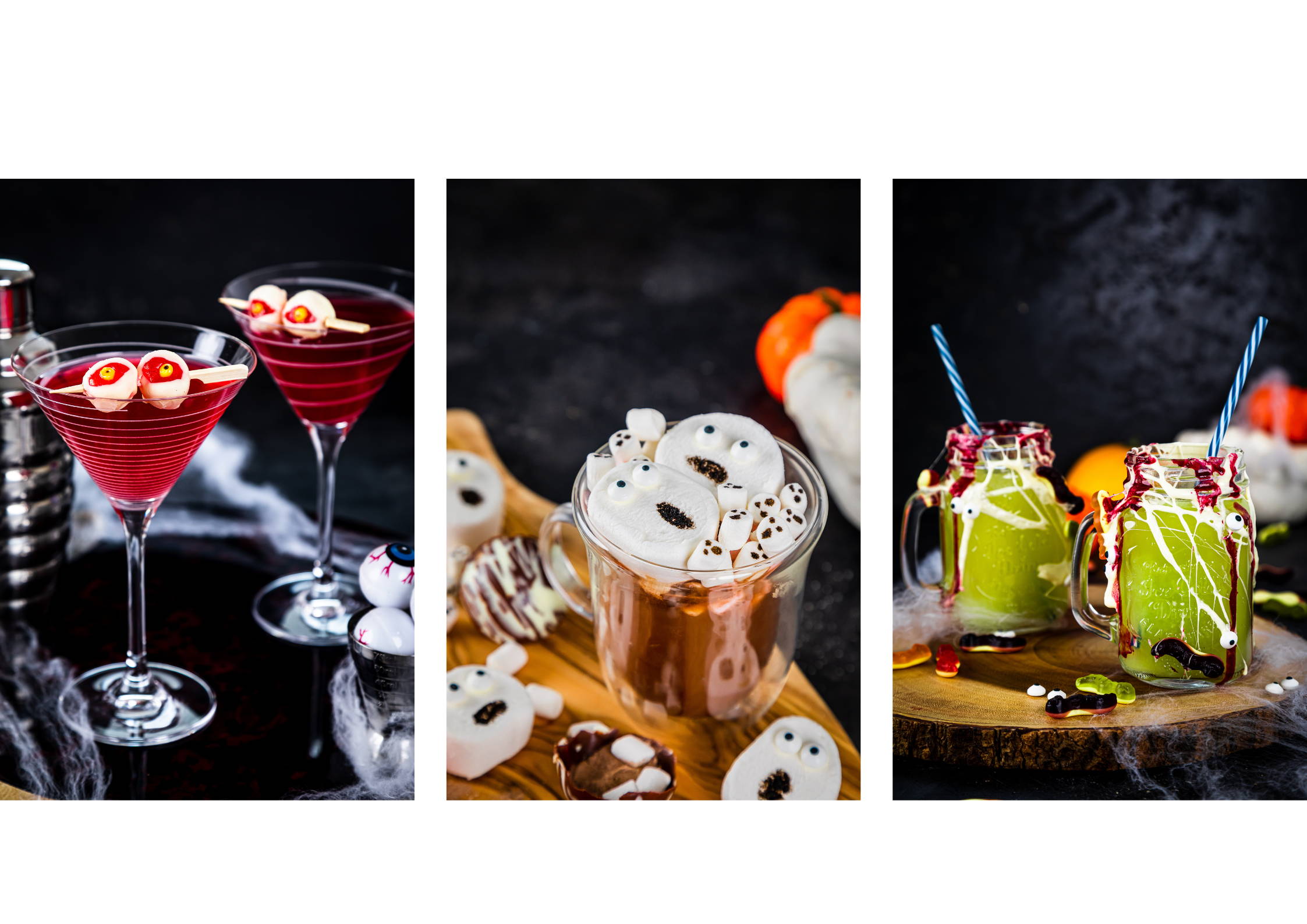 Hot Chocolate
This Halloween hot chocolate is the perfect drink for kids after a trick-or-treating night. Make cute ghosts out of marshmallows and add to indulgent homemade chocolate.Or why not make it one for the grown-ups and add a dash of cream liqueur?
Served in a La Cafetière Double Wall Hot Chocolate Glass, which is a thermal shock and heat-resistant cup. The air pocket in between the walls helps to prevent heat from escaping and keeps the chocolate hot for longer, while it always stays cool to the touch.
Eyeball Martini
A fun adult treat for Halloween celebrations, this Martini cocktail is complete with an 'eyeball' garnish. The drink has a striking rosé pink colour with a crisp flavour and a delicate aroma. Shake them up in the BarCraft cocktail shaker for a really authentic bar experience.
Served in a Mikasa Cheers Set Of 4 Martini Glasses, the cocktail looks gorgeous. The glasses are made of delicate crystal and feature different etched designs with shimmering silver patterns to make a stylish statement.
Jelly Worm Kids Cocktail
Kids can enjoy this mocktail too. It's made of green smoothie juice and lemonade, mixed together and dressed with red berry ice cream sauce — AKA monkey blood!
Poured into a Home Made Traditional Glass Drinks Jar the mocktails are guaranteed to be a hit. The jar comes with a secure screw-top lid and a reusable plastic straw to make little ones feel even more grown-up!
For more entertaining inspiration and delicious recipes, read our blog here. Browse the site for all your kitchen must-haves! From gorgeous Mikasa tableware to on-the-go Built bottles, we have you covered at CookServeEnjoy!