One of life's simple pleasures. Who doesn't love a Sunday roast chicken with all the trimmings? It's a time to get together with family or friends and share proper comfort food before starting a new week.
And if you're anything like us, then you usually end up having quite a bit of leftovers too. As it's not always obvious what to do with them, the chicken sometimes ends up sitting in the fridge for days.
However, planning ahead could save you some money while helping to reduce food waste at the same time. There are so many recipes for leftover chicken that you can make to keep adding flavour and substance to meals for days to come.
Make the most of the bird with these budget-friendly recipes, perfect for speedy midweek suppers when you don't have much time on your hands!
Serves: 4
Prep time: 10 mins
Cook time: 90 mins

Cooking a whole bird can sometimes feel like a bit of a faff, but this roast chicken recipe is one of those straightforward and delicious recipes that should be in everyone's repertoire.
It delivers juicy and tender meat and crispy and golden skin, which is gently seasoned with salt and pepper, scented with fragrant herbs and drizzled with olive oil.
Reserve all those saucy pan juices to spoon over the carved chicken and plate together with all the trimmings for everyone to enjoy.
Although this roast chicken will be a hit by itself, leftovers from a big bird should not be forgotten come Monday morning. Just remove the meat from the carcass and store it in the fridge once cooled.
Choose one of the superior MasterClass Eco Smart Snap Storage Containers to keep the meat for other chicken leftover recipes. These containers are made of recycled plastic and are food-safe, BPA-free, as well as odour and taste-resistant.
Alternatively, store in the MasterClass Food Vacuum Sealed Food Bags to keep food fresh for up to six times longer when frozen. The bags are leakproof and reusable, as well as nylon and BPA-free, so no hidden nasties will get into your food.
What you'll need
Equipment
- Cast Aluminium Roasting Tray
- Tipless Santoku Knife
- Antimicrobial Chopping board
Ingredients
1 Medium onion, roughly chopped

2 Carrots

1 Garlic bulb, crushed

1 Lemon

2 Rosemary sprigs

3 Bay leaves

1 Whole chicken, approx. 1.5kg

2 tbsp Olive oil

Salt & pepper
Method
Preheat the oven to 170c.
Place the chopped onions, carrots and garlic into a roasting tray.
Add the rosemary and bay leaves, then sit the chicken on top of the vegetables.
Drizzle with olive oil and season with salt and pepper.
Roast the chicken for 90 minutes in a preheated oven at 170c or until the core temperature is 75c.
When the chicken is cooked, remove from the oven and rest for 10 minutes before serving.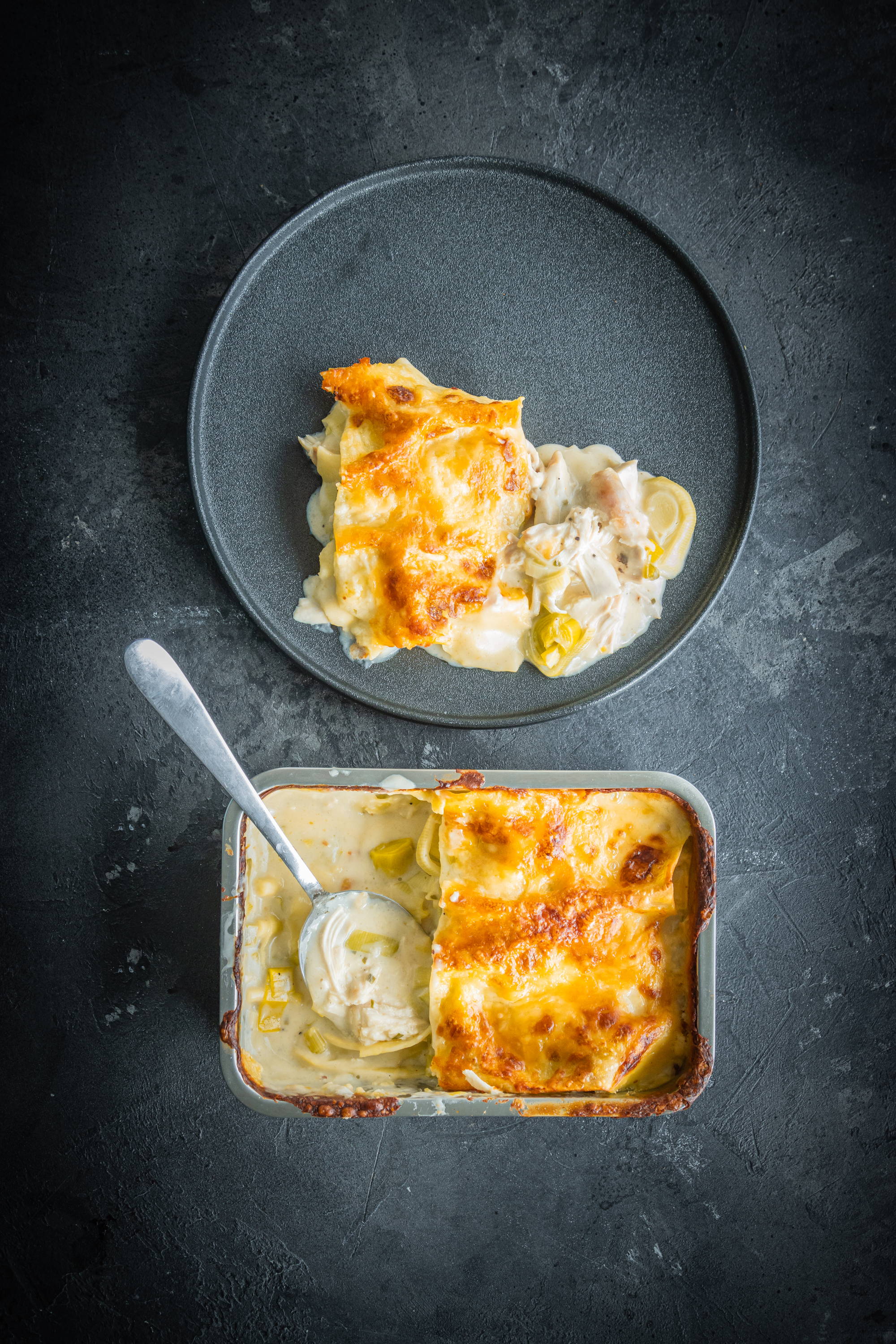 Serves: 4
Prep time: 20 mins
Cook time: 40 mins

This recipe takes comfort food to the very next level. Made with chicken leftovers, this lasagna combines layer after layer of fresh pasta with creamy and cheesy white sauce, tender leeks and aromatic tarragon leaves.
 It serves a family of four and can be ready in under an hour. Help balance your meal with a fresh Greek salad and drizzle with balsamic vinegar and olive oil.
 The recipe is really easy to prepare in advance and can be frozen for later in the week if made in the Masterclass All-in-One Stainless Steel container. Simply cook, freeze, heat and eat!
What you'll need
Equipment
- All-in-One Stainless Steel Dish (Family Sized)
- Tipless Santoku Knife
- Stainless Steel Grater
- Touchless Tare Weighing Scales
- 20cm Can-to-Pan Saucepan
- Antimicrobial Chopping Board
- 1L Measuring Jug
Ingredients
300g Leftover roast chicken

4 Fresh lasagne sheets

400g Leeks, thinly sliced

1 tsp Dried tarragon

30g Butter

30g Plain flour

1 Pint of milk

150g Cheese, grated

Salt & pepper
Method
Preheat the oven to 170c
To make the white sauce:
Melt the butter in a medium saucepan, when melted add the plain flour and stir together to form a thick paste.
Continue to cook for a further 2 minutes, then pour in the milk a little at a time until it is smooth.
Add the grated cheese and stir until melted.
Continue to cook the sauce until it thickens.
Season with a little salt and pepper.

Place a sheet of fresh lasagne in the bottom of the All-in-One Stainless Steel oven proof dish.
Add half of the cooked chicken as well as the leeks.
Scatter over 1/2 the tarragon and pour in some of the white sauce.
Cover with another sheet of lasagne.
Repeat the process again to use up the remaining chicken and leeks.
Top with the last of the the lasagne sheet and pour over the last of the white sauce to cover the pasta.
Bake in a preheated oven 170c for 30-40 minutes or until golden and bubbling.
Remove from the oven and let it rest for 10 minutes.
Coronation Chicken Sandwich
Serves: 2
Prep time: 10 mins

Transform your leftovers into this delicious and healthy Coronation chicken sandwich, perfect for taking to work or popping into the kids' lunch boxes.
The sandwich is packed to the brim with delicious roast chicken, fresh carrots and creamy Greek yoghurt. It's one of the easiest recipes ever, with just a few ingredients, and it literally takes 10 minutes to make!
Make the work even easier and grate the carrots effortlessly with this solid MasterClass 24.5cm Four Sided Box Grater, which allows for coarse, medium and fine grating, adjusted to preference.
What you'll need
Equipment
- Antimicrobial Chopping Board
- Stainless Steel Measuring Spoons
- Stainless Steel Grater
- Touchless Tare Weighing Scales
- Small Mixing Bowl
- Silicone Spatula
- Butter Knife
Ingredients
200g cooked chicken

4 tbsp Greek yoghurt

1 tbsp Curry powder

70g Raisins

1 Apple, grated

2 Bread rolls

20g Butter

2 Carrots, grated
Method
Place the yogurt and curry powder into a bowl.
Add the raisins and grated apple before stirring together.
Butter the bread rolls and divide the yogurt between each roll.
Tear up the cooked chicken and place in the sandwich.
Top with grated carrot and serve.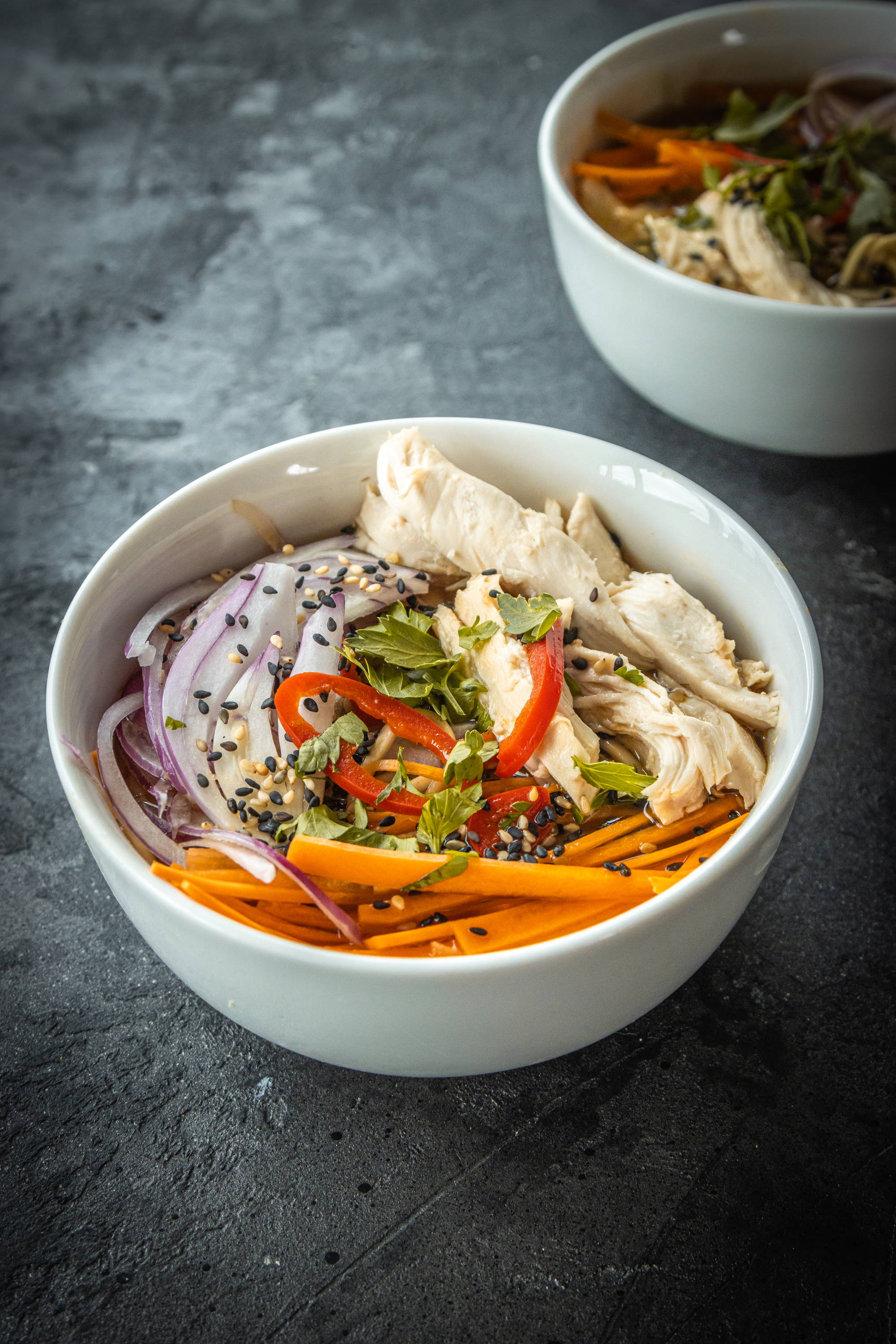 Serves: 4
Prep time: 15 mins
Cook time: 30 mins

Is there anything more comforting than a steaming bowl of chicken noodle soup? This warming and nourishing chicken and noodle soup makes the most of the carcass and leftover meat from the roast chicken, together with some veggies from the fridge.
The result is a delicious bowl of noodles in a moderately spicy and light broth, with fresh carrot matchsticks, sliced red onion and aromatic herbs.
We've whipped it up in our MasterClass Stainless Steel 7 Litre Stockpot, as the food cooks consistently, and a little bit more quickly. It's also suitable for use on all stove tops, including induction.
What you'll need:
Equipment
- 7L Stainless Steel Stock Pot
- Chopping Board
- 18cm Tipless Santoku Knife
- 1L Measuring Jug
Ingredients
Leftover chicken carcass

1 Thumb of sliced ginger

1 Red chilli, sliced

1 Garlic bulb

2 Pints boiling water

50ml Dark soy sauce

120g Noodles, soaked in boiling water

1 Carrot, sliced thinly

Red onion, sliced

Cooked chicken

Sesame seeds

Coriander
Method
Place the chicken bones into a large stock pot on a medium heat.
Put the cooked chicken pieces to one side ready for serving.
Add the sliced ginger, chilli and bulb of garlic in with the chicken bones.
Pour in the boiling water, followed by the soy sauce.
Turn the heat up and boil the broth for 30 minutes to fully incorporate the flavours together.
Meanwhile place the cooked noodles, carrots, red onion and cooked chicken into noodle bowls ready for the broth.
Sprinkle with sesame seeds and chopped coriander.
When the broth has a wonderful deep, dark flavour, ladle it over the noodles and serve.
For more delicious budget-friendly recipes, read our blog post on 'Meals under a Fiver'. Here at CookServeEnjoy, we are passionate about bringing you helpful guides to take the stress out of your day, or inspire you to live a bit more sustainably! Read more here.