6 Tips and Staycation Ideas for a Memorable Summer Holidays
Who says a great holiday requires long-distance travel? Embrace the rising trend of a staycation this year and take the opportunity to explore the beautiful sights the UK has to offer.
As the school year comes to an end and the sun graces us with its presence, it's the perfect time to take a well-deserved break. Immerse yourself in the breathtaking landscapes and picturesque beaches of Somerset, Cornwall and Wales; or indulge in the charm of a cosy cottage in the idyllic Cotswolds. These destinations offer experiences just as enjoyable as a quick getaway to Spain or Greece.
Get your staycation planning right and wait for fun-filled car karaoke sessions and countless rounds of "eye spy." We've compiled a list of six essential tips to ensure your staycation plans are nothing short of incredible.
Tip 1: Explore local attractions
Pretend to be a tourist in your own city or town. On the next family staycation go visit museums, art galleries, historical landmarks, and other local attractions you may have overlooked in the past. You can even take a guided city tour or rent bikes to explore different areas.
You'll be surprised at how much there is to discover right on your own doorstep!
Tip 2: Bring your pet!
Don't leave your dog at the kennels or at home with a sitter, your pet is a member of the family and just like you, they deserve a relaxing getaway. (Just make sure that the area and the place you've booked is pet friendly beforehand!)
The best way to ensure the safety of your pet while you are away in an unfamiliar area or on a hike with the family is the BUILT Pet Night Safe gear.
All products in the Night Safe collection including leads, collars and walk bags are made with reflective threading which will provide safety throughout the day and night. Use the BUILT Pet Excursion Bag to safely carry your pet's bits and bobs while out and about! It easily fits a 1 L bottle in the holder and has two small compartments - one for storing treats and the other is a poop bag dispenser and fits an entire roll, so you'll never be caught short.
Tip 3: Plan your meals
"What are we having for dinner tonight?" This is one of the most dreaded questions.
Instead of going through the stress of deciding, thinking of something on the spot or eating something you don't fancy, cook your meals for the weekend on your Masterclass Cast Aluminium Dish.
Then, use the Masterclass All-In-One Containers to prepare and store all your carefully prepared meals. Made from stainless steel, you can use them to store and freeze leftovers and they can be used in the oven and microwave for reheating.
You and your loved ones are sure to enjoy a 'home-cooked meal' away from home. The All-in-One Containers are perfect for roasts, stews, and casseroles and can be used in the oven or the hob.
Tip 4: Don't give up on your healthy eating and drinking routine
Keeping up with your healthy diet and water intake whilst being away can feel like a hassle, but it is doable.
Our S'well Drinks Bottle is perfect for any staycation. Holding up to 500ml, the bottle will keep tea or coffee hot for up to 18 hours and refreshing drinks cold for up to 36. Designed for busy days exploring, it easily slips into your backpack or lunch cooler - ideal for hot days and long excursions when you need to stay hydrated and warm yourself up on late-night walks.
Feeling peckish on your journey? The S'well Eats 2-in-1 Food Bowl may be your perfect solution when camping, or just out and about. The food container is designed with Therma-S'well® Technology and a durable Tritan™ inner prep bowl to keep hot food warm for up to 7 hours and chilled food cool for up to 11, so your food always keeps at the right temperature.
Why not get one for each member of your crew?
Tip 5: Be your own bartender
Whether you are camping, at an Airbnb, or in a cottage facing the river -you can enjoy a cocktail almost anywhere! Make delicious cocktails and mocktails for friends and family like a pro, with a little help from BarCraft.
This Stainless Steel Eight-Piece Boston Cocktail Set features a shaker, strainer, jigger, tongs, bottle opener, mixing spoon, and two pourers. Everything you need to make the best tasting Piña coladas, strawberry daiquiris, espresso martinis and mojitos!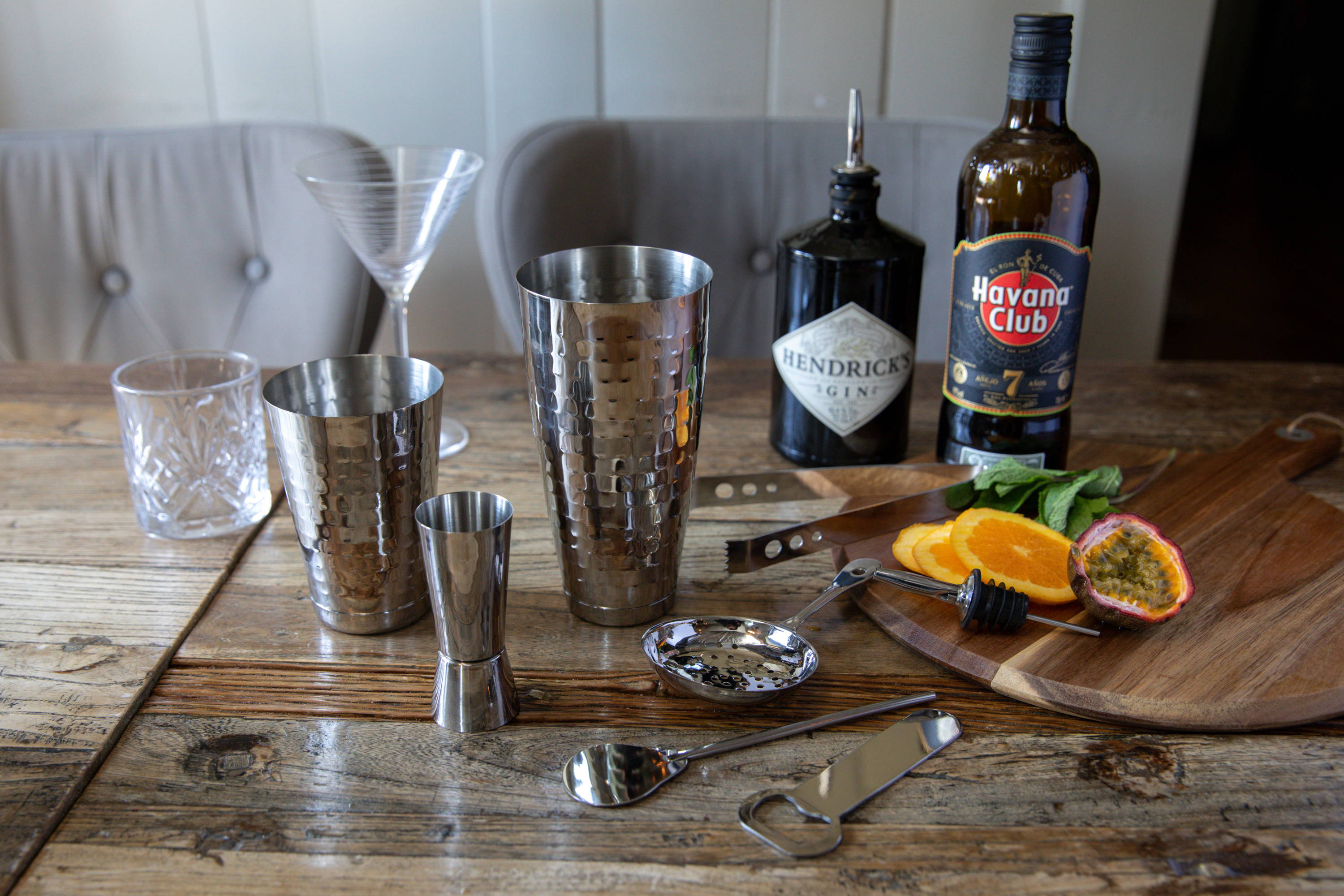 Tip 6: 
Sustainable al fresco dining
Reduce your carbon footprint and the waste you leave behind by using sustainable items on your holiday. Although paper plates are accessible, don't run the risk of your paper plate breaking as soon as you sit down!
This set of four Mikasa Summer Recycled Plastic Plates is reusable and dishwasher-safe. With four different colours, they are perfect for a chilled al fresco dining setup, so you can enjoy your food comfortably instead of having to balance food on a paper plate or worry about breakages.
The BUILT Retractable Stainless Steel Straw is super handy and compact. Just pop it in your pocket before heading off to a picnic in the park, a relaxing boat ride or out for drinks at a local bar - it comes with a protective case and a cleaning brush to keep it in tip-top shape, too.
Going on a staycation should be as smooth as butter. You don't have to worry about checking in your bags or rushing through security to be at the front of the queue. Simply have a plan, pack what you need and head on the road.