Whether you're looking to host your own Halloween party this year, or just want some recipe inspiration for an afternoon baking session with the kids, discover our favourite spooky recipes below. From hearty 'eyeball' stews to decadent hot chocolate, we've got something all ages will love.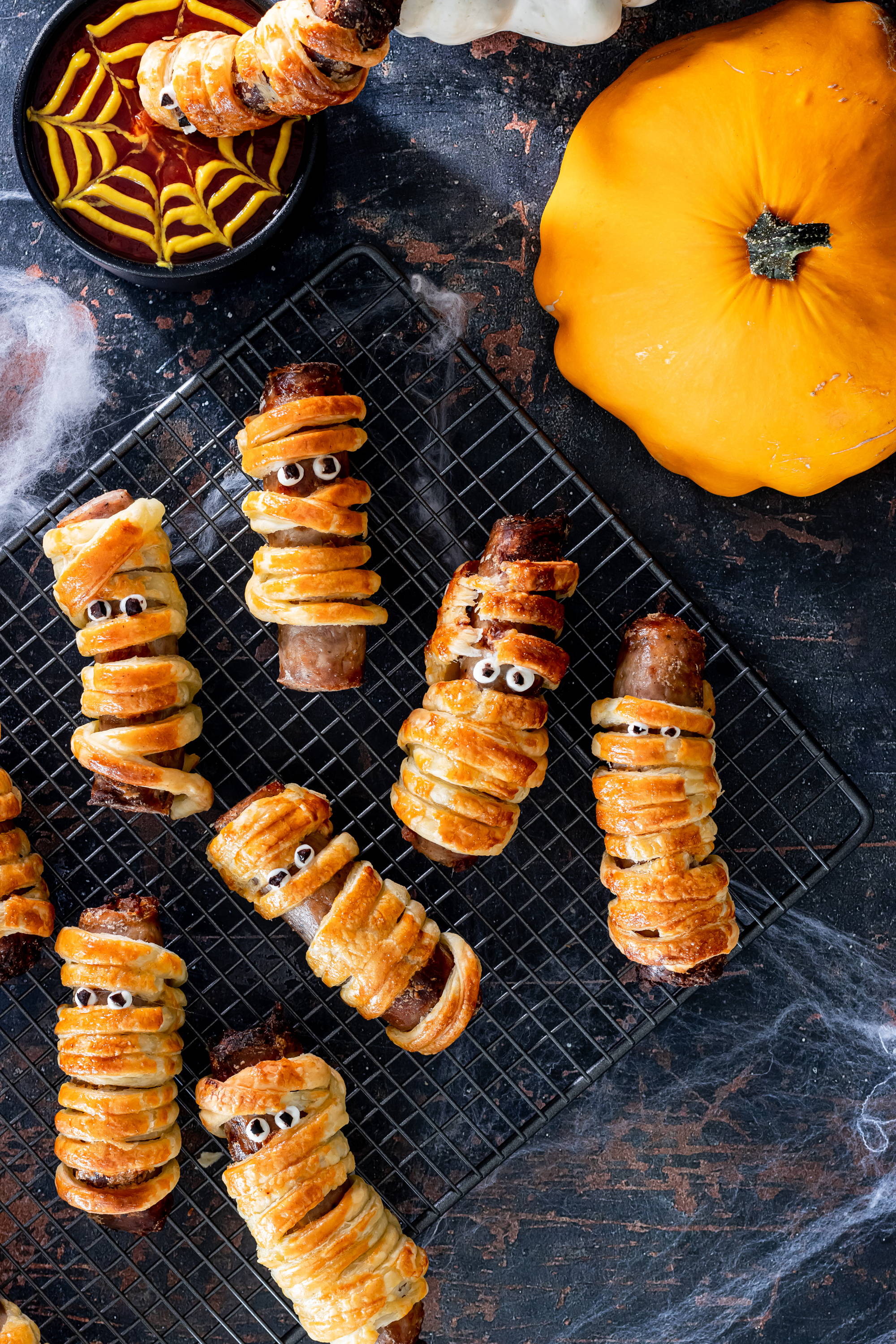 Trick or treat yourself with these moreish little Hot Dog Mummies. Perfect for serving up at your own monster mash, they're not only super-quick to make, but they taste delicious and are something that all ages will snap up! They taste just as good fresh from the oven with some mustard, or cooled down for little ones' lunch boxes.
Ingredients
8 x 40g thick sausages

1 tbsp oilve oil

375g ready-rolled puff pastry

1 beaten egg

2 tbsp. cream cheese (for the eyes)

4 black olives (for the eyes)
Method
Place the sausages into a mixing bowl with the olive oil and mix to get a light even coating.
Transfer the sausages onto a non-stick baking tray and cook for 20 minutes at 160c.
Meanwhile, cut the puff pastry into long thin strips approximately 1cm wide.
When the sausages are cooked, remove them from the oven and leave to cool for 20 minutes or until you can handle them as you don't want the heat of the sausages to melt the pastry when rolling.
Wrap the strips of pastry around the sausage to create the mummies, before transferring to a baking tray.
Brush with beaten egg and bake in a preheated oven at 175c for 15-20 minutes until the pastry is golden.
When baked and golden, remove from the oven and leave to cool before piping the cream cheese on to make their eyes with a little of the chopped black olives.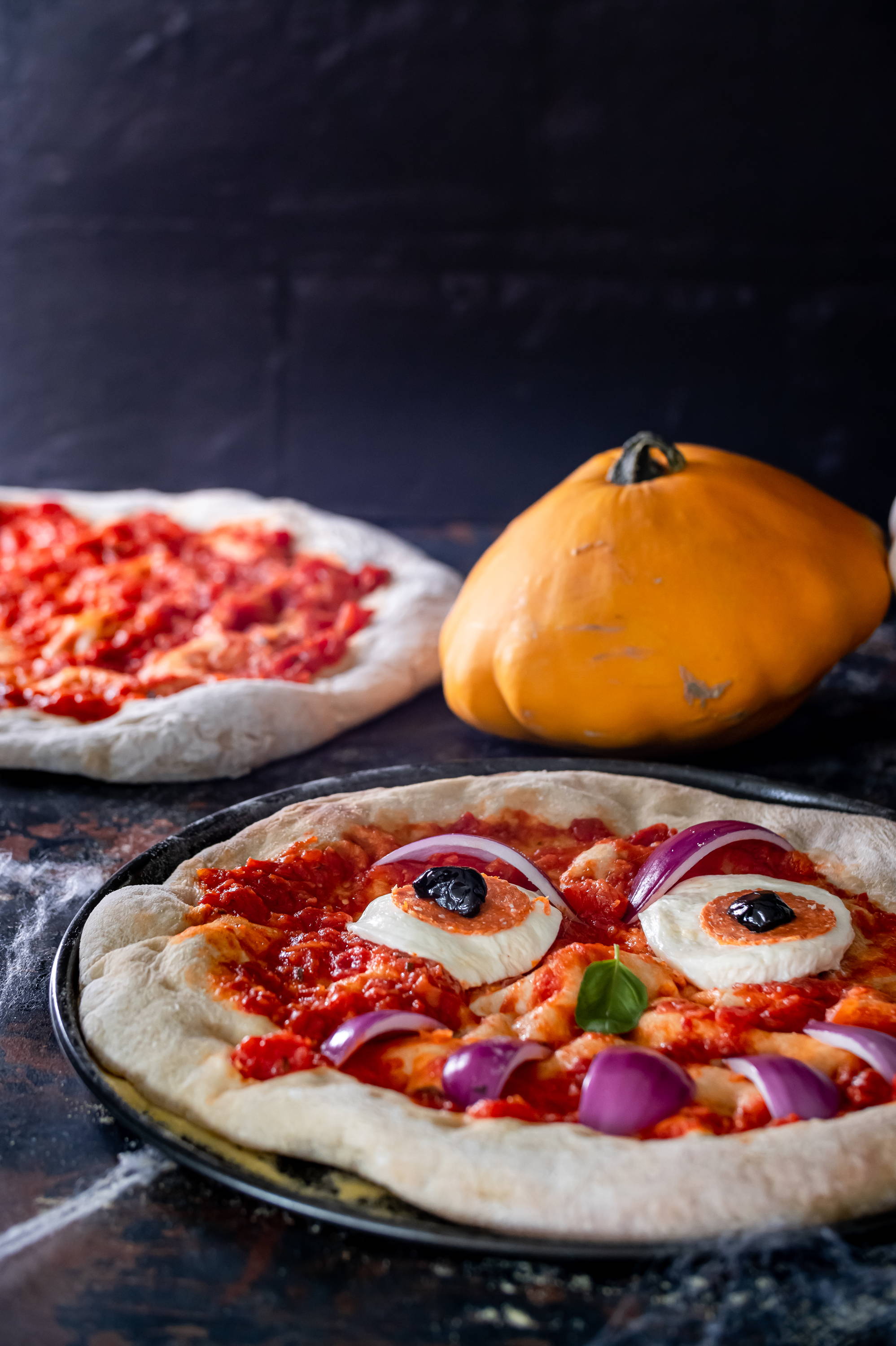 Is there anything better than homemade pizza? No, we didn't think so either. These spooky pizzas are perfect for making with the kids over Halloween. We've put some ingredients down, but feel free to switch them up with your favourites! Whip up a batch and serve with our Hot Dog Mummies at your next ghoulish get-together.
Ingredients
500g Strong white bread flour

10g Dried yeast

10g Salt

325ml Water
 For the topping:
2 400g tins of chopped tomatoes

1 Garlic clove

1 tsp Dried oregano

Salt and pepper

1 tbsp Olive oil

2x 125g Fresh mozzarella balls

8 Pepperoni slices

1 Red onion cut into 8ths for the teeth

8 Black olives for the eyes
Method
Mix together 100g of the flour with half of the yeast.
Pour in 150ml water and whisk together.
Leave the mixture to ferment for 1 hour, this will help to develop the flavour.
Add the rest of the remaining bread ingredients and mix into a dough.
Once you have the dough mixture, transfer to a clean worktop lightly floured and knead for 5 -10 minutes.
Return the dough to your mixing bowl and leave to prove for 1 hour or until it doubles in size.
To make the sauce, pour the tins of tomatoes through a sieve to remove any excess liquid.
Blend the drained tomatoes with the garlic, dried herbs and olive oil, not forgetting a little salt and pepper.
Now that you have a super fresh and delicious tomato sauce you can divide the pizza dough into 4 portions.
Roll the dough out into thin pizza bases, I use a mixture of flour and ground polenta to roll my pizza out.
I find making pizzas at home works best when you use a Crusty bake pizza tray as it helps make for a good even bake as well as a crispy bottom.
Once the bases are rolled out and onto the trays, spread the pizza sauce from the centre outwards, making sure you don't overload.
Add the toppings to make some crazy faces, then bake in a hot oven at 200c for 20 minutes.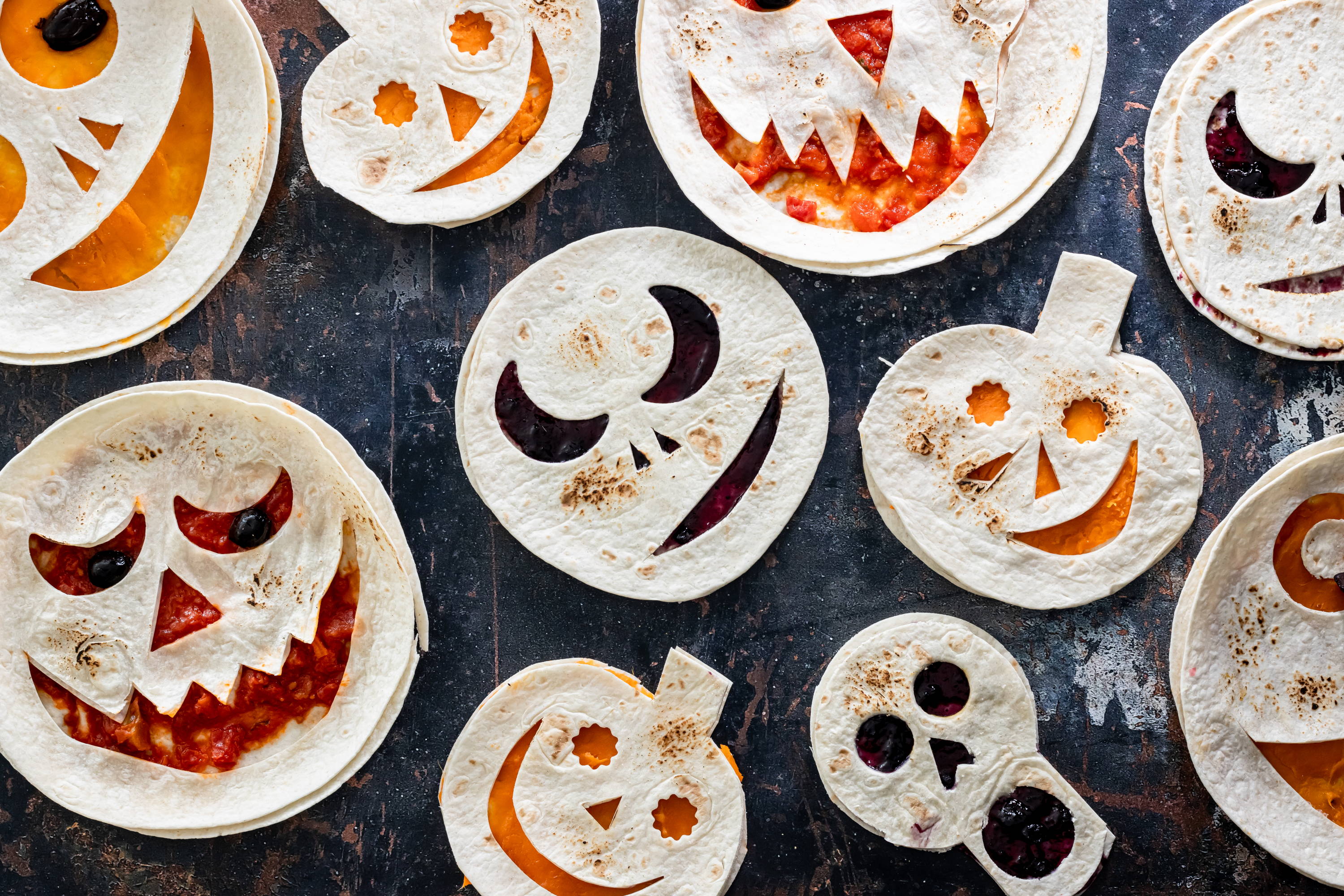 Amp up the ghoulish vibes at your next Halloween party with these 'Jack 'o' Lantern-inspired Quesadillas. With a cheesy sweet potato filling, our Halloween version of the classic Mexican dish is a delicious-yet-healthy snack. Let the creative juices flow and have fun experimenting with different faces and designs.
Ingredients:
8 Tortilla wraps (you can also use gluten-free ones)

4 Sweet potatoes

75g Vegan-style feta or mozzarella cheese

Salt and pepper
Method
Place the sweet potatoes onto a baking tray and cook in the oven at 170c for 35-40 minutes or until soft.
When the potatoes are cooked, remove from the oven and carefully cut open to release the steam.
Once cool enough to handle, scoop out the centre of the potato and mix in the crumbled feta-style cheese or the grated mozzarella-style cheese.
Season with salt and pepper.
Cut out scary face patterns on 4 of the wraps using a knife or pastry cutter.
Spread the filling between 4 of the remaining wraps that have not been cut, then top with the cut-out wraps.
Place the quesadillas onto a baking tray and cook for 10-15 minutes at 170c or until crisp.
Eyeball Stew (Moroccan Tagine)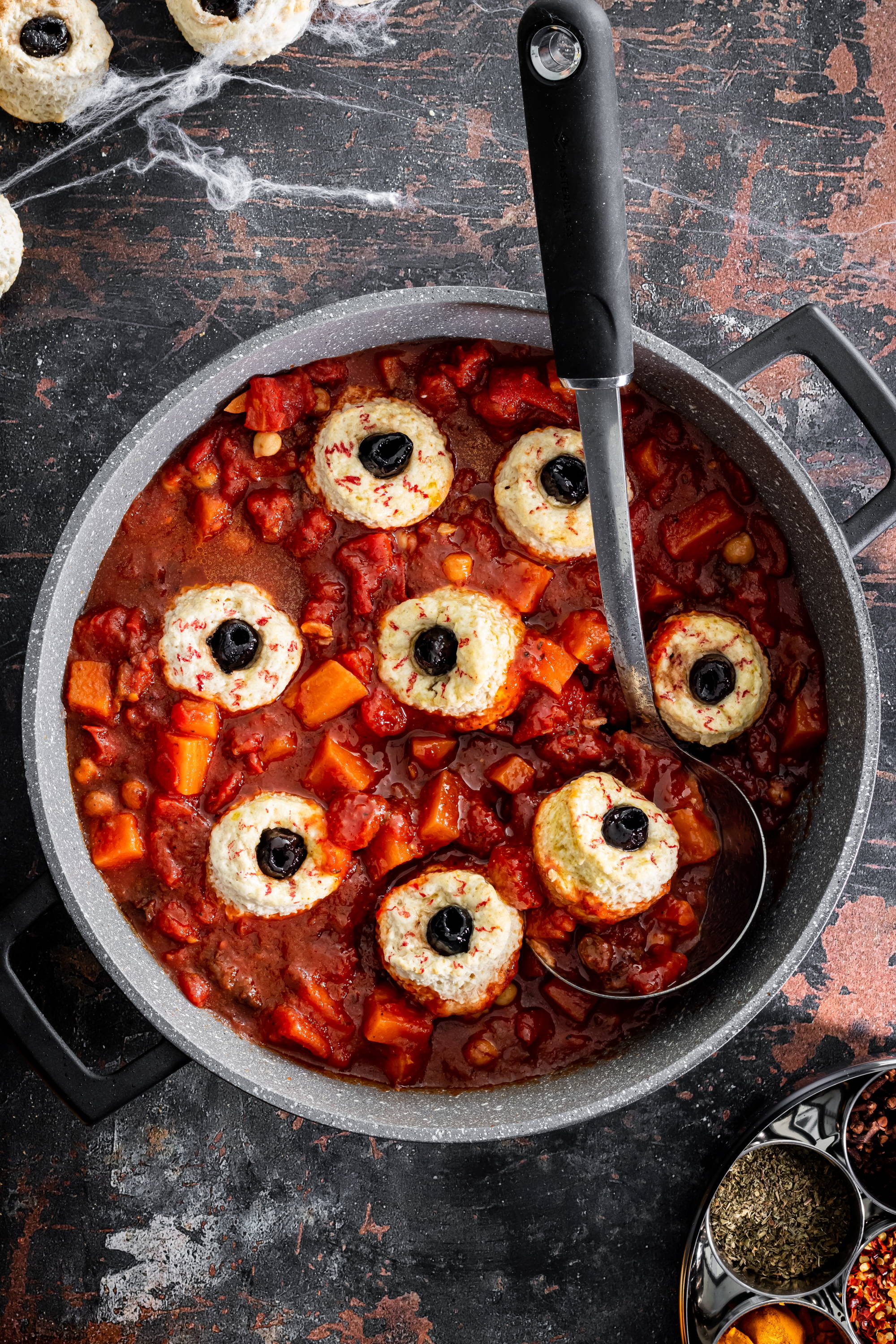 All eyes will quite literally be on you when you serve up this delicious 'Eyeball Stew' (it's a Moroccan Tagine, really). This veggie-packed main course is perfect for those chilly nights in with its rich tomato base and warming spices. The spooky dumplings are guaranteed to go down a treat with the kids too! They can even help to pop on those olive middles.
Ingredients:
2 Medium white onions

4 Cloves of garlic, chopped

2 tbsp Olive oil

Salt and pepper

2 tbsp Ground cumin

1 Cinnamon stick

1 Red chilli chopped

3 Sweet potatoes, peeled and diced into 1cm cubes

1 tbsp Dried mint

2x 400g tins of chopped tomatoes

200g Prunes

1 Preserved lemon

1 Handful chopped fresh mint
For the dumplings:
150g Self-raising flour

50g Butter or plant-based margarine

3 tbsp Water

Salt and pepper

8 Black olives
Method
Preheat a shallow heavy pan.
Pour in the oil, followed by the onions, garlic, salt and pepper.
Cook for 5 minutes until soft, then add the cumin, cinnamon and chilli.
Scatter in the diced sweet potatoes along with the mint and prunes.
Pour in the tinned tomatoes, along with a tin of water from the tomatoes and simmer for 20 minutes or until the potatoes are tender.
Meanwhile, to make the dumplings, mix the flour and butter together in a mixing bowl until you have a crumble texture.
Add the water and stir together to form a dough.
Roll into equal portions and place in a non-stick small muffin tin.
Press the black olives into the top and bake in the oven at 160c for 15-20 minutes.
Halfway through the bake, remove from the oven and carefully press the olive back into the dumpling as they will rise in the oven.
Wash the preserved lemon and add to the tagine before finishing with salt, pepper and freshly-chopped mint.
Add the dumplings and serve.
Serve with plant-based or dairy-based yoghurt.
Cherry and Apple 'Eye' Pie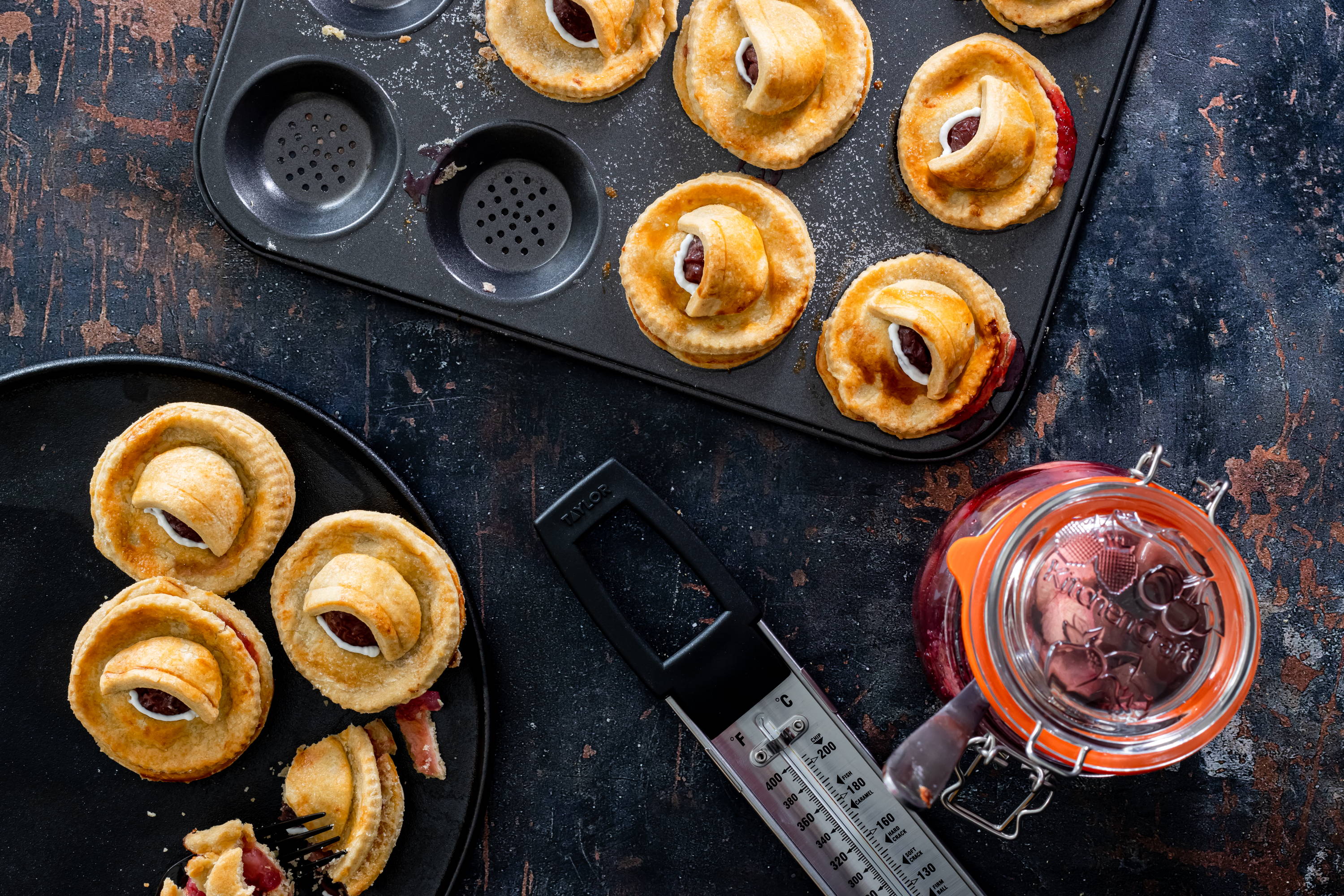 Go all out this Halloween season with our Cherry and Apple 'Eye' Pies. Filled with a sweet fruity filling, these unblinking pies are guaranteed to be a crowd-pleaser, for mini ghouls and adult ghouls everywhere. They taste just as delicious warm from the oven or cooled down the next day as an on-the-go treat.
Ingredients
For the pastry:
400g Plain flour

200g Butter or margarine

5-6 tbsp Milk

1 Beaten egg
For the filling:
3 Cooking apples

400g Tin of pitted cherries

150g Sugar

1 Beaten egg

3 tbsp Cream cheese
Method
Place the flour and butter into a mixing bowl.
Using your hands rub the butter into the flour until you have a crumble-like texture.
Add the water and stir together to create a pastry dough.
Place the pastry ball into the fridge and rest for 20 minutes.
Meanwhile, to make the filling, peel, core and dice the apples before placing in a shallow non-stick pan with the sugar.
Cook the apples and sugar on medium heat.
Drain the tinned cherries and set aside 12 for the eyeballs, the rest you can add to the apples and continue to cook for 15 minutes or until the apples are tender.
Remove from the heat and leave to cool.
Once the dough has rested, remove from the fridge, roll and cut out 24 rounds using pastry cutters.
Line your pie tins and brush with beaten egg.
Spoon the apple and cherry filling into the pastry bases.
Line your pie tins and brush with beaten egg.
Top the pies with the 12 remaining pastry rounds and crimp shut.
Roll out the remaining pastry and cut out 12 rounds slightly smaller than the lids, then cut each one in half.
Place each of the remaining cherries on top of the pies, then add the half circle to create the eyelid.
Brush with beaten egg and bake at 170c for 25 minutes or until golden.
When the pies are baked and cooled, pipe the cream cheese along the underneath of each eye.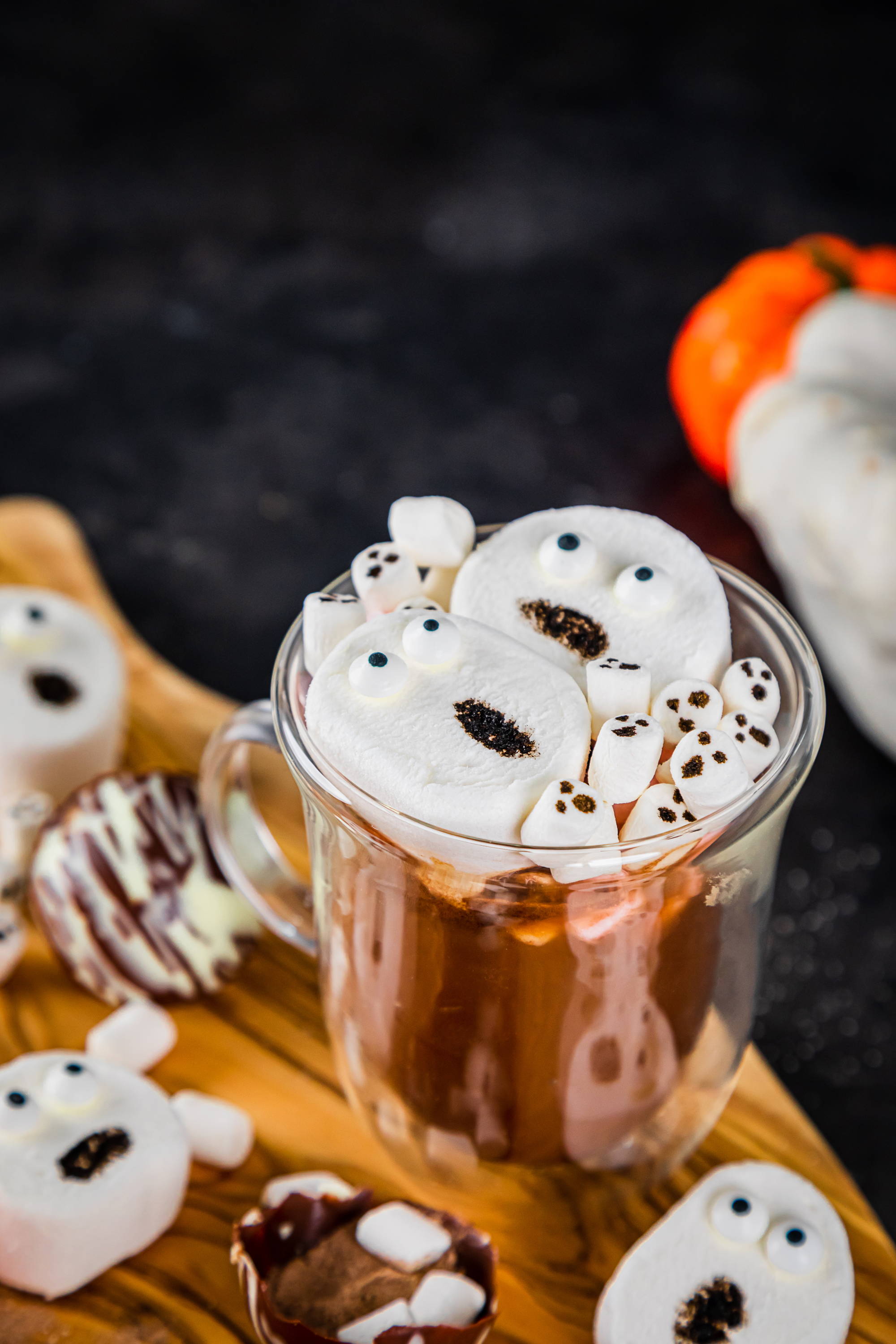 Grab a cosy blanket, stick your favourite scary movie on and settle in for the night with this sumptuous hot chocolate. Topped with scary (okay, okay friendly) marshmallow ghosts, our classic recipe can be made with normal or plant-based milk, so is suitable for all.
Ingredients:
250ml Milk of your choice
1 tbsp Cocoa
1-2 tbsp Soft light brown sugar
25g Dark or plain chocolate, finely chopped, plus a little grated for serving
2-3 Large marshmallows
Black icing colour pen
Method
Heat the milk, cocoa, sugar and chocolate in a small pan over medium heat until steaming and the chocolate has melted.
Draw a ghoulish face on the marshmallows and serve on top of the hot chocolate.
Grate over a little more chocolate to serve.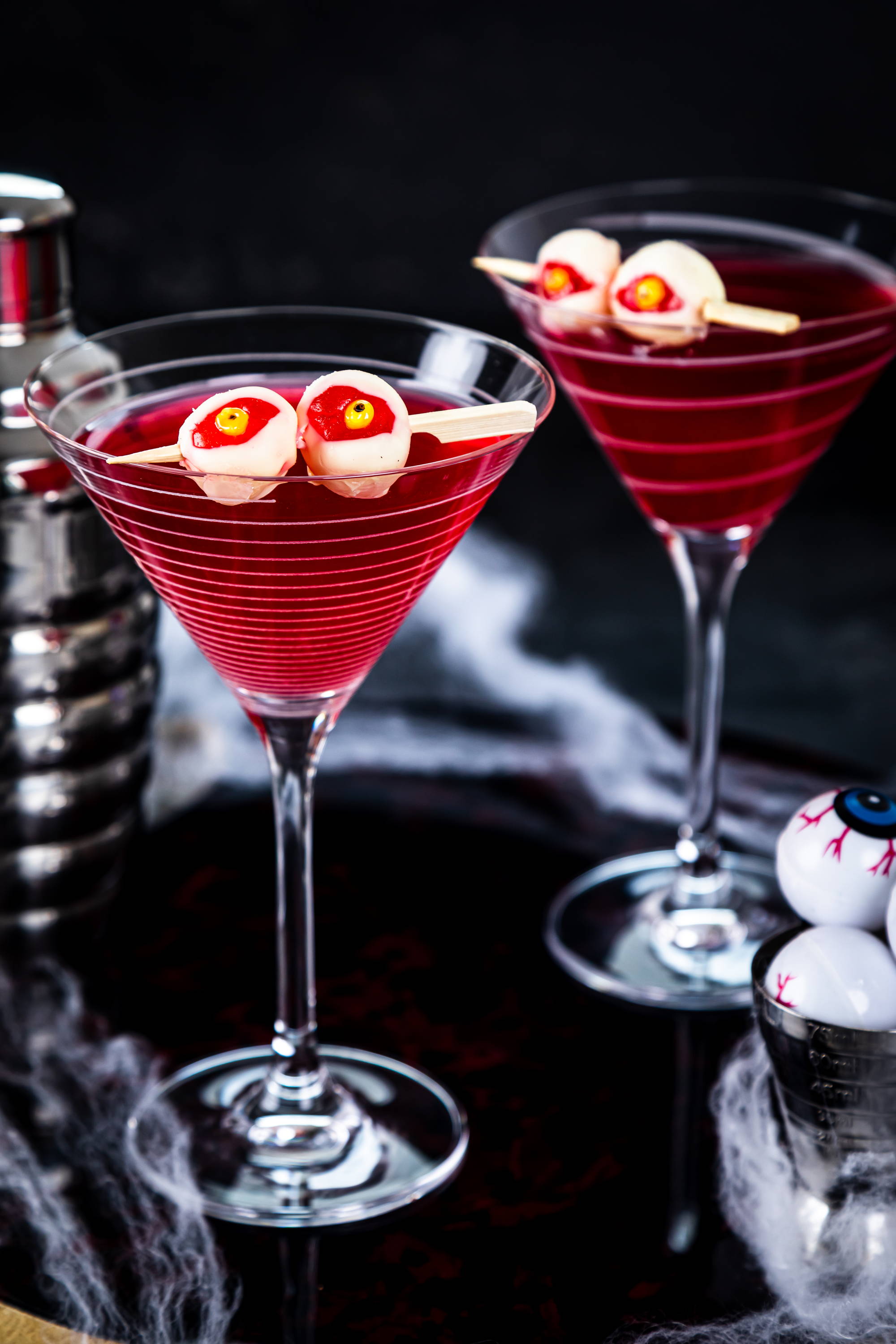 Strictly for the grown-ups, our Eyeball Martini is guaranteed to be a hit! A seasonal twist on a classic, our version combines crisp vodka with dry vermouth and is refreshed with citrus, orange bitters and grenadine. For an extra-wow finish, top with the white chocolate-coated cherries (a.k.a the eyeballs).
Ingredients:
1⅓ Parts Vodka

⅔ Part Dry Vermouth

4 Dashes Orange Bitters

2 Teaspoons Grenadine
Method
Fill a shaker with ice cubes. Add all ingredients. Shake and strain into a cocktail glass.
Eyeballs
Glacé cherries dipped in white chocolate on a cocktail stick, set in the fridge and draw eyes with a red and yellow icing pen