It's no secret that cast iron cookware has always had a cult following. People who swear by these iconic pots have realised that cast iron brings a lot to the table. But…what about cast aluminium? Although less well-known than its iron counterpart, it packs a punch too.
Whether you're a home cook or a culinary pro, cast aluminium cookware might just be your new best friend. If you're already a fan of cast iron, don't be afraid to give cast aluminium a try — you might never look back!
To make it simple for you, we've put together a handy guide that weighs up the pros and cons of cast iron vs cast aluminium cookware. Continue reading below to see how both of them compare in terms of performance, weight, durability and more.
Things to Consider When Choosing a Casserole Dish:
Weight
Compatibility
Heat Conduction
Maintenance
Cost
Durability


1) Cast Aluminium vs Cast Iron: Weight
First thing you'll notice when handling one of our MasterClass Cast Aluminium Casserole Dishes is how lightweight they are! If you've ever tried to lift a cast iron pan with one hand, you know what we are talking about.
Cast iron is made by melting iron and adding a dash of carbon, resulting in a heavy and dense material that could double as a doorstop. Cast aluminium, on the other hand, is made by melting aluminium and pouring it into a mould, creating an extremely lightweight material.
Cast iron cookware is thicker than cast aluminium, which adds to its weight. This thickness is necessary for heat retention and to prevent hot spots, but it also makes it heavier. By contrast, cast aluminium can be made thinner while still providing excellent heat distribution.
With cast aluminium, you'll have the freedom to manoeuvre and cook without feeling like you're at the gym.

2) Cast Aluminium vs Cast Iron: Compatibility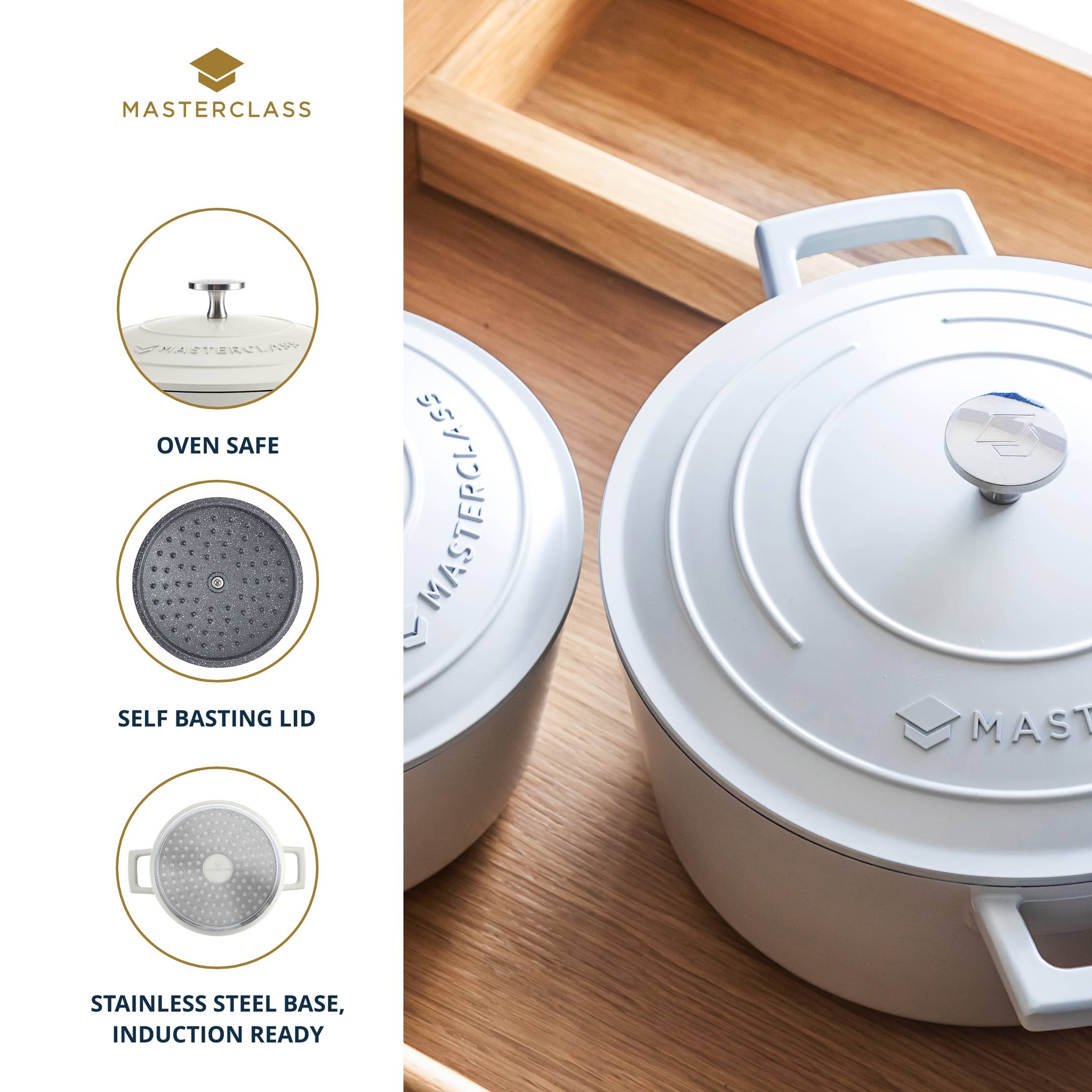 In general terms, cast iron cookware can handle almost any heat source you throw at it, including gas, electric, and even induction hobs. But guess what? Cast aluminium casserole dishes can do it too.
One of the main benefits of cooking with cast aluminium and cast iron dishes is that you can cook straight from the hob to the oven. So, go ahead and sear that meat on the hob, then slowly cook the rest of the ingredients in the oven (up to 200°C / 392°F), until your meal is mouth-wateringly tender.
The final results will be scrumptiously good in both cases, only that cast aluminium will be easier to handle from hob to oven thanks to it being super lightweight!

3) Cast Aluminium vs Cast Iron: Heat Conduction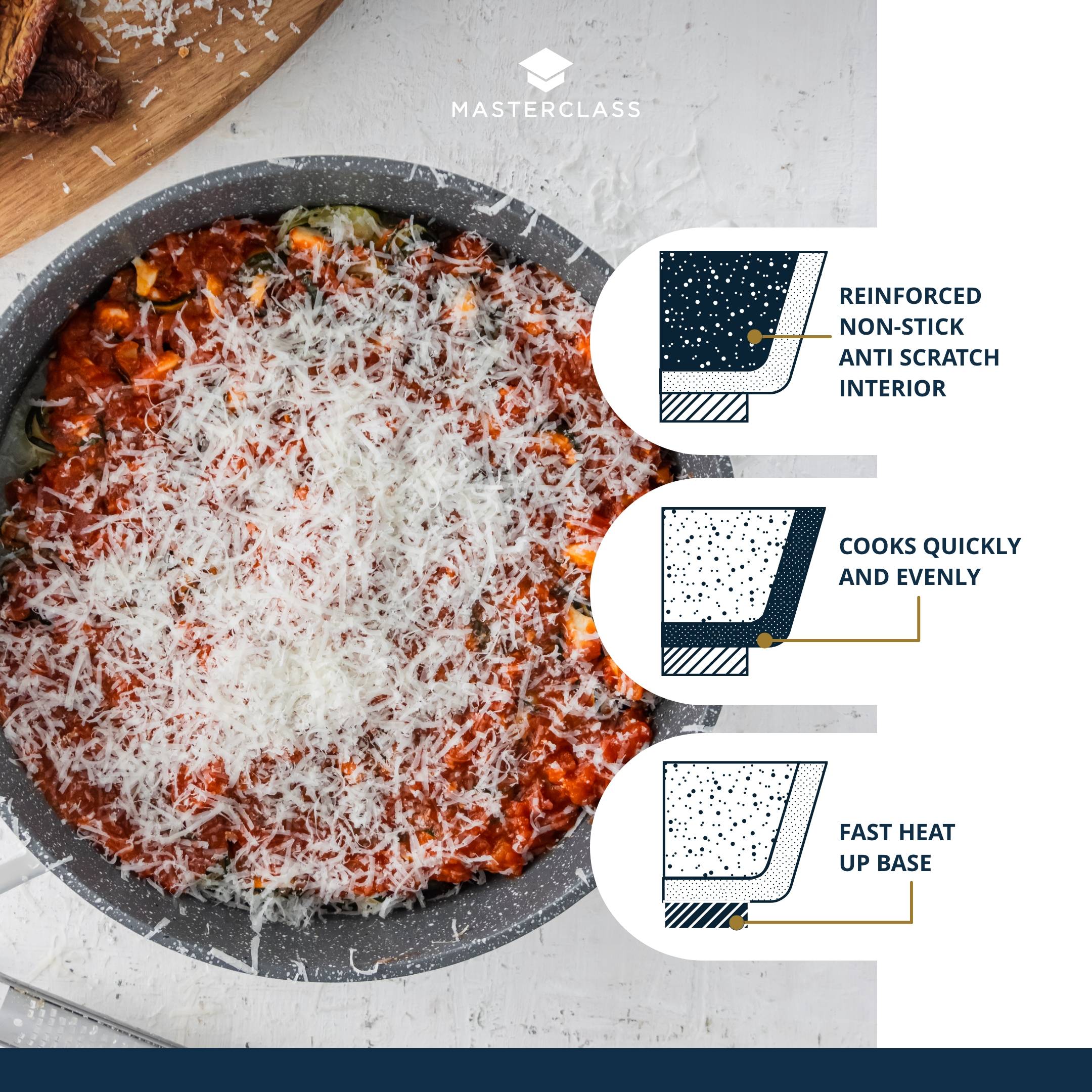 When it comes to cooking, heat distribution is key. You don't want to end up with burnt bits on one side of your meal and underdone bits on the other.
Cast iron is known for its ability to retain heat, which is great in theory, but it can also lead to hot spots in your cooking. Cast aluminium, however, distributes heat more evenly, which means your food will cook to perfection all over.
Why? The thinner construction of cast aluminium allows for more efficient heat distribution than the thicker cast iron, which can take longer to heat up and may not distribute heat as evenly.

4) Cast Aluminium vs Cast Iron: Maintenance

Cast iron requires proper seasoning and special care to prevent rust and maintain its non-stick properties, which can be time-consuming and intimidating for regular cooks. Another slight downside to cleaning cast iron casserole dishes is that they are not dishwasher safe, and must be hand washed each and every time.
The MasterClass Cast Aluminium Casserole Dishes, on the other hand, require minimal maintenance and feature two layers of premium non-stick coating, which is scratch-proof and needs little to no oil for cooking. Not only is this more convenient all round, it's also better for your waistline!
It makes clean-up easier too. Just rinse the casserole dish with soapy warm water or pop it in the dishwasher for no fuss cleaning and restore it to its former glory effortlessly.

5) Cast Aluminium vs Cast Iron: Cost

When it comes to cookware, price can be a major factor in deciding what to buy. Cast iron is quite expensive, especially if you're looking for high-quality pieces. Cast aluminium, on the other hand, is much more affordable, so you won't have to break the bank.
This doesn't mean you need to sacrifice durability or performance for affordability. The MasterClass Cast Aluminium Casserole Dish range is just as good as your regular cast iron cookware, incorporating some added benefits.
In fact, we are so confident in the quality of the pots that we are offering a Lifetime Guarantee for complete reassurance!
Prices start at £44.99.

Cast Aluminum vs Cast Iron Casserole Dishes: Who's your Winner?
While cast iron cookware may have its own merits, our cast aluminium cookware benefits are really something else. These dishes are light as a feather, require low maintenance, are easier to clean…and have the best heat distribution to make mouth-watering stews and curries effortlessly. As they say though, the proof really is in the pudding, so shop the MasterClass collection today and say hello to your new kitchen staple. If you're wondering what to cook in a casserole dish, don't miss our blog post here.